Apple announces Vision Pro AR and VR headset – here's everything we know
Apple's Vision Pro headset is finally a reality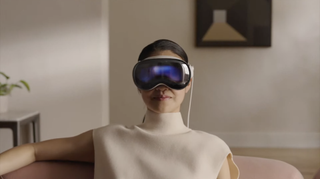 (Image credit: Apple)
Apple unveiled the new Vision Pro headset at WWDC 2023 – it's a gadget that will use augmented and virtual reality to blend the real world with virtual elements for entertainment and productivity when it launches "early next year."
Vision Pro Key Deatils
-Mixed reality headset
-Dual M2 and R1 chip setup
-4K resolution per eye
-No controllers, using hand tracking and voice inputs
-External battery pack
-Two-hour battery life
-Starts at $3,499 (around £2,800 / AU$5,300)
-Runs on visionOS
The device has been rumored for a few years and the official details match up with many of the details that had been leaked ahead of time. Firstly, it comes with not one but two chipsets.
One is the M2 chip, the powerful Apple silicon that powers some of the best MacBooks and Macs, and the other is a new co-processor from Apple named the R1. While the M2 handles the traditional apps and features, the R1 will deal with the mixed-reality and sensor elements that are the core of Vision Pro. Apple adds that this setup will help you be more productive than ever, however, we'll need to test the headset out for ourselves to know if this is the case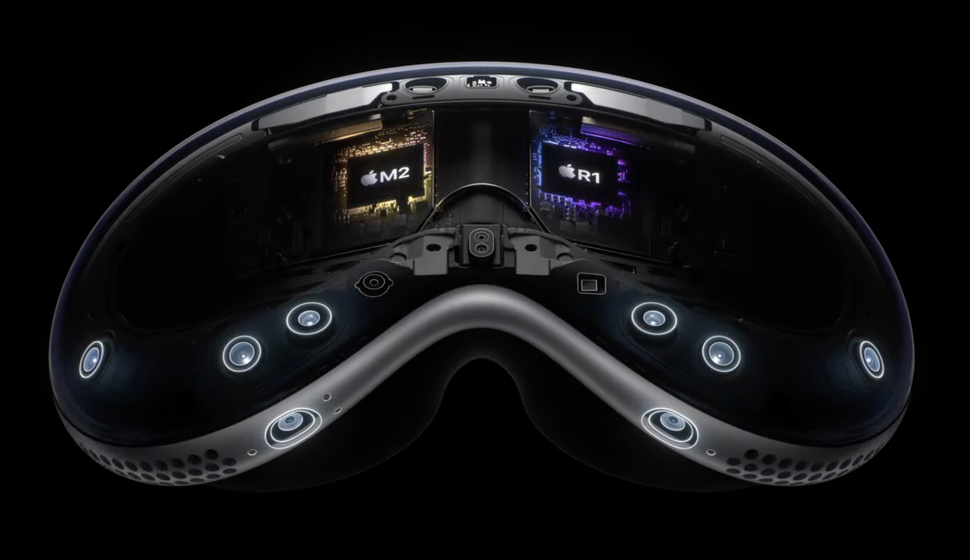 It'll also boast two impressive micro-OLED displays; they'll deliver more pixels than a 4K TV to each eye, delivering roughly 23 million pixels each – we haven't had the chance to try the device out, but from the way Apple was talking this might prevent the annoying screen-door effect that affects other VR headsets, where you can see the pixels. Apple's said it fits in 64 pixels in the same space that the iPhone's screen fits in one single pixel.
As impressive as the device sounds, it'll come at a price. The Vision Pro starts at a whopping $3,499. We're waiting for official prices from Apple, but using currency conversions that's about £2,800 / AU$5,300. We had heard rumors that the headset would cost around $3,000, but hearing it officially from Apple is still something else. If you need a prescription lens insert, that will be an additional cost, according to Apple.
While the Vision Pro shares many design elements with the best VR headsets out there, it has a few unique elements that'll help it stand out from the crowd.
The first is its external battery pack. Rather than storing a large, heavy battery on the wearer's head, you'll instead slip an external battery into one of your pockets and connect it to the headset via a cable. This battery provides the headset with roughly two hours of use on a full charge according to Apple.
It's a little unseemly by Apple's usual design standards, but what the choice loses in looks it'll likely make up for in comfort. The Meta Quest Pro is super comfy, but trying to wear it for extended periods of time can cause some serious neck ache – it did when one of our writers wore the Quest Pro for work for a whole week. The Vision Pro's design could avoid these issues.
Then there's the Vision Pro's lack of controllers. Instead of handsets, it'll rely solely on the wearer's hand and eye movements, and voice inputs to control apps and experiences. The Vision Pro will track these using its array of 12 cameras, five sensors, and six microphones.
Lastly, there's Eyesight, which looks kinda odd. Rather than the wearer's eyes being completely hidden by the vision, Eyesight will allow onlookers to see where the Vision Pro user is looking while wearing the headset.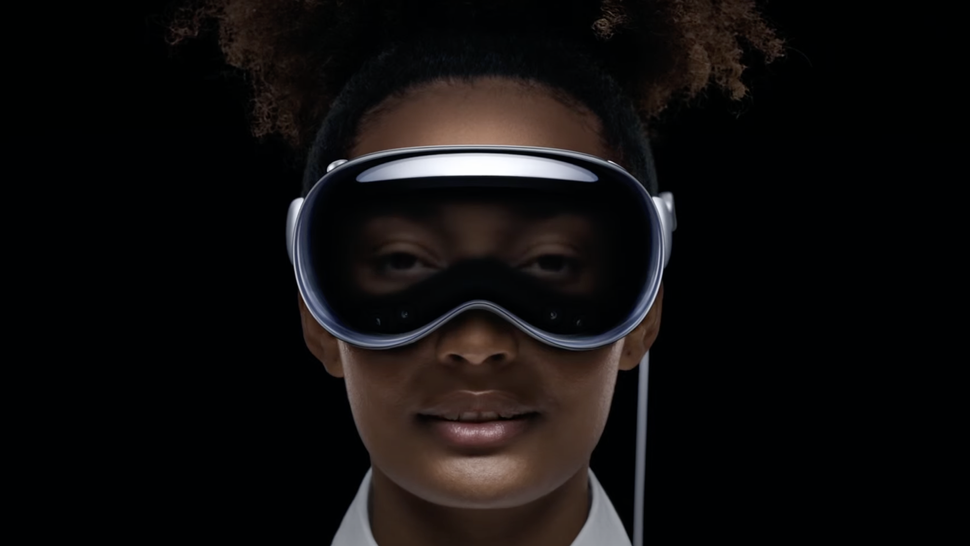 When a Vision Pro wearer is using AR features and can see the real world, nearby people will see their eyes "through" the headset's front panel (actually, it's a screen showing a camera view of the eyes). If they're fully immersed in an experience, onlookers will instead see a cloud of color to signify that they're exploring another world.
Eyesight looks a lot better in practice than we had expected it to based on leaks, but the jury's out on whether we're a fan or kinda creeped out by this design aspect.
Not all the leaked details were proven right, however. The Reality Pro name for the headset turned out to be wrong and it won't run on the so-called "xrOS" software platform as was expected. Instead, the platform is called visionOS.
It also has a few unexpected add-ons, such as a 3D camera that allows the wearer to shoot immersive videos that they can share with other Vision Pro wearers.
Apple likely hopes that the Apple VR headset, now known as the Vision Pro, will give its rivals in the XR space a run for their money. Meta is chief among Apple's competitors, and recently unveiled the Meta Quest 3 – though this more affordable offering is expected to target a different audience than Apple's high-end headset.
Sign up to receive daily breaking news, reviews, opinion, analysis, deals and more from the world of tech.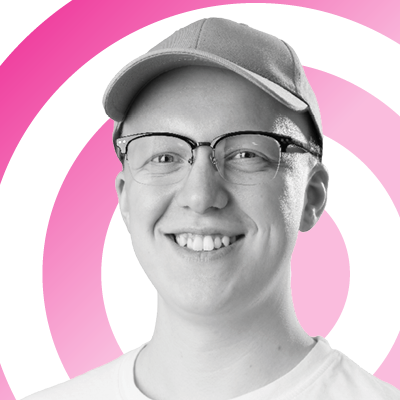 Senior Staff Writer, News
Hamish is a Senior Staff Writer for TechRadar and you'll see his name appearing on articles across nearly every topic on the site from smart home deals to speaker reviews to graphics card news and everything in between. He uses his broad range of knowledge to help explain the latest gadgets and if they're a must-buy or a fad fueled by hype. Though his specialty is writing about everything going on in the world of virtual reality and augmented reality.