Amazon Echo (2020) vs Google Nest Audio: we compare the latest smart speakers
Amazon and Google go head to head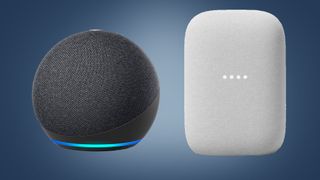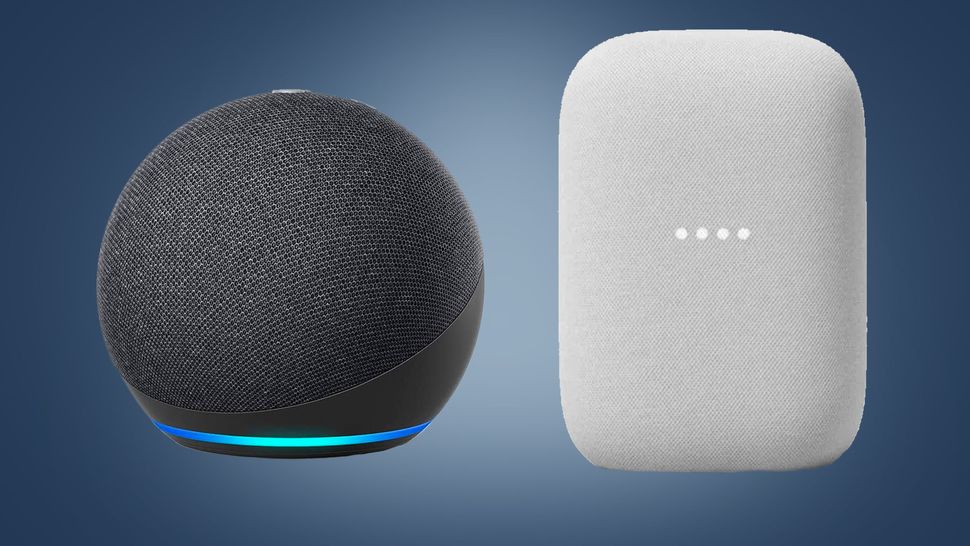 (Image credit: TechRadar)
Amazon and Google have both been head-to-head in the battle for your smart home for years now – and the contest is heating up, as both companies released new flagship smart speakers within days of each other in 2020.
The Amazon Echo (2020) and the Google Nest Audio have both been given striking design upgrades compared to their predecessors, as well as improved audio hardware and enhanced smart home connectivity.
With similar prices, release dates, and designs, we can see how choosing between the Amazon Echo (2020) and the Google Nest Audio could prove challenging.
That's where we come in. We've already tested both smart speakers for ourselves, combed through the specs and compared our findings below to give you a better idea about which speaker could be the best option for you and your home.
Price and availability
Both smart speakers are available now. The Amazon Echo (2020) was released on October 22 and it will set you back $99.99 / £89.99 / AU$149, which is the same price as the previous Echo was when it launched in 2019.
Meanwhile, the Google Nest Audio hit the shelves a little earlier on October 5 (October 15 in the UK). It costs exactly the same price as the new Echo, and also hasn't seen a substantial price increase compared to its predecessor, the Google Home.
Design
Let's start with the new Amazon Echo – it features a dramatically different design to any of the previous Echo speakers, with a spherical build that looks like a soccer ball.
Amazon hasn't completely lost the old Echo aesthetic, however; the new Echo still features a wraparound fabric grille, and the iconic Alexa light ring has now been moved to encircle the base of the speaker.
As with previous Echo speakers, you'll find the controls on the top, including an Action button, volume buttons, and a button to turn the microphone off (handy if you're concerned about Alexa eavesdropping).
You can replace all of these buttons with voice commands, with the exception of microphone off, which always requires you to physically go over to the speaker and turn it off.
Around the back of the smart speaker is a power port and a 3.5mm AUX line in / out, so you can connect your device to it physically or hook it up to another speaker to boost the audio performance.
It measures just over 13cm high (about 5 inches), and comes in three colors: Charcoal (dark gray), Glacier (white), and Twilight Blue (blueish-gray).
With a minimalist look, sleek lines, and wraparound fabric grille, the Google Nest Audio actually sports a fairly similar aesthetic to the new Echo – albeit with a loaf-shaped build.
It's interesting that both companies have opted to simplify the look of their flagship smart speakers, though the Nest Audio comes in a wider range of colors (in the US, at least).
Underneath the fabric grill is a row of four LED lights that glow as you interact with the smart speaker's onboard voice assistant – just like the Echo light ring changes color as you interact with Alexa
On the back of the speaker you'll find a physical switch that allows you turn off the microphone, as with the new Echo – however, there's no 3.5mm audio port, which means any connection with other speakers will need to be done wirelessly.
It's worth noting that the Nest Audio is made of 70% recycled materials, According to Google, each unit will keep 1.2 500ml plastic bottles out of landfills, which is good to hear.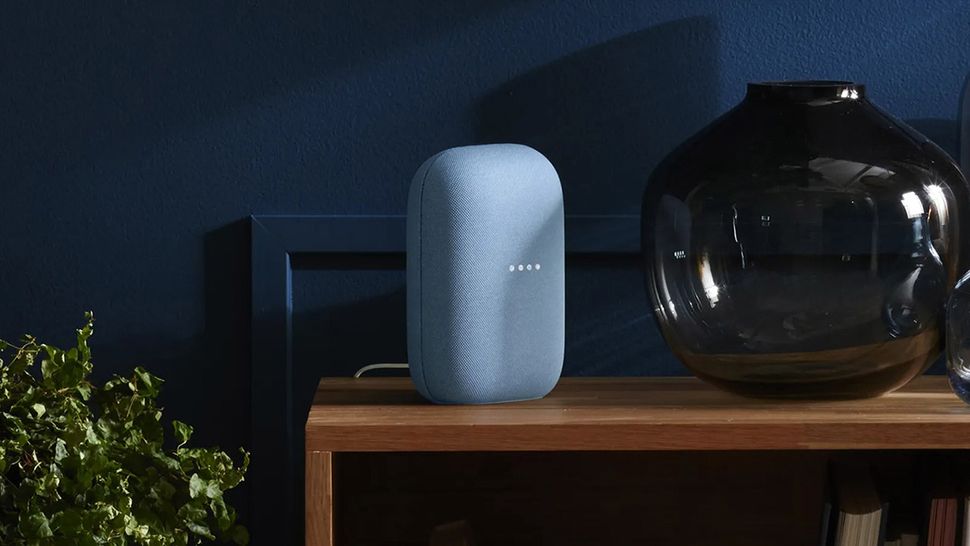 Audio quality
Both the Amazon Echo and the Google Nest Audio have had significant sound performance improvements over their predecessors.
During our testing, we expected the 2020 Amazon Echo to offer up 360-degree sound due to its spherical design. But we found that with this smart speaker you get focused, directional audio that's at its best when you're standing a few feet in front of it.
The device pumps out a good amount of bass and midrange. But we found it didn't deliver the richest sound quality we've heard on a speaker and the music isn't as detailed as it could be due to its limited soundstage. What's more, if you turn the volume up, you might be disappointed at the performance compared to some party-focused Bluetooth speakers like the Ultimate Ears Hyperboom.
Having said that, it's significantly better than the first-generation Echo speaker from Amazon. And, for many people, the sound you get from the newest Echo will be impressive to anyone who hasn't hear the performance of the likes of the Apple HomePod or Sonos One. Both of these devices produce fuller audio.
As the name implies, the Google Nest Audio seems to have the most robust sound software onboard out of the two speakers, with a 19mm tweeter and 75mm mid-woofer.
Google says this new speaker is 75 percent louder, and has 50 percent more bass, than the Google Home. Although this might be true, we still can't say it offers the upgrade in sound quality we were hoping for when we put it to the test.
We found it fared well with pop music, reproducing tracks fairly well, and delivering bass that provided a solid foundation without being overwhelming. Although we were a little disappointed when, compared with the the small and portable JBL Flip 5, it didn't deliver the significantly lower frequencies the Flip was capable of.
What's more, some of the high mids were also missing detail and vocals aren't quite given the focus they deserve, while some of the space and detail is drowned out by the more booming lower mids.
However, the sound quality isn't bad by any means. The Nest Audio delivers an enjoyable listening experience when you're listening at moderate volume. We will say though you don't have to pay much more for a device that can bring you more bass, detail and sparkly treble without some of the harshness.
As a smart speaker the Nest Audio works well. The voice assistant sounds loud and clear, and can be easily heard even when you're not close to the speaker.
Smart home connectivity
As smart speakers, the Amazon Echo (2020) and the Google Nest Audio are both capable of controlling your smart home devices, which means they can do everything from turning off your smart lights to locking your front door.
The range of smart devices that each speaker works with varies, though Amazon may have the edge in this respect. The Echo (2020) works with a huge range Zigbee-compatible smart home devices, and supports Amazon Sidewalk Bridge technology – allowing it to double up as a smart home hub.
While Google boasts a range of Nest devices that can be controlled with the Nest Audio, it doesn't have the same flexibility as the new Echo – it's possible that Google will announce Zigbee-compatibility in the coming days, but nothing has been confirmed.
The inclusion of Amazon Sidewalk compatibility also means that the Echo can communicate with smart devices in areas of your home that suffer from Bluetooth or Wi-Fi 'blank spots', thanks to its use of the 900 MHz spectrum.
Both the Amazon Echo and the Google Nest Audio come with Bluetooth 5 connectivity, so you can pair them with your smartphone or tablet for easy music playback.
Meanwhile, the Nest Audio has the addition of built-in Chromecast, which means you can use the speaker to control compatible TVs, playing shows and movies using your voice alone.
Voice assistant
Amazon Alexa and Google Assistant are largely equally-matched when it comes to things they can do, which includes everything from answering your general knowledge questions, to creating events in your calendar.
Still, Amazon speakers do benefit from Alexa's large range of third-party Skills, which allows you to do things like order pizza from your favorite restaurant with your voice alone.
The new Echo comes with some Alexa improvements, including "2x faster voice processing", and a more natural-sounding voice assistant.
That's thanks to the Echo's AZ1 processor – however, that feature is only coming to the US to start with, while a global rollout is still to be confirmed.
Both voice assistants come with new family-friendly features. Alexa now has Voice Profiles for Kids, which allows the voice assistant to automatically change its responses to be kid-friendly when it recognizes a child's voice is speaking to it.
Meanwhile, Google Assistant has been given a new feature called Family Bell. According to the company, it lets you "add bell reminders throughout the day that announce when it's time to start an online class, settle in for reading time, have a snack, or even for bedtime".
Takeaway
During our testing, we marginally preferred the new Amazon Echo (2020) over the Google Nest Audio. However, there isn't much difference between the two in terms of performance or their built-in smarts. We know that both Amazon Alexa and Google Assistant are largely equally-matched when it comes to their capabilities in your home.
This means the choice between the new Amazon Echo (2020) and the Google Nest Audio will likely come down to design preference, as well which other devices you have in your home. If you're looking to upgrade an Echo and have an Amazon Prime membership, the Amazon Echo (2020) is a no-brainer.
We wouldn't suggest either if only the best sound will do. Granted both have had significant performance upgrades over their predecessors, but you'll find better audio performance in different devices.
In any case, it's clear that both companies have sought to address shortcomings with their previous smart speakers – and both have landed on fresh new designs as a result.
Sign up to receive daily breaking news, reviews, opinion, analysis, deals and more from the world of tech.
Olivia was previously TechRadar's Senior Editor - Home Entertainment, covering everything from headphones to TVs. Based in London, she's a popular music graduate who worked in the music industry before finding her calling in journalism. She's previously been interviewed on BBC Radio 5 Live on the subject of multi-room audio, chaired panel discussions on diversity in music festival lineups, and her bylines include T3, Stereoboard, What to Watch, Top Ten Reviews, Creative Bloq, and Croco Magazine. Olivia now has a career in PR.