Owning a good smartphone in 2020 has become a no brainer due to the lockdown as most of the stuff like work, meetings, schools and colleges have moved online. Similarly, the demand for a nice pair of earphones has also followed the suit. Finding a perfect pair of earphones is harder than you think and can be a hectic process. Often you go with the cheaper one and you'll end up choosing the wrong one that doesn't have a good fit or sound quality. 
In-ear earphones or headphones offer good fit as they sit inside your ears. These come in handy for long sessions when you are attending your long meetings or kinds attending their schools and colleges.
Read more: OnePlus Bullets Wireless 2
best in-ear headphones in India
1. Skullcandy Ink'd
2. Sennheiser CX 80S  
3. Oppo Enco M31  
4. OnePlus Bullet Wireless Z
5. Sony MDR-XB510AS
6. Realme Buds Wireless Pro
7. 1More Triple Driver In-Ear 
8. Sennheiser Momentum In-Ear
9. 1More Quad Driver In-Ear 
10. Bose SoundSport Wireless
Keeping all this in mind, we've compiled a list of the best in-ear earphones available in India that offer excellent value for money. We have considered comfort, sound quality, and battery life (if wireless).
And there are numerous options for both wired and wireless categories starting at just around Rs 1,000 going all the way up to Rs 10,000 and more. Newer models might be completely wire-free, but if battery life is a top priority for you, you might want a pair of wired buds.
We're constantly reviewing new pairs of earphones, so we're always updating this list as we find better ones available. Here are the top in-ear best earbuds, covering all the price segments:
Skullcandy Ink'd
Skullcandy has been around for a long time now and its audio products stand out for their quality. The Ink's is its standard wired earphones with noise isolation fit which eliminates the unwanted noise. 
You get a microphone built-in and there is an in-line remote to control media and calls. It comes in 9 colour options to choose from. You also get extra bass which adds additional thump to your music. The Ink'd is good, affordable option if you are looking for something that works without too much fuss.
Sennheiser CX 80S Wired Headset
One of the most affordable ones in the list from a renowned manufacturer. The Sennheiser CX 80S is a wired earphone with in-ear style design made for a comfortable fit and long usage. The angled 3.5mm headphone jack makes it compatible with most of the audio devices apart from a bunch of new-gen smartphones.  
The Sennheiser CX 80S delivers a well-balanced sound profile. These are not bass-heavy headphones but made for pure music experience. It comes with a single in-line remote as well as a microphone. You can also use the earphones for calls. The wired cable is 1.2 meters long and is suitable for most devices. 
Oppo Enco M31
The Oppo M31 is a neckband with Bluetooth 5.0 connectivity. This is one of the best earphones for the price in terms of sound quality. It comes with 9.2mm dynamic drivers and there is also noise reduction powered by Artificial Intelligence. There is also powerful bass and Hi-Res audio playback. 
Further, the Oppo Enco M31 supports LDAC for high-quality audio output over the Bluetooth connection. It offers up to 12 hours of playback and the earphone is also IPX5 water and dust resistant. A quick 10-minute charge will offer 3 hours of music playback. It uses Type-C power for charging. The Oppo Enco M31 is a lightweight earphone weighing just 22 grams and is made up of skin-friendly material. It comes in Black and Green colour options.
OnePlus Bullets Wireless Z Bass edition
The newly launched OnePlus Wireless Z is the third-gen OnePlus wireless earphones. The Bullet Wireless Z Bass edition is priced the same as the original one. It comes with is similar. They come in two colour options - Red and Blue.
You get up to 20 hours of playback with a single charge and a quick 10 minutes will last up to 10 minutes, thanks to the Warp charge. They come with a 9.2mm dynamic driver and they're also IP55 rated for dust and water resistance. The OnePlus Bullets Wireless Z Bass Edition is basically the original Bullets Wireless Z with re-engineered bass for richer vocals, and deeper bass. 
Sony MDR-XB510AS
Sony is known for its high-quality accessories and products across a wide spectrum. The XB510AS bring that Sony quality along with an arc design to keep you motivated through your workout and running sessions. It comes with a Neodymium type driver. 
The XB510AS offer punchy bass for moving, deep sound. They also carry IPX5/7 certification, so together with the arc design, you can carry them for your workouts without worrying about spoiling them. 
Realme Buds Wireless Pro
The latest offering from Realme the Buds Wireless Pro is the second-gen wireless earphones from the company after the Realme Buds Wireless. As one might have already guessed, the "Pro" in the moniker indicates that it comes with active noise cancellation. It comes with an in-ear style design for comfort fit and integrates an industry-standard noise cancellation up to 35dB. You also get Sony's LDAC sound profile in addition to the Hi-Res wireless audio on the earphones. 
The audio is streamed over the Bluetooth 5.0. It comes with a 13.6mm bass boost driver, 21% larger than the last-gen. On a single charge, the Realme Buds Pro can last up to 22 hours and a quick 5-minute charge will get you 100 minute of music playback. When you turn on ANC, the Buds Pro can last up to 16 hours.
1More Triple Driver In-Ear Headphone
1More is known for offering great value for money with its products – the 1More Triple Driver in-ear headphones are no different. The three drivers produce impressive sound quality with deep bass that is hard to find in any other earphone.
1More also bundles nine sets of ear tips, thus ensuring a comfortable fit for all. The only concern could be the quality of the remote, but the sound and the rest of the build is excellent. There is also support for Hi-Fi sound with large soundstage. 
Check out our 1More Triple Driver In-Ear Headphone review
Sennheiser Momentum In-Ear
The Sennheiser Momentum in-ear earphones don't just look great, they also offer killer sound quality. They are lightweight and play well with Android and iOS devices alike.
These are among the best deals in the headphones market as it stands today. Enjoy powerful bass, detailed vocal projection and great sound stage that Sennheiser is known for.
Check out our Sennheiser Momentum In-Ear review
Bose SoundSport Wireless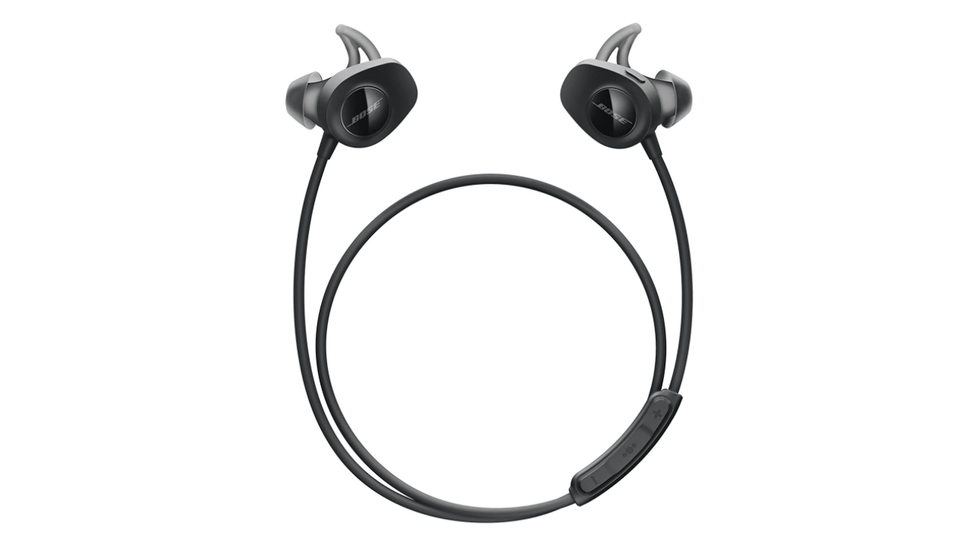 The Bose SoundSport Wireless price has been dropped in India and now its available for as low as Rs 8,999. The Bose SoundSport is one of the best out there. Its sound signature is something known to be unique to Bose and you can get around six hours of battery life on it which is decent.  It offers an overall balanced sound and is extremely comfortable to wear. Battery life, however, is just average. 
Bose offers great build quality, sound and a winged tip design, making them one of the most well-rounded in-ear headphones out there in the market. No, they're not cheap, but again, you get what you pay for. There is also NFC on board for faster connectivity. 
1More Quad Driver In-Ear Headphones
If the triple-driver earphones from 1More don't do it for you, you will want to give these quad-driver earphones a shot. They come with four drivers integrated into an aluminium shell, which delivers amazing sound and comfort to its users.
Just like its younger sibling, the 1MORE Quad Driver comes with nine sets of ear tips and is compatible with both iOS and Android.
The earphones may sound costly to some, but if you are looking for a great build and balanced audio quality, then they are worth every extra penny.
Check out our 1More Quad Driver In-Ear Headphones review
Best in-ear headphones in India
| Product | Price |
| --- | --- |
| Skullcandy Ink'd | Rs 999 |
| Sennheiser CX 80S Wired Headset | Rs 1,199 |
| Oppo Enco M31 | Rs 1,799 |
| OnePlus Bullet Wireless Z Bass Edition | Rs 1,999 |
| Sony MDR-XB510AS | Rs 2,380 |
| Realme Buds Wireless Pro | Rs 2,999 |
| 1More Triple Driver In-Ear Headphone | Rs 7,050 |
| Sennheiser Momentum In-Ear | Rs 7,206 |
| Bose SoundSport Wireless | Rs 8,999 |
| 1More Quad Driver In-Ear Headphones | Rs 10,434 |