How to use your Amazon Echo Show as a home security camera
The camera in Amazon's smart display is for more than just video calls. Here's how to use your Amazon Echo Show as a home security camera...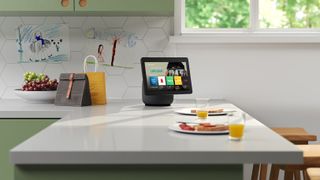 (Image credit: Amazon)
Did you know that you can use your Amazon Echo Show as a home security camera? It's true! While the camera function was designed to be used for video calls, it also doubles up pretty darn well as a security camera, allowing you to keep an eye on your property when you're out and about.
The best home security cameras are a great way to see exactly what's going on in and around your home, but let's face it, they can be pricey and most of us will require several of them dotted around our home to ensure every square inch is captured.
Thankfully, if you have an Amazon Echo Show smart display in your home you can access its built-in camera and turn it into your very own security system. Granted, it doesn't record video and you can't mount it to the wall like a traditional home security camera, but it's still super useful for checking in on your home, pets and family members when you're away. Plus, our guide to the best cheap Amazon Echo deals means you can pick up one of these little beauties for a bargain price.
It is, however, worth noting that when you use your Amazon Echo Show as a home security camera, it will display a message that the camera is live and someone is watching remotely, so if you're wanting to discretely check in on your kids for example, this wouldn't be the best choice.
Here's everything you need to know to use your Amazon Echo Show as a home security camera. And if you want to build on your smart home, check out our guide to the best video doorbells.
How to use Home Monitoring on an Echo Show
To use your Amazon Echo Show as a home security camera, you'll need to enable the Home Monitoring feature on your Echo Show. To do this;
1. Swipe down from the top of the screen and select Settings. Toggle to Camera.
2. Use the slider next to Home Monitoring to turn the function on
How to use a smartphone or tablet to view a live feed from the Echo Show
If you'd like to use a smartphone or tablet to view the live feed simply;
1. Open the Alexa app. Select Cameras from the top of the screen
2. Select Echo Show from the displayed list and the live feed will begin
3. Tap the on-screen icons to activate the microphone and speaker
4. Pinch the image to zoom in or out of the video
5. Press Stop on the left-hand side of an alert to stop the live feed
To use another Echo Show or Echo Spot, or an Amazon Fire TV Stick device connected to a TV, just say "Alexa, show me the…" followed by the name of the device whose camera feed you wish to view. It will be displayed on the Echo's screen or your TV. Again, you can pinch to zoom, and you'll need to activate the microphone if you want to converse with someone (although this isn't available when using a Fire TV).
FAQs
What does the Echo Show home monitoring feature do?
Before you start to use your Amazon Echo Show as a home security camera, it's worth being aware of the perks it has to offer. The Home Monitoring feature lets you view the live feed from any Echo Show's camera in your home on another Echo Show, or via the Alexa app on your phone. It works in much the same way as a drop-in call, just without video on your face in the top right-hand corner. You can also use an Alexa-enabled Fire TV device and view the footage on your TV.
If you have an Echo Show 10, which has a rotating screen, you can swipe left and right on the phone screen to get the camera to rotate. However, there are some limitations. Unlike the best home security cameras, the Echo Show won't alert you when motion has been detected in the camera's field of view. In addition, the cameras won't record footage to be reviewed at a later date – this is purely a live stream function.
Sign up to receive daily breaking news, reviews, opinion, analysis, deals and more from the world of tech.
Carrie-Ann Skinner was formerly Homes Editor at TechRadar, and has more than two decades of experience in both online and print journalism, with 13 years of that spent covering all-things tech. Carrie specializes in smart home devices such as smart plugs and smart lights, as well as large and small appliances including vacuum cleaners, air fryers, stand mixers, and coffee machines. Carrie is now a copy editor at PWC.