Amazon Echo devices, the smart speakers powered by the company's voice-activated Alexa helper, are everywhere. In a few short years they've gone from promising novelty to tech-obsessed household essential. The Amazon Echo Spot adds a new form factor to the line – and is arguably the most attractive of the bunch.
The fabric-covered Echo is a good fit for most rooms, while the industrial tube of the Echo Plus makes it one to tuck onto a gadgety shelf. The Echo Show with its large screen is great for cookery videos for the kitchen, but the Echo Spot, with its round shape and built-in screen, could sit basically anywhere. It's a natural fit for a bedside table or desktop, but this futuristic-looking window into the world of Alexa would impress guests wherever they find it in your home.
But is it any good? Is a screen that small and round actually useful? Can it's speaker live up to the quality of the rest of the range? Read our full Echo Spot review to find out.
[Update: It already supports Amazon Music and Spotify, but if you prefer to get your streaming action coming in from Deezer, the Alexa family, including the Echo Spot, now supports that player too.]
Design
Although it may be way more than a smart alarm clock, it really looks like one. This means that for many people that may become its default use for, but in reality it's way more versatile than that.
The Amazon Echo Spot is unlike any other Echo device and that's a good thing. Its curved shell does more than enough to make up for its sibling's design failings.
Where the big, bulky and brash Amazon Echo Show took over any area you put it in, no thanks to its brutalist black slab look, the Echo Spot is much more refined in its design.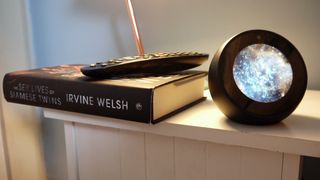 Surprisingly, it turns out that the best way to do a desk-based video device is to forgo the TV-lite look and just go with something that's compact and looks good.
If you had to place the Dot somewhere in the Echo line-up, it's a cross between an Echo Dot and a smaller version of the Amazon Show.
This is no Echo Dot replacement, though - the price puts it out of contention for that, and it's also a lot more useful, so to say it is would be doing it a disservice.
Size-wise, it's the equivalent of a mango. Mangos aren't the most scientific way to measure things, sure, but at least it gives you an indication that it's a pretty compact device with a curved back and screen that's angled up, which makes it easy to view.
It's a great-looking device, certainly something you won't mind having on show in your home unlike the, er, Show.
Features and setup
The unit we reviewed was black but there's also a white one available. The screen is small, at 2.5 inches (480×480 pixels).
On the top of the screen there is space for a camera and on the top of the device as a whole there are three buttons, which all sit flush against the surface for a really streamlined look.
Anyone familiar with the Echo range will know what they are: volume up, down and mute for the mic - this will also disable the camera. There are also four small pin-prick holes. These house the four-array mics that listen out for the wake word.
On the back you have a nice bit of Amazon branding, a slot for power and a 3.5mm jack.
The speaker grill for the Spot is right at the base of the device, which makes it invisible when viewing the Spot face-on. Bluetooth functionality is also available.
Setup is similar to other Echo devices, except for this one you can type in your Wi-Fi details straight on the screen, instead of going through the Alexa app.
It's a little bit fiddly putting in your details that way (it will ask for your Amazon account password, too) but the whole process will take less than five minutes.
Once up and running, you have the option to watch Amazon's promo video, which tells you what you can do with the device. It's not a masterpiece but it's worth sitting through so you get an idea about what you've just bought.
Then you get that warm chime sound, which means Alexa is up and running. Once this appears it's a good time to read our best Amazon Alexa Skills article or you could follow the prompts that come up on the screen. Or you can swipe right on the screen and that will bring up a whole load of Alexa commands you can use. It's a really nice way to learn what to do with Alexa. If you're looking for some fun and silly extras, give our Alexa Easter Eggs list a try, too.
These prompts can be turned off in the settings. It's here in the settings where you can toggle home cards on an off as well. The home cards are information that comes up on the home screen.
You can have the home screen include your messages, weather, notifications, upcoming events, reminders, drop in and trending topics.