Amazon's Echo range is the most popular series of smart speakers. You can talk to them to ask for songs, or to switch off your smart lights.
The second-generation Amazon Echo we're looking at today is significantly smaller and cheaper than the original, but has the same voice-enabled benefits built-in.

But with stiff competition from Google Home and now Apple HomePod mounting, is the Amazon Echo still the smartest speaker on the market?
[Update: Our new guide to the best Amazon Echo speakers ranks this Amazon Echo, the mid-range model, as the best of the bunch. Check out the guide for our full rankings]
US and UK price and availability
The Amazon Echo is one of the most aggressively-priced smart speakers around. In the US you'll pay $99 ($AU149), or £89.99 in the UK.
It's a far more appealing impulse buy than the original Echo was at launch. It cost $180 (£150).
You'll often find smart speakers on sale as Amazon and Google really want us to buy them right now. However, without a discount the arch rival Google Home doesn't get below the magic $100/£100 barrier. It costs $129 (£129, $AU199).
Even third-party Alexa speakers can't compete. The Kitsound Voice One ($179, £129.99) is pricier and doesn't sound amazing, and most lower-cost units are simply speaker sleeves for an Echo Dot.
The Echo 2nd Gen is also one of the newer smart speakers, unveiled in October 2017. Newer doesn't necessarily mean better as these speakers all have frequently upgrade firmware. However, you can see in its design how Amazon has reacted to what we want from one of these products. It's made for people who don't want their living room to seem too techy.
Design and features
The most significant update between the older Amazon Echo and this 2nd generation speaker is the design. Now thanks to a shorter stature and choice of fabric, metallic or wood finishes it blends much more seamlessly with the look and feel of your home rather than looking like a clunky, sci-fi prop.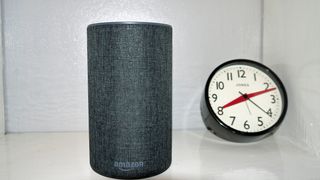 The design isn't all that's changed with the latest Amazon Echo. Alexa has been through a number of updates, gaining new Skills and routines, as well as improved voice recognition and understanding. (You can check out our selection of the best Alexa Skills in our comprehensive rundown.)
But now that Alexa is built-in to other devices, like the Sonos One, and the design of the Echo is more understated, does Amazon's smart speaker run the risk of blending in a little too much?
This is how we got on when we used the Echo's younger brother, the Echo Dot, for a week.
The newest, 2nd generation Amazon Echo continues Amazon's crusade to make voice the future of the operating system. This means bolstering Alexa's Skills, as well as wrapping the brand's voice-enabled smarts up in a much nicer chassis.
The upgraded Echo is smaller and wider than its predecessor, which means it's steadier on its feet. While we always felt that an accidental nudge would topple the original Echo over, the new Echo's sturdier footprint means that it isn't going anywhere.
Its design now means that it's less sci-fi and much more in keeping with the current crop of smart speakers, like Google Home and the Apple HomePod.
We haven't got an issue with this. The style is more desirable than the original Echo and Amazon has decided to combine elements of the Dot with the fullsize device, switching up the volume dial for a pair of buttons. These are joined by a mute button to stop Alexa hearing everything and a button to summon Alexa if you're too busy to say its name out loud.
This does mean the nice ergonomic experience or rotating a dial rather than tapping the buttons on the top is missing, which is a shame.
The all-new Amazon Echo's exact measurements are 148 x 88 x 88mm. Compare this to the original's 235 x 84 x 84mm and it's plain to see the height loss and waist gain. Weight-wise it's a solid 821g.
The Amazon Echo we tested came in the color Charcoal Fabric but there are a number of other colors to choose from. That's right, Amazon has stretched beyond black and white with its color palette, as well as the material it is using to cover the Echo's innards.
There are three fabric options: Charcoal, Heather and Sandstone. There are also three 'finish' offerings; Oak, Walnut and Silver. Their names (apart from the last) may conjure up wood but it's worth noting that the shells are made from plastic and are £10/$10 more expensive than the fabric versions.
The shell is interchangeable, too. So if you change the decor in your living room you can in theory buy a new shell to encase your Echo. These are available separately for £20/$20 for the fabric versions and £30/$30 for the rest. This does feel a touch expensive given it means you are paying around a third of the price for a shell when most of the money has surely gone into the internals of the Echo machine. But the option is there.
Amazon has kept it simple when it comes to outputs. There is just room for the power port and 3.5mm audio output on the back, which was previously only featured on the smaller Echo Dot.
Performance
The Amazon Echo (2nd Generation) is a breeze to set up but it does mean that you have to venture into the Amazon Alexa app. Amazon has made some improvement with its Alexa app but it's just not slick enough for our liking.
It does spell out how to get the Echo on to your network, though, so there's no denying its simplicity when it comes to installation. Head to Settings and Set up a New Device and then just choose the right Echo for installation (they are handily shown as icons) and follow the setup instructions.
We had no problems at all installing, which meant that we saw the green ring light in a minute or so and were ready to start asking Alexa to do things.
That's actually quite a big jump for many people who first get an Amazon Echo, actually knowing what to ask Alexa - what works and what doesn't. Obviously you can check out TechRadar's handy best Alexa Skills guide but Amazon also adds a little booklet into the mix with some ideas. These are pretty simple but effective.
So, you can ask Alexa what the time is, what the weather is like (you will have to input where you actually live for this), for a flash news bulletin, ask it a joke, to set a timer… there's a whole host of things you can do without setting up a Skill (which are essentially the Echo's version of apps for your phone).
But to really make your Echo sing (and it does sing, just ask it) you will want to dive into the Skills and modify the Echo to work for you.
Again this is a simple process (head to the All Skills version of the app) but it's a quality minefield. There are thousands available but only a small percentage of these are actually worth bothering with depending on what other 'smart' things you have around the house.
In our tests, we hooked the Echo up to the following Skills: Amazon Music, Spotify, TuneIn Hive thermostat (and smart lights), a Sonos system, our Just Eat account and Google Calendar.
On the whole the Echo managed to work well, although it did occasionally trip itself up and get confused. Asking for 6Music (the UK radio station) would sometimes take us to a devilish playlist of 666 music, while we would eventually get to the radio station we wanted by sometimes saying BBC 6Music to avoid confusion. Other times we would have to add "on TuneIn" to the end of what we asked Alexa.
You need to do this if you have two or more music accounts linked up to it as well, but that makes sense. In the app you can choose, say, Amazon Music as being the most dominant service to avoid having to repeat commands over and over.
Other teething issues included some content being played on another Echo device not in the same room as us when we wanted it to be played on the new Amazon Echo. We tried out Alexa reading aloud one of our Kindle books and its voice sounded distant - it took us a few seconds to realise that it was because the book was being read in the upstairs bedroom, where our 1st gen Echo resides.
But these are only occasional glitches with what is a simple and smooth service offered by Amazon. Echo and Alexa have made making your home smart so much easier and these devices have to be applauded for that.
Sound quality on the Amazon Echo (2nd generation) was crisp. Every time Alexa spoke it was very clear as to what she's saying and the Echo's seven-mic array meant that it always picked up when we said Alexa. And Alex, much to the annoyance of our friend called Alex.
To test out what music is like through it we chose a mixture of tracks. Four Tet's excellent New Energy hit the bass notes well, with the Echo coping to a point. That said, if you want a sound upgrade then it's best to look at the Amazon Echo Plus. The new Amazon Echo is more than passable with its sole 2.6-inch woofer and single 0.6-inch. The inclusion of Dolby processing does offer a more expansive sound but it wasn't as warm as we would have liked. Crank it up and it the sound quality also starts to break up a little.
The twang of Weezer's guitars in Pacific Daydream were picked out well, however, so it's more in the lower levels where the Echo starts to strain.
Comparing it to the original Amazon Echo and the new model easily competes, which is fantastic considering the radically lower price point.
Although not exclusive to this model of Amazon Echo, Alexa has been given some significant upgrades in recent times with some great new features.
The ability to take calls through the Echo is a nice addition, as is the Drop In feature - essentially an intercom for your home between Echo devices. This has cut down the 'shouting upstairs that dinner is ready' din no end in our home.
The Routines feature is warranted, too. This bunches a number of smart things together that can happen with one command. You can now turn on lights and get a morning briefing just by saying, "Alexa, start my day". It's a fun feature and one that will grow and grow when more Skills are added.
The grouping of smart home devices has also been improved which makes it a lot easier to control multiple devices (from multiple manufacturers) with just one command. Again, if you want to smooth out your smart home then you may want to opt for the Amazon Echo Plus which offers even more simplified smart device discovery and essentially does away with many a smart device hub, thanks to its ZigBee integration.
Final verdict
The latest Amazon Echo (2nd generation) smart speaker is a refreshing update to the Amazon range, which boasts a reduced price tag, a more appealing design and an improved Alexa experience.
Because many of these changes aren't particularly huge, the arrival of the latest Amazon Echo didn't have the heft or 'wow' factor of the original Echo.
It's also clear that Amazon is up against tough competition with the Google Home, Apple HomePod and even the sound quality of the Sonos One.
It's still early days to tell whether one voice-activated speaker is likely to emerge as a clear 'winner' though. Despite both Google and Apple having a lot of brand recognition and solid ecosystems, Amazon's Echo functionality and staying power has already been proven. It's refined over the course of the past few years and is on a solid trajectory that has the potential to make the Echo a mainstream home staple.
And let's not forget that for Amazon to offer a speaker that's better-looking than its predecessor with no reduction in features, at a price that's some 40% cheaper is a fantastic achievement.