This Oura Ring rival is designed just for women – and it finally has a launch date
Promising Movano Evie Ring will go on sale within weeks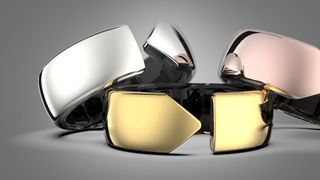 (Image credit: Movano)
After a series of delays and setbacks, Movano has finally announced a launch date for its Oura Ring-rivaling Evie smart ring.
The health wearable for women monitors heart rate, heart-rate variability and SpO2 (or blood oxygen) levels to provide a baseline understanding of your overall health. Like bulkier wearables and smartwatches, this neatly-designed device also tracks sleep quality and can monitor your menstrual cycle via its accompanying app.
What's more, Movano says Evie can also keep a log of activity minutes, calories burned and metabolic calories, all wrapped up in a tasteful piece of jewelry. But why do women need a dedicated wearable? To help explain, the company recently released a white paper about the apparent benefits of wearables that take into account "the nuances of sex and gender" when interpreting biometric markers.
According to a press release from the company, you'll be able to place an order for the Evie Ring from November 20, exclusively through its own website for a retail price of $269 (around £220 / AU$420) and, refreshingly, no subscription fee. The ring will be available in sizes 5-12 and you can also choose to receive a complimentary sizing kit with your purchase.
Although initially announced at the tail end of 2022, the launch of the Eve Ring has been pushed back multiple times, as Movano sought full FDA approval to market the device as a medical product (which it hasn't yet received). According to Wareable, this meant calibrating heart rate and Sp02 readings to adhere to strict legislative guidelines.
One ring to rule them all?
The Movano Evie's main rival is the Oura Ring, which offers accurate readings of over 20 biometrics in a fashionable design that can be specified in a number of sizes and finishes. It's currently top of our guide to the best smart rings.
But the Oura isn't specifically marketed at women, with designs and color combos targeting all kinds of users, and this is where the Movano Evie Ring differs. It isn't yet clear exactly how the Evie will tailor its analysis of health-related biometrics for women, but this should become clearer now it's close to going on sale.
What about Movano's attempts to get the Evie approved by the FDA in the US as a medical device? Right now, Movano is only saying that it's "working closely with the FDA to navigate the regulatory process for medical device clearances" after making its first submission earlier this year.
Still, if it does manage to achieve that feat, it would certainly be a boost to the perceived accuracy of its heart rate and SpO2 metrics. And Movano says that it won't affect the Evie's pricing, stating in a blog post that "the Evie Ring will be available for purchase at $269 with no additional fees or subscription costs, regardless of the FDA's decision".
The Evie ring partners with an in-depth smartphone app (above) that looks at everything from heart health to detailing a clear menstrual cycle calendar with symptom and mood tracking, as well as period and ovulation estimations.
It looks like a neat solution that does away with the need to wear bulky fitness or smartwatches – we're looking forward to taking it for a spin soon.
You might also like
Get daily insight, inspiration and deals in your inbox
Get the hottest deals available in your inbox plus news, reviews, opinion, analysis and more from the TechRadar team.