Sonos Era 100 & 300: the new wireless speakers explained
A new era of Sonos speakers is here, and they have Bluetooth now!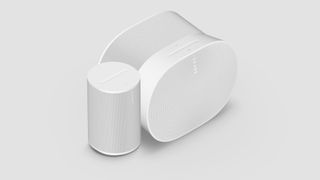 (Image credit: Sonos)
Sonos Era 100 & 300 key features
Sonos Era 100
- Replaces Sonos One
- Angled tweeters for wide-spread sound
- Bluetooth support, and optional line-in adapter
- $249 / £249 / AU$399
Sonos Era 300
- Dolby Atmos music support
- Four angled drivers, two woofers
- Turns Sonos Arc into a 7.1.4 system
- Bluetooth support, and optional line-in adapter
- $449 / £449 / AU$749
Sonos has launched two new speakers in its home speaker line-up in 2023: the Sonos Era 100 and Sonos Era 300. The Sonos Era 100 is smaller and replaces the Sonos One in the line-up, while the Sonos Era 300 is a new Dolby Atmos-ready speaker that sits between the Era 100 and the Sonos Five, the latter of which remains on sale.
We've already had a chance to try both of these speakers in a demo with Sonos, and they're very impressive. You can head straight to read our early impressions in our hands-on Sonos Era 100 review or our hands-on Sonos Era 300 review – or read on for a quick run-down of the new speakers.
This move is exciting because Sonos makes some of the best wireless speakers around, and these new speakers are more flexible than most of its options so far, thanks to the addition of Bluetooth and easy 3.5mm line-in options. And both sound impressive – so here's everything else you need to know.
Sonos Era 100 & 300: Price and release date
The Sonos Era 100 and Sonos Era 300 are both released on March 28, 2023.
The Sonos Era 100 costs $249 / £249 / AU$399, which is a notable step up from the Sonos One that it replaces, which costs $219 / £199 / AU$319. And it's an even bigger step up from the Sonos One SL, which is priced at just $199 / £179 / AU$289. It moves its price dangerously close to the Apple HomePod 2, which costs $299 / £299 / AU$479, and comes with an even more elaborate speaker setup, plus Dolby Atmos support.
Speaking of which, the Atmos-toting Sonos Era 300 costs $449 / £449 / AU$749, making it a little more affordable than the Sonos Five, which costs $549 / £499 / AU$799 officially.
Sonos Era 100 & 300: Design and features
The Sonos Era 100 is a small-ish round speaker (slightly shorter and thicker than the Sonos One) that includes a larger woofer than the Sonos One for deeper bass, and two tweeters above it, angled to disperse sound left and right, to provide something like stereo sound. It comes in white and black, and looks a lot like the Sonos Move or Sonos Arc in terms of overall design.
It includes Bluetooth 5.0 as well as Wi-Fi 6, so it's easier to beam sound to it from any wireless source. You can also use an option USB-C-to-3.5mm adapter to plug any wired audio source into it, making it even more flexible.
The Sonos Era 300 has a funky new angular design, like a misshapen hourglass on its side, and that's because it houses an array of speakers. You've got a forward-firing compression driver, an upfiring driver for Dolby Atmos height, left and right drivers for width, and then two side-firing woofers.
It also supports Bluetooth as well as Wi-Fi, and has the optional line-in adapter. You can listen to Dolby Atmos music through Amazon Music initially – Apple Music support is coming, but not yet. Naturally, it works with regular music from any source too.
The Era 300 has another trick, though: it can be part of Sonos' most expansive home theater setup so far. Using two Era 300 speakers with the Sonos Arc soundbar in a surround system means you get 7.1.4 channels, according to Sonos. Previously, the maximum has been 5.1.2 – and the new speakers make a huge difference to the immersiveness of the system, in our experience.
Sonos Era 100 & 300: Are they worth buying?
Take this with a huge pile of salt until we can complete a full review on these products, but based on our experience with the Sonos Era 300 so far, it's looking like one of the most exciting audio products of the year, especially in a home theater setup. But even on its own, the expansiveness of its sound means that it could be the best pound-for-pound standalone speaker option this year.
The Sonos Era 100 also seems great, but its price hike compared to the Sonos One is a shame. But with the added flexibility and much improved bass over the previous model, it's still shaping up to be a hit.
Sign up for Black Friday email alerts!
Get the hottest deals available in your inbox plus news, reviews, opinion, analysis and more from the TechRadar team.
Becca is a contributor to TechRadar, a freelance journalist and author. She's been writing about consumer tech and popular science for more than ten years, covering all kinds of topics, including why robots have eyes and whether we'll experience the overview effect one day. She's particularly interested in VR/AR, wearables, digital health, space tech and chatting to experts and academics about the future. She's contributed to TechRadar, T3, Wired, New Scientist, The Guardian, Inverse and many more. Her first book, Screen Time, came out in January 2021 with Bonnier Books. She loves science-fiction, brutalist architecture, and spending too much time floating through space in virtual reality.