What makes an action movie great? Action scenes, of course. Whether it's an oversized vehicle careening out of control through an urban space, fighter jets zooming through clouds on a clandestine mission, or giant monsters attacking, well basically anything they want to, such scenarios grab our attention and make us want to see more.
Cinematography and visual effects are a big part of what makes action movies exciting, but the soundtrack contributes equally to the experience. Well-outfitted theaters, particularly IMAX ones, bring movie sound to life in a spectacular manner, creating a level of 3D immersion that makes the speakers in even the best 4K TVs seem toy-like.
The best TVs for sound improve on that situation, but to get an experience that even approaches cinema-like audio, you'll need to add one of the best Dolby Atmos soundbars to your TV. There are many options to choose from to suit your viewing space and budget. Top soundbars like the Sonos Arc and Devialet Dione feature upfiring drivers on their top surface that bounce overhead effects in Atmos soundtracks off a room's ceiling to better spread the sound around.
Some models, like the Sonos Arc, can be extended with optional subwoofers and surround speakers to create a full 5.1.2 Dolby Atmos speaker system (and a 7.1.4 one when using the new Sonos Era 300 for the surrounds). Others, like the JBL Bar 1300X and Samsung HW-Q990B, ship with both surround speakers and a subwoofer and are equipped to deliver 11.1.4-channel Dolby Atmos and DTS:X sound, though at a steep cost.
But back to action movies. These six picks are ones I've regularly used to test Dolby Atmos soundbars and speakers over the years. Each has a notably immersive Dolby Atmos soundtrack (except for Tenet, which has DTS-HD Master Audio 5.1 track), along with powerful low-frequency effects. In short, they will let you know what your Dolby Atmos soundbar is capable of, and as a bonus, they're all fun to watch in their own way.
I own these movies on 4K Blu-ray disc – yes, discs are still a viable way to watch movies if you own one of the best 4K Blu-ray players – but you can also find them on the best streaming services or for digital purchase or rental online.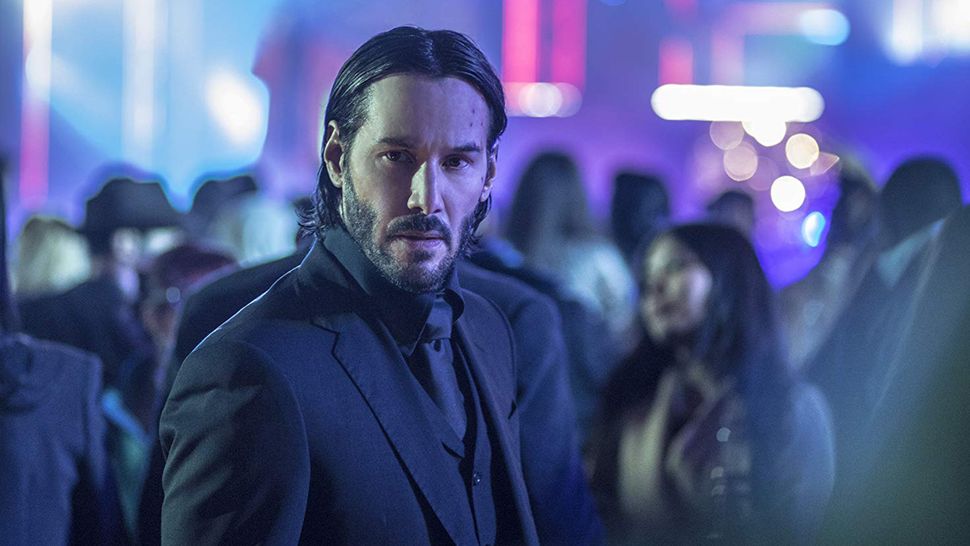 1. John Wick 3 – Parabellum (2019)
The arrival of John Wick: Chapter 4 in theaters this weekend was actually the inspiration for this post. John Wick 3 – Parabellum has an incredibly lively Atmos soundtrack, one that goes far to punctuate the film's many elaborate action set pieces.
This one's not for the squeamish – there are fight scenes galore, with often brutal violence. But if you're up for it, sequences like the one in the antique shop where Wick has the first of many standoffs with would-be assassins or the one in the urban barn where Wick weaponizes horses to aid his escape are accompanied by incredibly dynamic sound effects. And then there's the persistent downpour of rain, which is made completely believable by a good Dolby Atmos soundbar.
I could go on about all the thrilling action scenes in John Wick 3, but I've got to get out to my local IMAX theater to catch John Wick: Chapter 4. In the meantime, take a look at our guide on how to watch the John Wick movies in order and where to stream them.
2. Top Gun: Maverick (2022)
Top Gun: Maverick won an Oscar for Best Sound at the recent Academy Awards, and that lone trophy it received was well earned.
From the get-go, TG2 engulfs you in a swirl of sound, from its 80s-inspired music to the effects accompanying the airborne antics of Pete "Maverick" Mitchell and his cohorts. The film's numerous missions are all textbook examples of immersive sound, but the scene that will take your breath away is the climactic one where Super Hornet fighter jets descend into a canyon and then swoop upward and out.
3. 1917 (2019)
1917 is another audio Oscar winner, this one for Best Achievement in Sound Mixing, and its legendary DP Roger Deakins also won Best Achievement in Cinematography. A third award, for Best Achievement in Visual Effects, made the 2020 Academy Awards a technical sweep for 1917. Needless to say, you know you're in for an audio-visual treat with this movie.
The Atmos sound mix here is incredibly detailed and perfectly conveys the claustrophobic aspects of warfare, where soldiers get trapped in trenches as gunfire throttles above them, along with the more panoramic aspects, where they emerge and survey the destroyed landscape. With a good Atmos soundbar, prop fighter planes flying above literally zoom across the ceiling of your room. And in a scene where the British soldiers are trapped in an underground bunker as debris rains down upon them, the sound mix comes across as almost too frighteningly realistic.
4. A Quiet Place (2018)
The first A Quiet Place was a Best Achievement in Sound Editing Oscars nominee, which is pretty incredible when you consider that its soundtrack consists mostly of silence. Those who have seen the film will know why: blind aliens with ultra-sensitive hearing have taken over the earth, and any noise made by survivors in this post-apocalyptic world will mean almost certain death.
Given the film's long stretches of silence and whispered dialogue, when someone does accidentally make a noise – it happens, right? – the rapid and furious response of the huge, screeching aliens comes across as particularly unsettling. Those quiet passages cause you to pay more attention to the sound, and A Quiet Place's soundtrack does an excellent job of conjuring up a terrifying world.
5. Tenet (2020)
My Tenet 4K Blu-ray doesn't have a Dolby Atmos soundtrack, but the sound mix presented on its DTS-HD Master Audio 5.1 track is so maximalist I never once felt short-changed while watching it. As with many other films by director Christopher Nolan, the music, dialogue, and barrage of sound effects flow by at a rapid clip that doesn't let up, making you feel almost pummelled by the experience.
That's not to say Tenet isn't good, but you'll definitely benefit from watching it more than once to follow the story – the main reason I own it on disc. There are some incredible action set pieces that make very active use of the surround channels, and low-frequency effects are engaged in a full-throttle manner. Given all that's sonically going on, the dialogue in Tenet gets somewhat buried in the mix, and making adjustments with your soundbar's controls to emphasize voices will be a benefit on first viewing.
6. Godzilla (2014)
Okay, to say that this 2014 remake of Godzilla is a great movie would be a stretch, but it's definitely a showcase for Dolby Atmos sound. The main reason is that Godzilla was remixed in Atmos for its 4K Blu-ray release, and its creators clearly went to town trying to make it a model for immersive audio.
The soundtrack regularly places you in the path of gargantuan creatures as they destroy decommissioned nuclear plants and other facilities but the sequence where Godzilla and his MUTO foe duke it out in downtown Honolulu is particularly over the top. Helicopters regularly swirl above, and there are plenty of scenes where missiles get launched at the beasts as they gradually make their way to San Francisco to continue the mayhem. Go, go Godzilla.