Best OnePlus 6T deals: $300 off from T-Mobile or buy unlocked
Here's how to save on the OnePlus 6T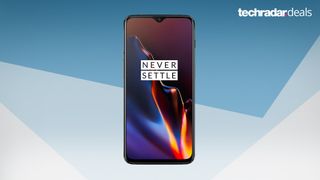 The new OnePlus 6T is here and it's already more affordable than the flagship smartphones that it's competing with, such as the Galaxy S9. With a starting price of $549, it's not OnePlus's cheapest launch, but that price looks budget in comparison to the like of Samsung and Apple's offerings. All the same, there's no reason you shouldn't try to get a good OnePlus 6T deal if you can.
With the impressive design that nearly eliminates all bezels and even one of the most diminutive notches around, the OnePlus 6T has the looks to command a high price. And, the powerful Snapdragon 845 processor paired with 6GB or 8GB of RAM and up to 256GB of storage definitely give it the performance to hold its own against the competition.
The best news is that you can already get a deal on the OnePlus 6T, and it's one of the most insane deals we've seen for a brand new phone.
The best way to score a new OnePlus 6T is to get it from T-Mobile. The mobile carrier is offering $300 off the OnePlus 6T with a qualifying trade-in. And, while that discount doesn't sound so insane at first, the list of qualifying devices quickly makes it crazy.
T-Mobile is selling the OnePlus 6T with 8GB of RAM for $580, so this deal cuts more than half the price off. To get the discount, you need to buy the device on a qualifying monthly payment plan, get a qualifying plan (fortunately, T-Mobile offers the best data plan), and then you need to trade in a qualifying phone. The discount is applied as credits over the course of 24 monthly bills.
Here's where it gets crazy. The eligible trade-in devices include the Google Pixel XL and newer, the iPhone 6 and newer, the LG G6 or V20 and newer, the Moto Z2 Force, the Nexus 6, the Samsung Galaxy S6 or Note 5 and newer, and every single previous OnePlus phone. In other words, even an old OnePlus X that wasn't even $300 at retail can be traded-in right now for a $300 discount on the OnePlus 6T.
The trade-in does need to be in good, working condition to be eligible, but with such a range of phones, you might have multiple phones that qualify (we do).
Other OnePlus 6T deals?
That's it! The only thing close to another deal we've seen is that OnePlus is offering free priority shipping vouchers on new OnePlus devices for customers that subscribe to its email list.
OnePlus does have thee smaller capacity (6GB of RAM) model though, and has barely more than one color option. So if you don't have a trade-in phone, you can save $31 by going with OnePlus's $549 model instead of T-Mobile's $580 model.
As more deals come in, we'll update this page. We've got our fingers crossed a few hot OnePlus 6T deals come up for Black Friday and Cyber Monday.
Sign up to receive daily breaking news, reviews, opinion, analysis, deals and more from the world of tech.
Over the last several years, Mark has been tasked as a writer, an editor, and a manager, interacting with published content from all angles. He is intimately familiar with the editorial process from the inception of an article idea, through the iterative process, past publishing, and down the road into performance analysis.