How to buy a webcam
Need a new webcam? We can help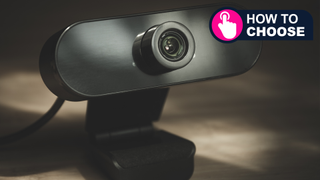 (Image credit: Shutterstock / Marcelo.mg.photos / Future)
How to choose
This is part of a regular series of articles designed to guide you through the process of buying a particular device or type of product. Read them all here.
Buying a webcam may not be something you ever thought you would need to do; and why would you? Most laptops come fitted with a functional, fairly standard camera that copes with what few requirements you have for it.
However, since the Covid-19 pandemic, most of us likely require a webcam more than ever before. Perhaps because you're working remotely and conference calls replaced in-person meetings, or you got grandma online in lockdown so now you can have family catchups from the other side of the world. For whatever reason, a good quality camera is now a necessity in day-to-day life, so it's important to know what to look for, and which webcam best suits your needs.
That's what I'm here for, and the following article will talk you through the different specs you'll find in the product descriptions of any webcam, and what features you should be looking for. Do you go for Logitech or Razer? Or do you just go to Amazon and find the first cheap webcam with a few good reviews? It all depends on what you intend to do with your webcam.
Logitech takes up a huge chunk of the best webcams of 2023, and for good reason. Well-known brands usually ensure top quality from their products, distributing them for testing and reviewing by a whole host of independent parties, including us, and we have already compiled a list of our favourite models this year. But here are my top three webcams that will hopefully make your choice a little easier.
If you're intending to buy a webcam to make working from home easier, and you want better image quality than your phone's front camera can provide, look no further: the Logitech C920 is our pick for the best all-round webcam on the market. Durable and versatile, it will probably go above and beyond what you need it for on a daily basis.
Or, if you're on a smaller budget, Logitech has a more affordable but equally functional model that could be perfect for you. The Logitech HD Webcam C310 is over half the price of the C920 and still has a lot of the same features.
Or maybe you've got money to spend on a fully-featured model, that comes fully equipped with everything from AI Tracking to excellent 4K images. If that's the case, then the Insta360 Link is for you. While this one is a lot more expensive than the average webcam, including a lot of premium webcams, it promises to live up to its price tag. It may be a bit overkill if you only need a webcam for Zoom meetings, but if you're a content creator you could not ask for better.
What to look for
It's important to consider what you need the webcam for, and how often you're going to be using it, before committing to a purchase. It's possible to get a decent webcam without stretching your wallet too far, and which does everything you need it to. And even if you can afford to buy a premium, name-brand webcam, if you're not using it for content creation, you may be wasting your money. You can get a webcam that is a good all-rounder, and meets all your needs, without paying much more than $100.
No matter what you want to use your webcam for, resolution is always going to be important. Whether you're going for a premium camera or our budget pick, you're going to want a decent resolution. Most laptops these days come fitted with a bog-standard webcam which runs at 720p.
Now, although this is a bit outdated, if you're buying a camera for the sole purpose of calling long-distance friends or tuning in to classes online, 720p would be absolutely fine. But videos recorded at 720p are now considered to be fairly low resolution, and if you were using your webcam to record footage for YouTube, this may have a negative impact on your viewers. For content creation, you should be looking at products with a resolution of 1080p, preferably at 60fps (frames per second).
What specs do you need?
Important to note is that webcams operate with a minimum processing speed and memory capacity, which shouldn't be of any great concern for you if you have a fairly new PC, as it should meet any minimum requirements the webcam has. Additionally, webcam manufacturers ensure their cameras work on the most up-to-date version of Windows, but not necessarily other operating systems. Not all webcams may be compatible with your laptop if you're the owner of a Mac or Chromebook. It's worth noting the operating system you use, and double checking it against the webcam of your choice before you purchase it, just in case.
When shopping for anything, it can be easy to get distracted by the sparkly bells and whistles that come with any product, especially if you don't entirely know what they do. But it's also important to check the key specifications to make sure the webcam you're looking at buying meets your bare necessities.
Aside from resolution, the camera's frame rate is fundamental, especially if you're a streamer; having a high resolution at a low frame rate can create images that stutter and/or freeze, which would negatively affect the quality of your content just as much as a low resolution would. A frame rate of 30fps is recommended, but for streaming or social media content, 60fps is optimal. One of the best webcams you can buy right now is the Razor Kiyo Pro Ultra, which is a premium webcam with a 4K resolution, making it perfect for nearly everything. The downside is that it's only 4K at 30fps, which means using it for streaming won't have the most seamless and fluid videos that could be achieved with a webcam that has a high resolution at 60fps.
Another thing to look out for are the different types of microphones your next webcam may have built-in. Not all do, which, if you've got your own recording set up, isn't the end of the world as you'll likely already have your own separate microphone, or the budget to buy one. And if you're like me, and your laptop has been responsible for any video calling you have to do, your PC's built-in microphone may do just fine for the occasional call.
But a lot of webcams come with their own microphones, which should mean your image is not only clear and of a better quality, but so is your sound. What's important to look for is the direction of the microphone; if it is at a fixed point, then you are limited to how much (or how far) you can move around your camera before it is unable to hear you. However, some mid to higher-end models come with omni-directional microphones, which means you can be recorded in almost any direction from your camera; so, it's something to bear in mind if you're likely to be moving around a lot while recording.
Something we're seeing more of is AI Tracking, and you're likely to see it mentioned in the description of some webcams, especially those at a higher price. AI Tracking promises to make image and audio quality better by using facial recognition and noise reduction to intelligently known where you are, and keep you in shot. This may improve your work if you're uploading to a social networking site, but if your reason for buying a webcam is purely for work calls, most webcams with auto-focus and noise reduction will give you a good enough quality, without breaking the bank.
Should you wait for deals?
With any new accessory for your PC, regardless of your price range, waiting for Black Friday or Prime Day deals could get you a top-quality product with a decent discount. However, events such as these, which result in prices being dropped substantially, all fall towards the end of the year, which is great so long as you don't urgently need a webcam in February.
Ultimately, webcams for everyday use aren't horrifically steep in price and you can probably get one to fit your requirements without going much higher than $200. But if you're on a strict budget, waiting for big deals like Prime Day could mean you get a webcam outside of your price range without splurging.
There are also ways to get discounts without waiting for late autumn; head on over to our Deals page, it's a great place to look for a discount before you commit to buying a new piece of tech, all year round.
Our top picks
Best all-round webcam
Specifications
Features:
Background removal, Low-light correction, Stereo audio, autofocus, auto light correction
Reasons to buy
+
Great low-light capabilities
+
Full 1080p HD
Reasons to avoid
-
No 1080p/60fps
-
Fixed camera, no swivel
With high-definition footage and background removal abilities, this camera will have you looking crisp and clear in your work calls. This webcam also comes with auto-light correction so regardless of whether you're calling from your hotel or your home office, this camera will be able to keep your footage looking great, regardless of the lighting.
While most standard webcams fitted into laptops film at 720p, this one has the ability to film at 1080p. It's worth noting that most conference calling software actually caps footage at 1080p to save bandwidth, so for work you quite literally couldn't do better than the C920.
The biggest downside for this camera is that it's fixed, meaning it won't swivel or offer wide angle shots. For most people, it's unlikely this will be much of an issue, especially if you're unlikely to be moving very far while recording. If you want a webcam for streaming, this may not be the best option, as it also doesn't shoot at 1080p at 60fps. But for work or casual calls, the lack of swivelling available won't be detrimental.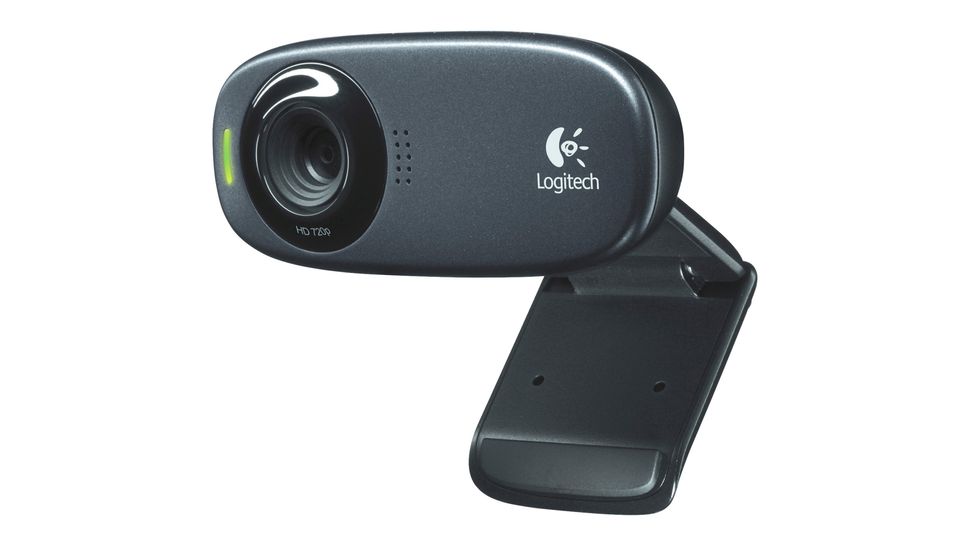 Logitech HD Webcam C310
The best budget webcam
Specifications
Features:
Noise reduction, Auto light correction, Zoom and Skype compatible
Reasons to buy
+
Very affordable
+
Auto light correction
While this webcam isn't all singing and all dancing, it's by no means poor quality. With Zoom and Skype compatibility, this webcam is perfect for your casual calls and even attending online lectures. It comes with a mono microphone, which can pick up your voice from up to 1.5 metres away, as well as offering noise reduction. So, although it isn't an omni-directional mic, it can definitely hear you while you sit at your desk.
The Logitech HD webcam also shoots at 720p, which may be a little outdated but is still fairly good quality, so your family, friends or classmates will still be able to see you clearly. It also offers auto-light correction which may save you money in the long run, as there's no need to buy a special LED ring light to ensure great visibility and a clear image, you can just stay near the natural light or the desk lamp you already own.
This model is definitely perfect for anyone on a budget, as it comes in at nearly a third of the price of the previous camera mentioned on this list. Not to mention, Logitech is a trusted brand that makes good quality cameras, regardless of their capabilities, so you can be sure this webcam is durable and reliable and won't break any time soon.
The best premium webcam
Specifications
Features:
Variable FOD, smart exposure and focus, detachable cable, gesture-controlled modes
Reasons to buy
+
4K, 1080p resolutions and 60FPS options
+
AI features are well implemented
+
Plenty of included accessories
Reasons to avoid
-
Very expensive
-
Learning curve with gesture-controlled modes
If you're looking for the best of the best equipment to use for filming or streaming, you could not do better than the Insta360 Link. One of the only cameras on our best webcams 2023 list that has 4K Ultra HD support, but also films at 1080p at 60fps. This means footage recorded on this webcam will be seamless and smooth, offering the best quality for viewers on the platform of your choice.
The cutting-edge technology used to control this webcam relies entirely on hand gestures, meaning there are no buttons or switches on the model and the design remains sleek. While this may put some people off, the innovative gesture control makes switching between modes easy and effortless.
Additionally, this model features AI Tracking that uses facial recognition to track the subject and keep you front and centre. It's equipped with auto-focus that means your footage should never be fuzzy, and you should always be in focus.
This webcam is definitely in the higher bracket when it comes to price tags, selling for roughly $364 on Amazon, but there's very little it can't do. It offers some of the best quality filming on the market and even comes with its own tripod for ease of filming anywhere. If you don't have an extraordinary budget to splurge on a camera this expensive, there are definitely cheaper alternatives, but maybe none that are quite this good.
Get daily insight, inspiration and deals in your inbox
Get the hottest deals available in your inbox plus news, reviews, opinion, analysis and more from the TechRadar team.