Buying a pair of the best headphones is a unique investment. While any pair of headphones will let you listen to content, the top options open up opportunities for you to actually experience it. The best wireless headphones, the best wireless earbuds and even the best gaming headsets can offer transformative new ways to hear your favourite content.
But with so many options to choose from, finding the right headphones can be a challenge.
Over the years we've dedicated a heap of time to testing earbuds, headsets and headphones from all of the top brands, allowing us to understand what it takes for a pair of headphones to be the best. Here you'll find our picks for the top headphones in Australia worth buying, with options from Sony, Bose, Sennheiser, Apple and more. You'll find our best picks to suit every budget, need and preference, too.
Whether you're looking for the best sound quality, a worthwhile budget option or a versatile all-rounder, you'll find the best headphones for you below.
Best headphones for 2023 at a glance
1. Sony WH-1000XM4
2. Bose QuietComfort Earbuds 2
3. Razer Opus X
4. Nura NuraLoop
5. Audio-Technica ATH-SQ1TW
6. Sennheiser Momentum 4 Wireless
7. Bose Noise Cancelling Headphones 700
8. Sony WH-1000XM5
9. Nura NuraTrue
10. Sennheiser HD 250BT
11. Sony WF-1000XM4
12. Apple AirPods Pro 2
13. Samsung Galaxy Buds 2 Pro
14. Sony WF-C500
15. Bowers & Wilkins PX8
16. Røde NTH-100
17. Razer Barracuda Pro
18. Sony WH-CH520
19. HyperX Cloud Alpha Wireless
20. 1More Triple Driver In-Ear Headphone
21. JBL Tune 710BT
The best headphones 2023: our picks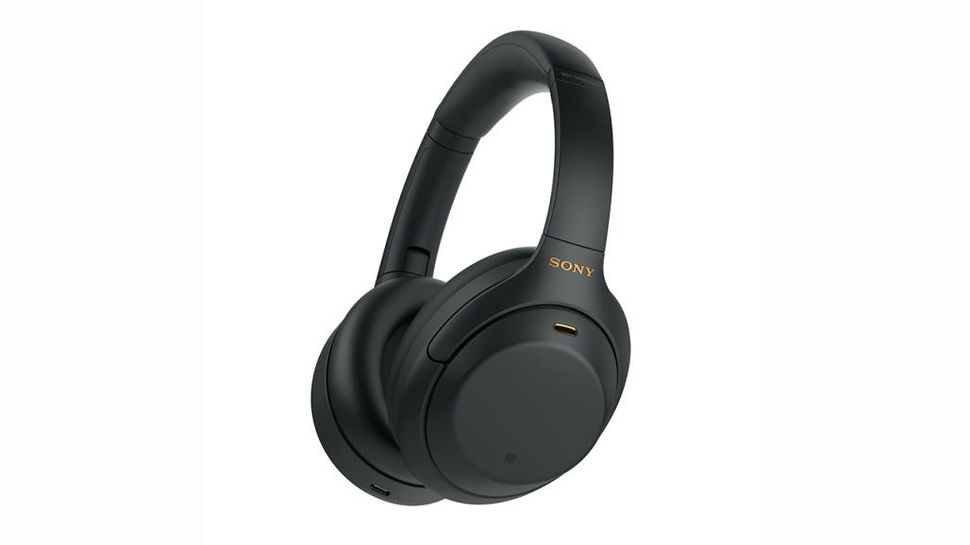 The Sony WH-1000XM4 headphones deliver excellent noise-cancellation and sound quality in a design that we found comfortable and lightweight throughout our testing.
They don't look different from their predecessors, the Sony WH-1000XM3. However, new features, including multipoint pairing, DSEE Extreme upscaling, conversational awareness and auto-play/pause using a built-in sensor mean they're a significant upgrade.
The WH-1000XM4 headphones also support Sony's 360 Reality Audio format, which delivers spatial audio on stereo headphones, plus the LDAC codec that can send a bitrate of up to 990 kbps. However, it no longer supports aptX or aptX HD, so your hi-res audio support mileage may vary.
Regardless, these are a wonderful pair of wireless over-ear headphones and deliver exactly what they promise (and then some) thanks to their exceptional noise cancellation and cutting-edge codec support. Although these can have been followed-up by the Sony WH-1000XM5s (see below), these WH-1000XM4s still have the edge by boasting most of the same features and overall quality of their newer sibling, while selling for a more appealing price.
Read our full Sony WH-1000XM4 review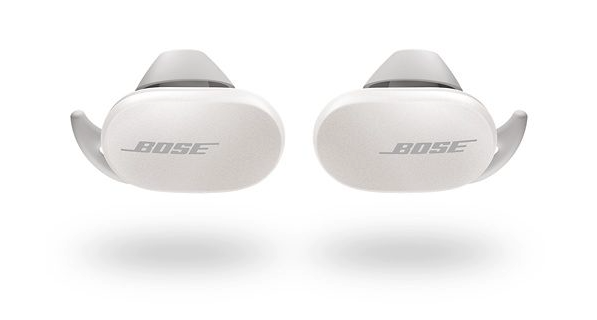 As impressive as the first generation Bose QuietComfort Earbuds were, it would be fair to suggest that the second generation of Bose's premium noise-cancelling in-ears has improved upon them in almost every way.
Design refinements with the Bose QuietComfort Earbuds 2 vastly improve the noise cancellation, for example, which is especially impressive given the originals already offered some of the best ANC at the time of their release. As an added plus, our review found that you don't lose out on audio quality for these improvements to ANC, as the "sound is very well balanced, with a heck of a lot of details and textures coming through. And if you find the need to tweak it, you can via the EQ in the app."
With that said, there are a few specs missing from these buds that are a little disappointing when considering the premium price – there's no support for high-def wireless codecs and no wireless charging, for example.
However, if you're after the best noise-cancelling true wireless buds currently available, look no further as the Bose QuietComfort Earbuds 2 are unmatched in that area.
Read our full Bose QuietComfort Earbuds 2 review
Coming from gaming legends Razer, the Opus X Wireless headphones offer exceptional value at a budget-friendly price point boosted by impressive versatility in an eye-catching design. As you might expect coming from Razer, the Opus X Wireless offer an impressive option especially for gamers with 60ms latency and an impressive sound profile capable of maintaining neutrality across a variety of genres and audio tasks.
Yet maybe its best asset at this asking price is the inclusion of active noise-cancellation (ANC) that may not achieve levels possible from headphones twice the price, but stands out as exceptional quality for the price it'll cost you to get your hands on the Opus X Wireless.
The younger sibling to the Razer Opus coming in at half the price, the Opus X Wireless actually manage to surpass their older sibling in terms of overall value especially for gamers even if not quite matching the lofty heights with regards to sound performance. All things considered there really isn't a whole lot to complain about with the Opus X Wireless at its asking price unless you primarily need headphones for moderate to high intensity exercise in which case you'll need to look elsewhere.
Given you can also pick from three eye-catching colourways, what is there to lose?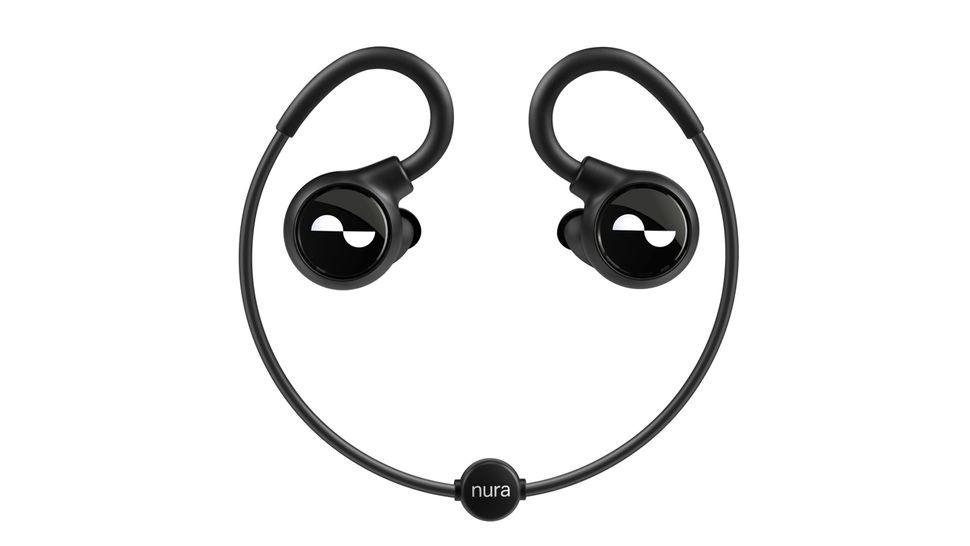 NuraLoop has boiled down everything good about the company's first product, the Nuraphone, into a much more compact, rugged, and affordable package without losing much in the process. The star of the show here is the adaptive audio technology, which automatically creates a customised listening profile and feeds you well-balanced, lush sound specifically tailored to your ears. This makes for an impressive and immersive audio experience that elevates the NuraLoop to the top 10 of this list.
Although this customisation might be the primary selling point for the NuraLoop headphones (much like the NuraTrue below), there are nonetheless plenty of other features which make them stand out. These include active noise-cancelling, a handy social mode, an IPX3 rating, Immersion mode, great battery life and the ability to attach an analog 3.5mm cable. That kind of versatility is an immense source of value in and of itself.
The only real downside we encountered is that the stiff neckband can get in the way at times, something true of wireless earbuds with a similar design to NuraLoop. At the same time though, this neckband is precisely what makes the NuraLoop our pick for the best workout headphones money can buy, and ensures they stay securely in your ears even when you're bouncing and moving around.
Read our full NuraLoop headphones review
If you're shopping on a tighter budget but not looking to make steep concessions when it comes to audio performance, these eye-catching Audio-Technica ATH-SQ1TW true-wireless in-ears are a godsend.
You're getting Bluetooth 5.0, 20 hours battery life, on-ear controls that work well (including volume) plus a low-latency mode, a hear-through function and a sound that's more expansive, clearer and generally better than anything else you can buy for this money. That's all in a set of earbuds that is designed in such a way that is both attractive and unique, with various colour options on offer.
As long as a lack of companion app and active noise cancellation aren't deal-breakers for you, these inexpensive earbuds should be top of your list if you're shopping on a tighter budget.
Read the full Audio-Technica ATH-SQ1TW review
We said under intense review that Sennheiser's welcome update to its 2019 Sennheiser Momentum third-generation Wireless headphones would soon be sitting pretty within this buying guide, and here they are. The Sennheiser Momentum 4 Wireless are the newest August 2022-issue wireless over-ear headphones from Sennheiser and if Sony (listed above and below) isn't worried, it should be.
These cans boast an incredible 60-hour battery life, a likeable app, an extensive feature set, easy on-ear controls, talented adaptive noise cancellation and a zealous sound that'll have you nodding your head happily wherever you go. Yes, they're a tad plain aesthetically, but the proof of the pudding is in the eating, and these headphones sound outrageously good for the level.
Sennheiser has packed everything and the kitchen sink into the Momentum 4 Wireless's spec sheet, including Sidetone to better hear your voice during calls and 'Sound Zones', EQ and ANC presets which can be set to magically kick in when you're, well, in the zone. Make no mistake though, the headline-grabber is still the sound. And what a sound it is! Think open, detailed, expansive, neutral and crisp. Never is it overly warm; never is it congested or muddied through the bass.
If there is any real barrier to the Sennheiser Momentum 4 Wireless reaching number one status, it's almost certainly found with its price. These ones will set you back somewhere from AU$450-550, putting its cost at a similar level to the Sony WH-1000XM5 below but higher than the Sony WH-1000XM4 above. It won't come cheaply, but premium quality rarely does.
Read our full Sennheiser Momentum 4 Wireless review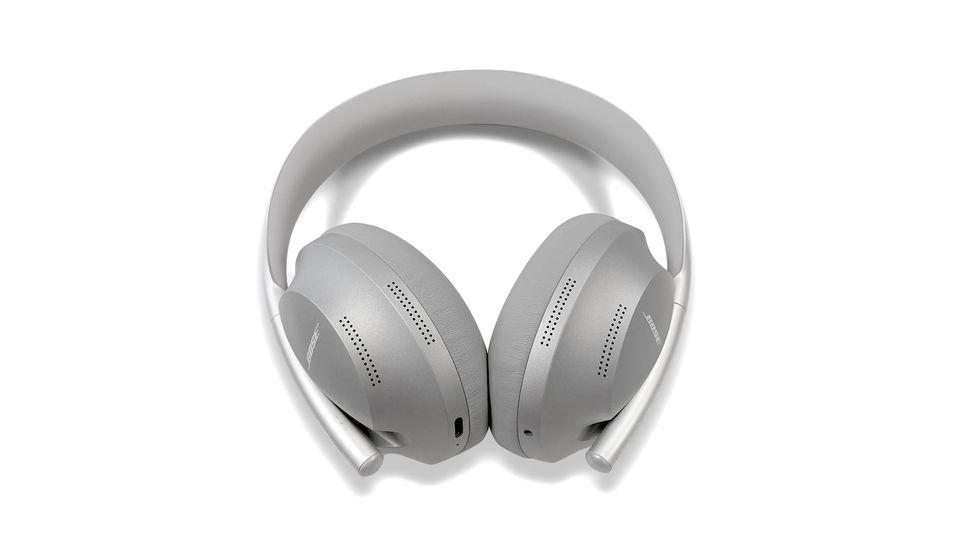 If the Sony WH-1000XM4s are the current king of noise-cancelling headphones, the Bose Noise Cancelling Headphones 700 could be argued as being next in line for the throne. We do think the Sony XM4s (and XM5s) sound slightly better, but the Bose noise cancelling is superior, meaning that if you're a frequent flyer these may well be the better option for you.
By applying noise cancellation to phone calls as well as music, Bose has made further strides in the field of noise-cancelling headphones. But these headphones are no slouch in the area of sound quality either, as we found the sound to be undeniably good, with a vibrant, lively character and well-balanced soundstage.
If you're trying to decide between buying the Sony WH-1000XM4s and these Bose headphones, you'll find they sit around roughly the same price point, with the XM4s having a slight edge in terms of audio performance and the Bose 700 holding an edge in noise cancellation. Which of the two matters more to you should be the deciding factor, but regardless, if you opt for these quality Bose headphones you won't find much cause for regret.
Read our full Bose Noise Cancelling Headphones 700 review
These new Sony headphones would be at the top of our table if it weren't for the fact that the outgoing model, the WH-1000XM4, is substantially cheaper and does almost everything the XM5s do. These are better headphones in many areas, but at the moment the XM4s are still our pick for the better buy.
While the XM5's new design is more elegant and contains slightly smaller drivers than before (made with a new carbon-fibre material), and while there's less wind distortion the trade-off is that they don't fold neatly like the previous model did. The noise cancelling is best-in-class, doing an excellent job of muting the higher pitched sounds that many ANC headphones find challenging, and sound quality is exemplary. Your co-workers or fellow commuters won't take a dislike to you either: these headphones don't leak as badly as some over-ears do.
The other headline feature here is battery life, which is now 10 hours longer, so you can expect up to 40 hours with the ANC off and 30 with it on.
If you don't already have noise cancelling headphones, these are as good as it currently gets... even if the older, cheaper model is almost as good, and has the edge on value thanks to a lower price.
Read our full Sony WH-1000XM5 review
If you're looking for comfort and customisation without compromise in a set of noise-cancelling true-wireless earbuds, the NuraTrue are the pick for you. Not only is there a variety of foam and silicone eartips to help you customise the fit of these earbuds, but there's also a "fit test" on the app to help you perfectly tune the audio to your ear. This might seem like a niche feature, but it results in a noticeably positive difference to both comfort and overall performance.
The customisation features don't stop there though, as you can also create multiple sound profiles and map touch controls to your personal preferences. Audio quality is also exceptional in these buds, with support for hi-res audio also in the mix.
On top of everything else, you'll also get fast charging, solid noise-cancellation and an IPX4 water resistance rating allowing you to take these buds to the gym without a worry. When considering the full suite of features and options packed in to the NuraTrue, you have one of the most well-rounded earbuds currently available on the market and one of the better headphone options period. They don't come cheaply, but they nonetheless do come highly recommended.
Read our full NuraTrue review
Sennheiser knows audio and has a solid reputation and long track record that means it can charge premium prices. Yet the Sennheiser HD 250BT is a gift from the brand, which offers impressive sound quality and a durable build at an affordable price. The headline features include Bluetooth 5.0 with aptX Low Latency, a 25-hour battery life, app support and Sennheiser's transducer tech that most deck-heads will know and love.
The build is a black plastic affair but doesn't suffer from cheap flimsiness, with comfortable padding in the ear cups making them as comfortable as on-ear headphones will get. We would have liked to see that padding added to the headband, but given the price it's a shortcoming we can overlook.
And when it comes to sound, the HD 250BT offers a lot more detail, agility and dynamic rhythm across frequencies than you'd ordinarily see at its price point. This makes the HD 250BT an exceptional budget option if you're looking for Sennheiser quality without having to sacrifice an arm and leg.
Read our full Sennheiser HD 250BT review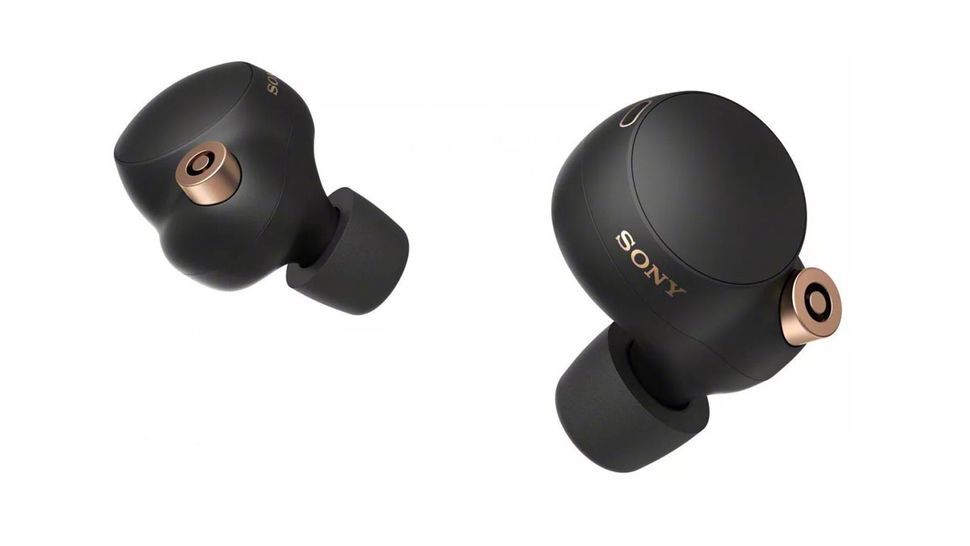 With the Sony WF-1000XM4 earbuds, Sony has combined performance, ergonomics, and build quality more effectively than ever before in a noise-cancelling true wireless package. During our testing we found that compared to their predecessors, the Sony WF-1000XM3, the newer wireless earbuds offer enough quality-of-life features to make them worth upgrading to even if they are a little more expensive. Features like auto-pause and being able to tune the buds to the shape of your ears are truly useful.
While other true wireless earbuds surpass the Sony WF-1000XM4 in particular areas (in terms of noise cancellation, for example) there might only be one earbud option that rivals it as a full package.
Read our full Sony WF-1000XM4 review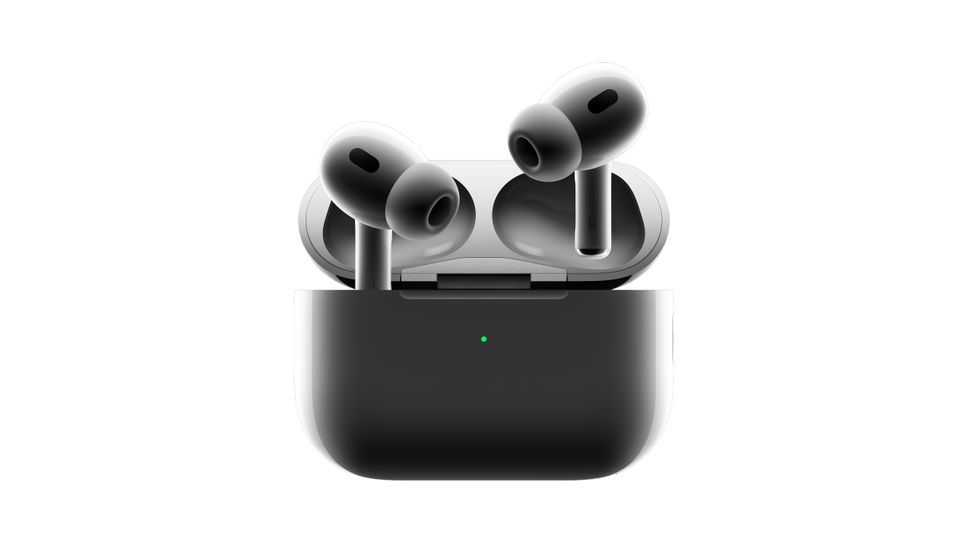 The second-generation Apple AirPods Pro offer improved audio performance over the originals and fantastic ANC in a comfortable, true-wireless form factor. The design changes might be subtle, but audio performance is upgraded with new drivers and amplifiers. As a result we rated the sound from the AirPods Pro 2 as brilliant during our testing, with rich audio across genres and a wide, expansive soundstage.
ANC is also greatly improved and performs exceptionally well and we found that it blocked out most external noises, while transparency mode is more useful too, allowing you to have natural conversations when you don't want to take them out.
Battery life has been boosted to 6 hours from the buds with ANC on, and 30 hours from the charging case, which is now IPX4 water resistant and capable of withstanding light showers and sweating. It also has a speaker which is especially handy if you lose them, which means they'll chirp when sent a 'Find My' request.
We still rate the original AirPods Pro, but this second-gen model is a marked improvement and one of our favourite options if you're looking for a pair of the best headphones in a true-wireless design... even if they may not be our picks for the best.
Read our full Apple AirPods Pro 2 review
Samsung has truly turned a corner with its latest Galaxy Buds 2 Pro, which forego futuristic looks in favour of great 24-bit sound, head-tracked spatial audio and a design that fits comfortably.
Apple, Sony, Bose, Sennheiser and in fact all of the best wireless earbuds manufacturers would do well to take a good look at what Samsung has done with the Samsung Galaxy Buds 2 Pro, that's how good they are.
No, really, they're good.
These smaller, more comfortable and less arrogant earbuds (remember the rose gold, kidney-bean shaped Galaxy Buds Live?) are packed full of useful features such as excellent ANC, voice detect, wearer detection and customisable on-ear controls, plus IPX7 water ingress protection.
But the headline-grabber if you own a Samsung Galaxy device (and thus have access to the Samsung Wearable companion app and home-screen widget) is 360º audio with optional head-tracking, allowing you to use your phone as a focal point to direct more of that new end-to-end 24-bit high-res audio to whichever ear you prefer.
Read our full Samsung Galaxy Buds 2 Pro review
Very narrowly edged out by the Audio-Technica ATH-SQ1TW above as the best budget true-wireless earbuds, the Sony WF-C500 are nonetheless an exceptional pair of in-ears, with the premium quality you would expect from Sony's audio innovations.
Of course, some sacrifices have been made to keep costs down when compared to Sony's more premium earphone options, with a (comparatively) lacklustre battery life and a narrower soundstage. But you're still getting a neat and comfortable pair of buds that sound pretty good for the average user and punch above their weight when considering how much they will (or rather won't) set you back.
Despite their compact size, these buds not only manage to sit securely in your ears but also have touch controls on the surface of each unit, and fit in a microphone opening so that you can access a voice assistant (either Google Assistant or Siri) as necessary. As a budget option, you simply will not find much better in terms of quality, performance and overall value.
Read our full Sony WF-C500 review
If the only factor to be taken into consideration when determining the best headphones were sonic quality, the Bowers & Wilkins PX8 would land much, much higher up this list. But then there's the price. These wireless headphones will set you back roughly two times or more what you'll pay to get your hands on the more expensive premium options above it on this list.
That makes the PX8's price north of AU$1,000 and more expensive than a vast majority of consumers would or should ever consider for a pair of new headphones. Still, the price tag isn't necessarily without its justifications. A new carbon cone 40mm drive unit replaces the bio-cellulose driver in the (slightly) more affordable Bowers & Wilkins PX7 S2 and the die-cast aluminium arms, diamond-cut bright metal detailing and Nappa leather trim elevates the build to high-end territory.
And the sound quality is simply exceptional, with agile, dynamic sound coming through crystal clear and at a performance level that is simply top of the class. You also get a generous 30 hours of battery life, which is impressive when considering how much is packed into the headphones that could elsewhere be used as justification for a more modest juice cycle.
If money is no object and sound performance is what matters most to you, these are the best headphones money can buy. It's just the asking price being so far beyond what many could reasonably consider drastically harming the PX8's overall value which sees these headphones tumble so far down this list.
Read our full Bowers & Wilkins PX8 review
Røde is a big name in the world of pro recording gear including (and maybe especially) microphones, but these NTH-100 are the brand's debut pair of headphones. With a reputation of quality behind them, expectations for these headphones were understandably high. Luckily, the NTH-100 manages to mostly live up to them.
In terms of audio quality, dual 40mm full-range drivers deliver a great sense of rhythmic expression and plenty of detail that will especially appeal to audio professionals. And the midrange is the real star of the show, picking up even the slightest variations in tone or timbre as another way the NTH-100 will manage to stand out for the pros.
In terms of downsides, the CoolTech gel in the memory-foam earcups only stays cool up to a certain point, while there are wireless options offering as clean or even cleaner sound. Given wired headphones are going the way of the dinosaurs for most people, there perhaps isn't quite enough reason for the average consumer to part with their coin for the NTH-100 headphones. But all in all, the detail-heavy NTH-100 are a superb first outing in the headphone market for Røde, and loom as a particularly appealing option for professionals.
Read our full Røde NTH-100 review
Going from the streets of your favourite video games to the streets outside your four walls doesn't have to be a pain in the rear end, or so the impressive Razer Barracuda Pro will have you believe. Designed to be a 'hybrid' headset, Razer have built the Barracuda Pro to offer great quality wherever you wear them.
And while the Barracuda Pro can't quite match the levels of clarity and depth that the best dedicated gaming headsets will offer you, but does still manage to impress when paired with gaming particularly when considering where else the Barracuda Pro manages to exceed expectations.
Surprisingly good active noise-cancellation, solid bass reproduction and a very welcome strong showing in terms of battery life lead the charge for the Barracuda Pro, while the inclusion of THX Spatial Audio and THX Achromatic Audio Amplifier support speaks to the Barracuda Pro's audio bonafides.
As a dedicated gaming headset, the Razer Barracuda Pro won't blow you away, but as a hybrid headset offering you the freedom to go from game to lifestyle without a compromise on quality, the Barracuda Pro is tough to beat.
Read our full Razer Barracuda Pro review
As the successor to the Sony WH-CH510, the wireless on-ear Sony WH-CH520 match its predecessor's competency at an affordable price while making welcome gains in a number of areas.
If you're looking for headphones at this price point, you're likely already willing to make a few sacrifices, but the Sony WH-CH520 nonetheless featured a newly elevated sound profile that particularly excels with its balance at this price. While the sound quality for the Sony WH-CH520 can't match the dynamic levels of more expensive alternatives such as those above, the audio quality is still admirable for a budget-friendly pair of headphones and can be further customised with the use of app-support.
The Sony WH-CH520 also sees welcome improvements to battery life over its predecessor, now offering up to 50 hours of battery life over the 35 hours of the Sony WH-CH510.
Those hoping for noise-cancellation will find little joy here, and the Sony WH-CH520 are also prone to leakage, but these affordable wireless headphones still do enough at their price to warrant consideration.
Read our full Sony WH-CH520 review
If you're looking for exceptional audio with your games but aren't willing to be tethered to your device, there simply isn't a better option than the HyperX Cloud Alpha Wireless as one of the best gaming headsets money can buy. Offering 2.4GHz wireless capability, incredible audio fidelity and generous battery life, the Cloud Alpha offers a hell of a lot even if it makes concessions to the Razer Blackshark V2 above in terms of overall value when factoring price into the equation.
Its wireless functionality is achieved through a USB-A wireless adapter included with the headset, with no backup Bluetooth or wired options, so these are a PC-only affair (not for phones, tablets or consoles), and connectivity could be an issue if you happen to lose that adapter. But with quality audio powered by the Cloud Alpha's 50mm neodymium dual-chambered drivers and a further variety of features and EQ presets on offer for PC gamers through HyperX's Ngenuity software, audio performance is where the Cloud Alpha truly shines.
And with HyperX boasting that the Cloud Alpha Wireless headset has up to 300 hours of battery life from a single charge, there's a lot to like about this headset for PC users who don't want to compromise.
Read our full HyperX Cloud Alpha Wireless review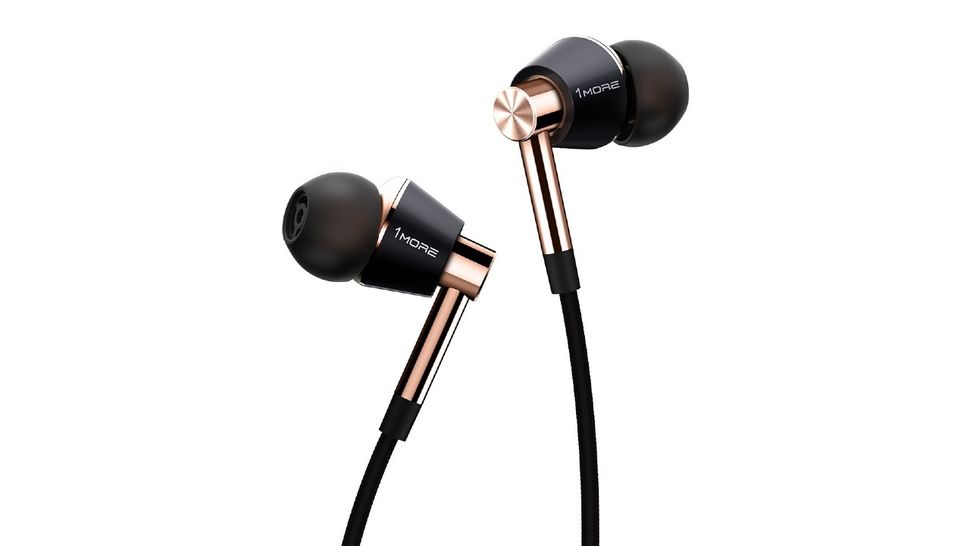 After testing the 1More Triple Driver In-Ear Headphones for a few weeks, we found that they deliver fantastic sound and equally fantastic value for money. That's why we consider them to be the best headphones for those who prefer wired earbuds.
For the price, it would be difficult to find a better-sounding and more well-built pair of earphones than the 1MORE Triple Drivers – although if you want a little extra refinement and more luxurious materials, the same firm's 1MORE Quad Drivers are even more impressive, albeit at twice the price.
The inbuilt remote feels a little cheap, but that's more than made up for by the lush sound quality offered by these luxe-looking earbuds. For the price, you would struggle to do better than 1MORE's Triple Driver in-ear headphones.
Read our full 1More Triple Driver In-Ear Headphone review
If you're shopping on a tight budget but don't want to settle for a pair of headphones that feel as cheap as what they'll cost you, there might be no better option than the JBL Tune 710BT wireless over-ear headphones. Offering impressive base and an overall sound profile at its price point, the JBL Tune 710BT does a lot to offer much more than what its price might suggest.
That overall value is especially true with regards to its excellent battery life, lasting up to 50 hours and far exceeding the capabilities in this regard of both candidates above it in this list. If you're hoping for a pair of headphones that will act as a dependable travel companion especially, these over-ears will do a lot to impress. Given that they're also lightweight and water resistant, they're a quality option for the gym too just as long as you aren't planning to fully submerge them in water.
Admittedly, hands-free calling could be better as it can be challenging to hear yourself at times, but overall the JBL Tune 710BT offers exceptional value at its price that allow it to surge up this list.
Best headphones: FAQ
How to choose the best headphones for you
Why you can trust TechRadar We spend hours testing every product or service we review, so you can be sure you're buying the best. Find out more about how we test.
There's a lot to consider when you're buying a new pair of headphones. Nowadays, maybe top of this list is your budget, but close behind this are factors such as comfort, sound performance and battery life among others.
Choosing the best headphones for you will almost certainly depend on how you hope to use them and what you can afford, with quality options at various price points to be found in all styles. These include wired, wireless or true wireless, as well as over-ear, on-ear or in-ear.
What are the best headphones I can buy right now?
The best headphones aren't necessarily guaranteed to be the best for you, as which options are best for your needs will depend on your preferences, style, budget and where you hope to primarily wear your headphones.
Luckily, there's options for everyone to be found without much effort thanks to our list above. While our top pick might be the Sony WH-1000XM4 wireless headphones, we consider the Bose QuietComfort Earbuds 2 our favourite pair of earbuds, while two offerings from Australia's own Nura (the NuraTrue and Nuraloop, respectively) earn their places in the discussion of the best headphones.
If you have a tighter budget, however, we'd suggest the Sennheiser HD 250BT headphones as our pick for the best budget wireless headphones, while we're bullish on the Audio-Technica ATH-SQ1TW earbuds being the best budget true-wireless option.
If money is no object and the best of the best sound quality matters to you, however, you might find no better option than the Bowers & Wilkins PX8.
The best headphones for you depend on you, but you're sure to find something suitable in our list above.
Which brand is best for headphones?
There's no one perfect headphone brand out there. It all depends on your budget, audio needs, the features you want, and even the comfort or design involved with the headphones.
That's why we've included numerous headphones covering different price ranges and feature sets. While major brands like Sony and Bose may stand out most and Melbourne-based Nura have emerged as serious competitors, that doesn't mean you shouldn't rule out the others, with something for everyone out there.
What are the best headphones for working out?
When it comes to finding the best headphones for working out, the first thing you will need to determine is if they're water resistant. The last thing you want is to ruin your new pair of headphones because they aren't prepared for dealing with the sweat that comes with most exercise.
The next thing to consider is fit. Many people choose to go for true-wireless earbuds when working out due to their portability, however this style does come with some downsides. Without wires and being so small, it's pretty easy for them to pop out of your ear while you're bouncing around and can then get lost.
For this reason, our pick for the best headphones for working out is the NuraLoop headphones. These are wireless, though not true wireless, with a connecting band between the two buds that will drape over your neck. This means that there's less concern about losing one, or them falling out and bouncing away from you when you're working out.
These (and others with similar design) also hook over your ears to better secure the fit, meaning you won't have to worry about losing your headphones as much as you would with earbuds, while also avoiding the over- and on-ear designs that can trap in heat and sweat while exercising.
Are wired headphones better than wireless?
Generally speaking, wired headphones do deliver better sound quality than wireless headphones. But audio tech has seen so much positive advancement in recent years that many of the best wireless headphones offer more than enough performance to ensure you're unlikely to notice a difference.
We often still recommend that strict audiophiles continue to opt for wired headphones, but for everyone else it will be mostly down to personal preference.
How we test the best headphones
When it comes to the best headphones, we focus on sound quality above everything else. We look at both wired and wireless cans and earbuds that would appeal to audiophiles, as well as those working in professional roles.
However, we also appreciate that budget is important too, so we compare like for like, picking out budget headphones that perform admirably for the price.
We also look at other features such as ANC, battery life, fit, and of course the usability and extra perks offered by any companion apps. Of course, design and whether they look (and feel) good all adds to the model's desirability – and this is noted as we listen to music across a wide range of genres over several days.
We have tested all of the headphones in this guide extensively, spending plenty of time analyzing the sound, fit, design, specs, and value for money so that you will be able to choose a product you'll be over the moon with.