The right electric bike can take the sweat out of riding and make cycling fun again – and we're here to help you choose the one for you.
Do you enjoy the freedom of cycling, but sometimes wish your panniers seemed lighter, the headwind less stiff, and the hills not quite so steep? Fancy arriving at your destination fresh and presentable rather than sweaty and rumpled? Then you're already lusting after an e-bike.
For commuting, grocery-getting, or leisure riding, electric bikes deliver on the promise of carefree cycling that geography and fitness sometimes conspire to derail. Combining transport and exercise, a little electric assistance can keep the balance right, ensuring your new electric bike is an ever more viable alternative to public transport or hopping in the car.
Unless you're already into road racing or mountain biking, some form of hybrid electric bike will suit most riders. With versatile types, most are happy on asphalt and gravel paths alike, instantly comfortable to ride, and will fit accessories like racks and fenders.
The best electric bikes
The Cowboy 4 is our number one e-bike of 2021, and if you're looking for an electric bike for city riding, it's impossible to ignore. Last year's Cowboy 3 was an impressive machine, but the new model pushes things even further with an even more refined experience and a choice of step-over and step-through frames.
One of the Cowboy 4's standout features is its simplicity. Even if you've never ridden an e-bike before, the absence of gears, switches and other controls means you'll be riding effortlessly immediately. The motor kicks in automatically when you turn the pedal, adjusting the assistance depending on how much pressure you're applying.
Maintenance is simple too, thanks to the internal cabling and carbon belt drive system, which doesn't require oiling or tensioning like a chain. Lights and fenders are built in, and there's even a charging port to juice up your smartphone (which provides easy navigation with smart route suggestions via the Cowboy app).
Although it was initially only sold in Europe, the Cowboy 4 is now available to pre-order in the US as well, with an early bird price of $1,190, and just $100 payable up front. This special price lasts until October 31, and the first batch of bikes are due to start shipping in January 2022.
Read our full Cowboy 4 review
With its road-inspired design and super smooth ride, the Ribble Hybrid AL e is our number two tip for the best electric bike available right now. Whether you're looking for something to take the sweat out of your daily commute, or a bike for long weekend rides, this electric hybrid could be just the ticket.
Electric bikes often aren't particularly stylish, and their chunky frame-mounted batteries are common targets for mean-spirited vandals, but the Ribble Hybrid AL e could easily pass as a conventional push-bike. Its drive system weighs a mere 3.5kg, making the bike surprisingly light (it weighs less than some electric scooters), and only a discreet power button and slightly thicker than usual downtube give it away.
It can be charged from flat in 3.5 hours, and gives you up to 60 miles of power-assisted riding over mixed terrain. There are three levels of assistance to choose from (though in our experience the highest is the most fun), and the Ebikemotion companion app provides you with turn-by-turn navigation and live stats on your ride.
If that's not enough, this is also one of the most affordable e-bikes available today. Highly recommended, and hugely enjoyable to ride.
Read our full Ribble Hybrid AL e review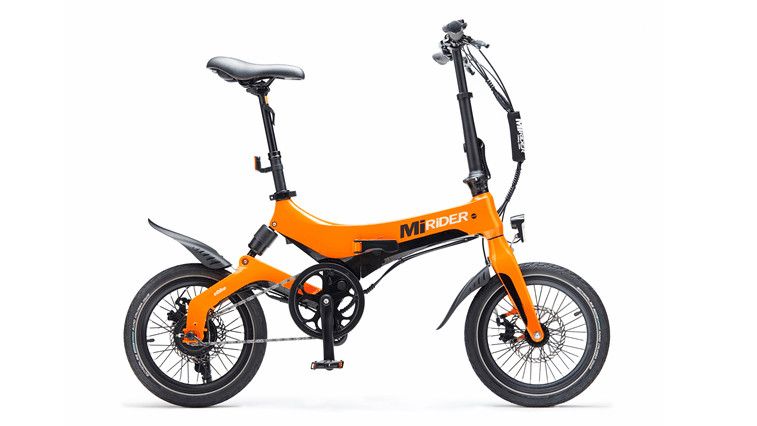 A folding e-bike is the perfect solution for commuters – small enough to fit on a train or under a desk, with an added boost of power to ensure you reach your destination fresh and ready to work. The MiRider One strikes a brilliant balance here, and does so for a remarkably affordable price.
Despite its small size, it gives a smooth and comfortable ride thanks to its robust build and a rear shock absorber that absorbs any minor bumps on your route.
The motor has five levels of power assistance compared to the usual three, giving you plenty of control, with a boost button plus a throttle control to help you get away quickly at crossings and junctions. It charges from flat in just two hours, and gives you a maximum range of 40 miles before it needs topping up.
When you're done, the MiRider One folds down in a matter of seconds ready to be stored in the included case. The best e-bike for commuters by a long stretch.
Read our full MiRider One review
The WAU Bike is an electric bike with remarkable range – able to travel up to 215 miles with an additional power pack attached, so you can forget range anxiety even on long leisure rides. That longevity also makes it a solid choice for commuters, meaning you only need to charge it up on the weekend.
The rear hub motor is smooth to pick up, whichever of the five pedal-assisted modes you choose, and you can easily switch between them when facing a hill or a flat. There's also an eight-speed cassette on the rear, which provides just the right amount of adjustment to prevent your legs free spinning when travelling at speed.
There are also some carefully designed extras here, including an anti-tamper alarm, multi-function rear lights, and geo-fencing so the bike can't be ridden outside a certain area.
View our full WAU Bike review
The Specialized Turbo Creo SL Expert is one of the most stylish electric bikes around, delivering slick road stylings, with dynamic power assistance from its 240W motor when you need it.
The components are all top quality, with a carbon frame, Shimano Ultegra hydraulic disc brakes, 46T chainrings, Shimano Deore XT Di2 Shadow Plus, 11-speed rear derailleur, Shimano Ultegra Di2 Disc R8070 shift levers, Praxis Alloy Cranks and a Shimano XT, 11-speed, 11-42t cassette.
If you love long weekend rides, but find they leave you feeling broken at the end, this is the electric bike for you (provided your wallet can take the hit). Enough to convert even dedicated traditionalists.
Read our full Specialized Turbo Creo SL Expert review
Where to start with the radical Gocycle GX? For one, it folds, but it's not a standard 'folding bike', being good enough to ride that we've put it in with these full-sized alternatives. Then there's the radical frame that includes a mono sided fork and rear swingarm.
With hydraulic disc brakes, magnesium spoked wheels, enclosed chaincase, tiny front hub motor, and internal three-speed gearing, none of these are gimmicks. Adding up to one incredible electric bike, even without the power on it rides nicely. Switched on, its motor assist is excellent, while the bike's app lets you customise its performance to the Nth degree.
About the only downsides are the slightly idiosyncratic handling created by the small 20-inch wheels, along with the way some of the tech may baffle home mechanics.
Read our full GoCycle GX review
Most of the electric bikes in this roundup are designed primarily for road use, but the Ribble CGR AL e is something a bit different. This is a gravel bike – a genre that mixes chunky tires and a robust frame with sporty drop handlebars to create something that's equally at home on asphalt and trails.
The CGR AL e accelerates like a dream, and this combined with its maneuvrability make it a pleasure to ride. It's begging to be taken off the beaten path (there's plenty of room for fitting knobbly tires or just accumulating a vast amount of mud), and it charges from flat in just 3.5 hours so you won't have to plan your adventures too far in advance.
The only downside is the Ebikemotion app, which is still a work in progress and not quite perfect yet, but that's a small complaint.
Read our full Ribble CGR AL e review
The Specialized Turbo Como SL (Super Light) is a great everyday workhorse of an e-bike that can carry loads up to 35kg. The automatic assistance kicks in as soon as you start to pedal, with the rear hub motor and smooth carbon drive system taking the sweat out of city riding – whether you're picking up groceries, commuting to work, or just enjoying a pleasant cruise.
The upright riding position and step-through frame make it a great choice for riding in everyday clothes, and with a range of up to 62 miles in eco mode, it's one of the most practical electric bikes around.
Despite its name, the Turbo Como SL is pretty hefty, tipping the scales at 21kg including the battery pack. It feels robust and safe on the road though, and provided you don't need to manhandle it upstairs or onto public transport, it's a reliable regular rider.
Read our full Specialized Turbo Como SL review
Easy to mistake for a conventional bike, the Ampler Curt features stylish looks, great extras, and a superb kit-list. With a hub motor and concealed battery, the bike's lights are also neatly integrated.
Using skinny racing tyres and a fairly low front end, this electric bike is ideal for nippy city riding, or longer trips where efficiency is a concern. Its parts all back this up, with light wheels, superb hydraulic disc brakes, and great contact points.
Also available with derailleur gears, we were happy enough with this single-speed version. Even with one gear, the Curt is so fast it sometimes seems to be playing against type, and we often found ourselves pedalling faster than the limit imposed on UK e-bikes, causing the motor to cut out.
Read our full Ampler Curt review
Almost like a small electric scooter, the Specialized Turbo Vado 4.0 is fully equipped to take the place of a car or motorbike. Equally good on the commute or the grocery run, its rack, lights, and mudguards combine to help you carry your kit in comfort and safety.
With a huge battery and mid-mount motor, this electric bike's handling is exemplary, as is the assistance provided. Heavy to carry, riding on road or trail is nevertheless a joy thanks to its multi-terrain capable tyres and suspension fork.
Far outdistancing the other bikes here, the Vado's huge capacity battery will likely do multiple commutes before needing a recharge. Still, it's not quite the longest-running on the market; something worth considering if range is your prime concern.
Read our full Specialised Turbo Vado 4.0 review