If you're commuting any mid-distance regularly in a city, the best folding e-bikes are a fantastic alternative to car and rail travel. Not only are they an easier way to get around town without building up too much sweat before work, but they're compact enough to be folded up and positioned in your office or home, or even carried on public transport if you need to.
The best electric bikes can speed up your commute and cut some of the stress, but the best folding e-bikes can be a little heavier since they need to factor in toughened joints for the folding mechanism. Ideal for smaller apartments or narrow hallways, folding e-bikes are starting to slim down, with options like the Gocycle G4 and MiRider One, which weigh in at just over 17kg each.
As they become more common, they're also getting cheaper. Folding e-bikes are an investment in the same way that any method of transportation is, but it's a worthwhile one. Naturally, there are more expensive models, too, but we've identified options for all budget points here.
We've been testing each of the e-bikes on this list in real-world conditions, traveling to and from work and home and getting to grips with each one's folding mechanism and assessing their durability, battery life, comfort, and the amount of power in each across all price thresholds. For more, check out our guide to our testing process at the bottom of the page.
If you're looking to maintain your current e-bike, folding or otherwise, be sure to check out our guide to e-bike maintenance.
The best folding e-bikes 2023
Why you can trust TechRadar We spend hours testing every product or service we review, so you can be sure you're buying the best. Find out more about how we test.
A fine example of a folding e-bike, the Axon Pro Lite is lightweight, excellent build quality, a decently long battery life, and a robust motor. It has a little lever that sits underneath the computer, which unlocks a significant burst of power, but it also lives up to its name, being just much easier to carry than many rivals at 15 kg. On top of that, it's been cleverly designed to be svelte, making it easier to carry on public transport.
There's a downside to its compact size. On testing, we've found that it can be challenging to ride, especially on less than smooth surfaces. The lack of suspension and tiny amounts of rubber making contact with the road can make the ride feel a little jittery on any real bumps and divots. In addition, the wheels are so small that any out of the ordinary steering maneuvers can be tricky.
At the same time, there are no gears to worry about. So, as long as you give yourself time to adjust, you'll find maneuvering a little better with time and practice. If you're looking for a lightweight folding e-bike that's great for your daily (fairly short) commutes, this is a great option.
Read our full Axon Pro Lite review
If you're on a budget, the E-Trends Fly is an excellent option. The ride is comfortable, and its controls are easily accessible with a touch of your thumb. There's also a pushing mode, which gives you a little help from the battery when you need to hop off and wheel it along the sidewalk for a stretch.
The design is somewhat odd, and our reviewer commented that it looked less smart and cohesive than other electric bikes, but for such a modest price that's a relatively minor complaint. It's worth noting that it uses V-brakes, which proved effective in our tests, but don't provide the same stopping power as the disc brakes used by the other folding e-bikes in this roundup. It's also undeniably heavy, which could be an issue if you need a folding e-bike you can carry easily.
Read our full E-Trends Fly review
Gocycle is one of the biggest names in folding e-bikes, and the G4 is its finest machine to date. The star of the show is a brand new motor that delivers smooth power assistance when you need it most, and is powered by a large capacity battery that'll keep you riding for up to 40 miles on a single charge. It charges particularly quickly too, so you won't need to leave it plugged in overnight.
The frame is a masterclass in design, folding down swiftly but feeling reassuringly sturdy when fully assembled. It's not feather-light, but Gocycle has pared 1kg off the weight through cunning use of different materials throughout the frame. This also results in a bike that's well balanced and easy to carry unfolded.
Like all folding e-bikes, it features small wheels that can be somewhat unforgiving on uneven surfaces, but a little shock absorber underneath the saddle soaks up the worst of the bumps. It carries a premium price tag, and if you're on a budget then that excellent MiRider One below will suit you better, but if you're looking for a folding e-bike to be your new daily rider then we think the cost is justifiable.
Read our full Gocycle G4 review
The MiRider One is a very impressive folding e-bike – it packs down in under a minute, it's one of the lightest models around, and it's remarkably affordable. It's extremely comfortable to ride as well, and when we tested it, we were surprised at just how solid its magnesium alloy frame felt. There are no compromises; it doesn't feel like a folding bike at all.
The MiRider One's power controls are simple to use, and all within easy reach of your thumb. When it's time to pack the bike away, the frame folds neatly in half, the seat post retracts, and the handlebar stem folds down. The pedals also fold in, and the whole neat package can be tucked inside a weatherproof case. It doesn't have the range for a long touring holiday, but if you're looking for a folding e-bike for everyday riding, the MiRider One is the best around.
Read our full MiRider One review
The Mycle Compact Folding Electric Bike is a fun, lively little number that's well worth investigating if you're looking for a machine for short trips. There's a choice of two battery sizes, which will provide a range of either 20km or 30km. That's pretty short for an e-bike, but most journeys made by bike are well under that distance, so it needn't necessarily put you off.
If range isn't a worry, this is a lightweight and convenient e-bike that's easy to fold up and stash away at home, on public transport, or at the office. Power delivery isn't exceptionally smooth, but it effectively irons out your route and will allow you to reach your desk without breaking a sweat (provided the absence of suspension isn;t an issue).
The Mycle Compact is also one of the most affordable folding e-bikes around. It's cheaper than most fixed-frame electric bikes, let alone ones with the added engineering complexities of a folding mechanism.
Read our full Mycle Compact Folding Electric Bike review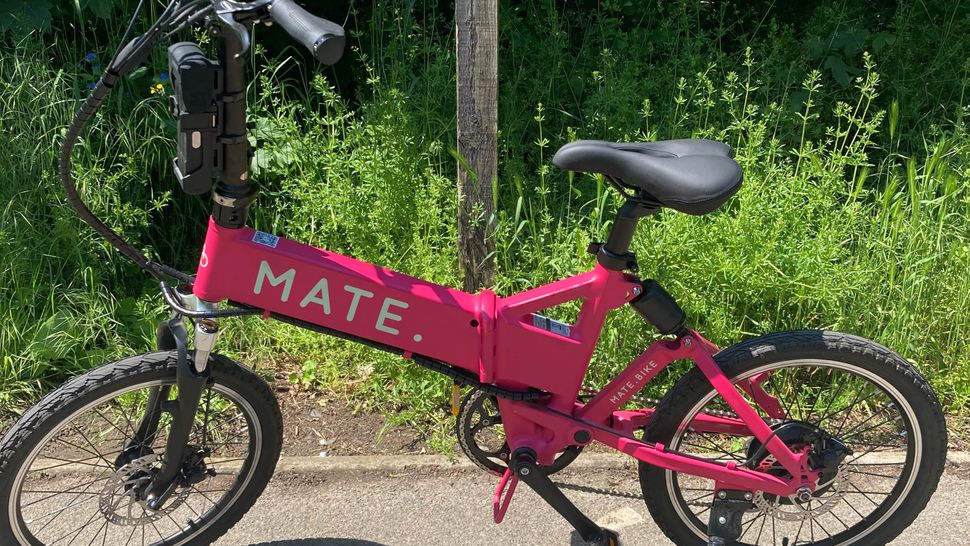 The Mate City is a real conversation, as our reviewer discovered, with its stylish frame (available in a range of subtle and not-so subtle paint colors) attracting a lot of admirers. It's solidly built too, with a robust frame that packs down fast, and is easily adjusted to suit your height and preferred riding position.
A small LCD display on the handlebars displays the battery status, your speed, and the time and distance of your current trip. It's a handy addition that avoids the need to mount your phone on the bike, which is always a little risky if you're prone to forgetfulness and accidentally leave your handset behind.
The downside is that the Mate City is seriously weighty, tipping the scale at 22.5kg with the battery attached. You won't be breezing up and down stairs with it, but if your main reason for choosing a folding e-bike is ease of storage at either end of your journey, it's definitely worth your consideration.
Read our full Mate City review
How we test folding electric bikes
It's always a good idea to test-ride any folding electric bike yourself before committing to a purchase, but our aim is to give you the most complete picture of the experience possible first.
We test every folding e-bike model we recommend so we can give you a full rundown of how they actually ride on the road. We always test each in real-world conditions so you know how each one will perform in day-to-day life, and put them through their paces on a range of terrains and gradients.
We test each folding e-bike's full range of power settings, plus custom settings, and if the bike has a navigation system then we'll also use it to plot and ride several routes. We'll also compare the GPS tracking from the ride computer with the readings from a top-end sports watch.
If the bike has a mobile app, we test that too so we can let you know just how easy it is to install and use – plus any hidden surprises you should be aware of, like the need to pay a subscription fee to download maps.