Finding the best running shoes for you can be challenging, especially if you're a beginner. When you're shopping for other kinds of shoes you only really need to consider price, looks and comfort. But if you're choosing the best running shoes, there are other things to think about and a lot of terminology to get your head around.
We're here to help. In this guide we've selected the best running shoes, including fast models built for racing and cushioned shoes ideal for longer and slower jogs. We've also added suggestions for everyday training, interval training, road running and more. Although there's no substitute for trying on a pair of running shoes yourself, there should be a pair below suited to your running style and preferences that our team of experts recommend checking out.
We've tested all of the best running shoes in this list ourselves and under each suggestion we've added a link to our in-depth reviews if you want to find out more about what each pair were like to wear in a range of running scenarios. If you're looking for a shoe with green credentials, read our eco-friendly running shoes guide. Or if you want to upgrade your runs in other ways, we've got best running headphones and best running watches guides to get you started.
The best running shoes
Why you can trust TechRadar We spend hours testing every product or service we review, so you can be sure you're buying the best. Find out more about how we test.
The Nike ZoomX Vaporfly Next% 2 is the best running shoe, thanks to its impressive energy return that feels like nothing we've experienced before. This is a shoe made for running and running fast. When we tested it, we were extremely impressed by its springiness, courtesy of a full-length articulated carbon footplate and generous 40mm of ZoomX foam that never feels squishy or marshmallowy.
Its minimalist mesh upper is highly breathable, with the bare minimum of padding strategically positioned for comfort without adding too much weight. Our feel felt well connected and secure throughout our runs. The Nike ZoomX Vaporfly Next% 2 is a superb shoe for track days and races, with the potential to propel you to a new personal record. However, we'd recommend supplementing it with another, more affordable shoe from this list for your everyday training.
Read our full Nike ZoomX Vaporfly Next% 2 review
The Adidas Adistar impressed us with its well-designed rocker that keeps propelling you forward during long training sessions. It's not the lightest shoe we've ever tested, but its dual-density foam is tough and resilient, standing up well even after some serious mileage.
We also liked the shoe's integrated cage system, which gives this running shoe a snug and comfortable fit. The upper is made of recycled ocean plastic and recycled polyester, which is also welcome from a sustainability standpoint.
Overall the Adidas Adistar is an excellent running shoe for those long, slow sessions and will help you maintain your form when your mind begins to wander, and you're running on autopilot. Even after several hours, the shoes don't feel sluggish, and the rocker design means you're unlikely to drag your feet despite the shoes' stack height.
Read our full Adidas Adistar review
The Hoka One One Bondi X has the company's familiar chunky style but feels snappy thanks to an embedded carbon plate. This is a new feature for the Bondi line, and together with a full-size moulded EVA sole, it results in a springy and responsive ride.
It's softer, wider and generally more forgiving than the Carbon X 2 and better suited to squeezing a few extra miles out of your training runs than breaking personal records on race day. In our tests, we found it particularly helpful after the 10-mile mark, when our form sometimes tends to suffer.
You'll either love or hate its distinctive looks (the fluorescent color scheme and hefty heel unit are hard to miss), but if you're happy to embrace its style, you'll find it's thoroughly enjoyable when you're hitting the pavement for a few hours.
Read our full Hoka One One Bondi X review
If you've fallen out of love with running recently, the Saucony Endorphin Speed could be the best running shoe to rekindle your passion for the pavement.
This is a neutral motion-control shoe, meaning it isn't designed to prevent the twisting motion of over-pronation but does help your foot roll and transfer energy more effectively thanks to a nylon plate in the midsole. The result is a springy, fun (but not bouncy) feel with each step.
It's an exceptionally light shoe, and Saucony has pared down the design as much as possible to shave off extra grams. We can't guarantee that it'll help you hit a new personal best in your next race, but we wouldn't be surprised.
Read our full Saucony Endorphin Speed review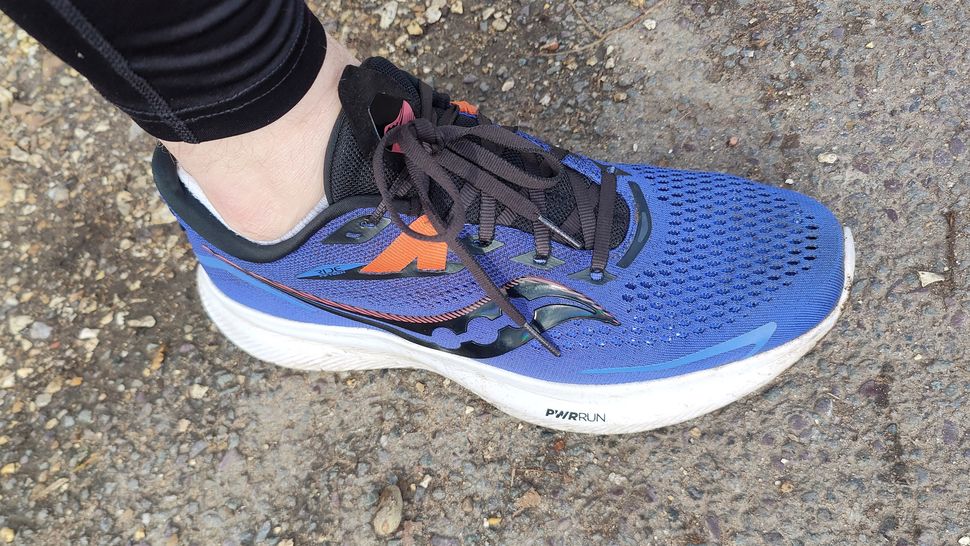 The Saucony Ride 15 isn't a new shoe, but it's extremely good value and a solid everyday training choice. It's firm but comfortable, with enough cushion to keep you going through the miles. A good energy return from Saucony's trademark PWRRUN foam outsole and an 8mm drop make the shoes great for 'neutral' runners who don't over- or under-pronate.
They are not fast shoes for races in the same way some carbon-plated super-shoes might be, but Ride 15s are excellent value, comfortable on the road and good solid training shoes.
The Ride 16s are out now, but the Ride 15s are cheaper than ever and still amazingly-constructed regular-rotation running shoes. If you love running mid-distance on weekends (let's say eight to twelve miles) plus a few shorter five-mile sessions mid-week, these are the shoes for you.
Read our full Saucony Ride 15 review
If you're looking for a race shoe that's a great alternative to what Nike and Adidas currently have to offer, the Asics Metaspeed Sky Plus is well worth your consideration. It's a running shoe built to keep you quick over short and long distances
When we reviewed the Metaspeed Sky, we appreciated the spring provided by the full-length carbon plate and curved design, together with the shoe's lightweight, responsive foam. It compresses at each footstrike before springing back into shape, giving a controlled feel while propelling you forward.
It's pricier than the Nike ZoomX Vaporfly Next% 2 above, and it does have its predecessor's issues with durability in the heel, but it's a superb shoe nonetheless and feels great to run in.
Read our full Asics Metaspeed Sky Plus review
Sitting in between the Hoka One One Bondi X and the Asics Metaspeed Sky listed above, the Saucony Endorphin Pro 2 is a versatile carbon plate running shoe that works well at a variety of distances – particularly training sessions at a race pace.
It might feel odd at first, but once you pick up speed, you'll feel the benefit of that plate together with the shoe's SpeedRoll geometry, which propels you forward with each step. There's also less exposed foam than you'll find on many performance shoes, which lends some welcome durability.
The chief downside of this road running shoe is its price; at $200 / £190 / AU$319.99, it's pretty steep. If cash is tight and you're in the market for more of a daily shoe, take a look at the Saucony Endorphin Speed 2 instead; its use of nylon in place of carbon gives a similarly lively ride while keeping costs down.
Read our full Saucony Endorphin Pro 2 review
The latest iteration in the long-running GT-2000 series, the Asics GT-2000 9, is one of the best running shoes around if you're aiming to control pronation and favor a stiffer shoe that'll give you plenty of support during long training sessions.
This stiffness comes courtesy of a resin plate in the shoe's midsole that prevents unwanted twisting actions as your foot rolls. This is combined with a lightweight foam midsole that gives a cushioned but not bouncy ride, plus additional gel in the heel and toe for shock absorption.
The newly redesigned single-piece mesh upper is noticeably more breathable than previous GT-2000 models, making this shoe a particularly good choice for warmer weather and indoor treadmill sessions. Highly recommended if you're looking for a shoe with plenty of guidance – and very competitively priced.
Read our full Asics GT-2000 9 review
The Asics Gel-Nimbus series is packed with excellent running shoes and the Gel-Nimbus 25 are our top pick if you're after a neutral shoe built for comfort and stability over long distances.
In our Asics Gel-Nimbus 25 review we rated these running shoes for comfort, which is thanks to their extremely cushioned design. It feels to fantastic to slip your feet into them. Asics' PureGel technology is also built-in here, which is designed to handle impact, delivering a smooth rise.
These shoes are not the best option for stability, breathability or fast runs – the Gel-Nimbus 24 are more light and versatile. But if comfort is your priority and you're a slow runner who prefers pavement and road running, they're a fantastic choice.
Read our full Asics Gel-Nimbus 25 review
In terms of environmental impact, the Salomon Index.01 steals a lead on the Reebok Floatride Energy Grow (below) due to its closed-loop manufacturing process. The whole shoe is recyclable, and when you've run it into the ground, you can return it to Salomon to be transformed into other garments.
Of course, that would be little use if the Salomon Index.01 wasn't good quality, high-performance shoe – but thankfully, it is. It feels firmer than the Reebok, making it a better choice if you're looking for support, with a curved sole and unusual rear overhang that we found gave a welcome forward jolt of propulsion.
The upper is pleasantly breathable, and its understated design means it can shift easily between training sessions and running errands. We did find that the upper began to show dirt quite quickly, and the initial price is fairly steep, so it's worth considering the Floatride Energy Grow as a more affordable alternative.
Read our full Salomon Index.01 review
How to choose the best running shoes for you
First and foremost, you should be looking at what kind of distances you like (or aspire) to run. Are you looking to improve your 5k time? Or perhaps you're working your way up to a marathon? That will dictate what kind of shoe you'll buy: how much cushioning you'll need, for example, and how much energy return you get from each step.
Once you have a distance in mind, you should consider your budget. If none of these shoes fit your pocket, it's worth going to a running store or an expert and doing some research online, using your ideal shoe from this list as a touchstone. You'll likely be able to find a shoe tailored to the same distance for a lower price point, such as an older model in the range.
Finally, remember to keep an eye on how many miles you run. After a few hundred miles, your shoes will need to be replaced. The general rule of thumb is that running shoe foam lasts for 3-400 miles, although some newer foams are challenging this, such as Kiprun's VFOAM that's said to have a 600-mile lifescycle.
How we test
Every shoe is run on the road at least several times, with each test run tailored to the distance the shoe is made for. Yes, that means we've covered a lot of ground, but there's just no other way to test the shoe.
We look at how the shoe responds in its environment, how the sole responds and the kind of energy returns you get, and whether you get any wear-and-tear on the sole unnaturally quickly. We also check out the upper's fit around our foot, whether it's breathable, and how comfortable the ride really is.
Is it OK to wear running shoes for walking?
Some running shoes are well-suited for walking, especially ones with short stack height and a shallower heel-to-toe drop, or drop for short. Generally speaking, running shoes geared towards racing aren't good for running as they are designed to move you forward as fast as you can, and often have embedded propulsion plates (e.g. carbon plate) in the foam.