New A10 Fusion processor offers huge, industry-leading performance
Music playback still excellent in all forms
iOS 10 is a bit more complex, but usable
The iPhone 7 comes with the new A10 Fusion chip, once AGAIN the biggest, whizziest and shiniest chip Apple has ever put in a phone.
iPhone 7 specs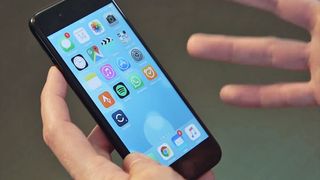 Weight: 138g
Dimensions: 138.3 x 67.1 x 7.1mm
OS: iOS 10.2
Screen size: 4.7-inch
Resolution: 750 x 1334 resolution
CPU: Apple A10 Fusion
RAM: 2GB
Storage: 32/128/256GB
Battery: 1,960mAh
Rear camera: 12MP
Front camera: 7MP
This time though it's a quad-core affair, with two cores used for the high-powered stuff and two for the tasks that don't need full power. The intended result is for the phone to last longer when you're just checking your email – but we didn't see much evidence of that.
However, the speed of the iPhone isn't a problem – that's for sure. There's very little you can throw at this phone that it can't handle, be it quick photo adjustment in Adobe Photoshop, or more heavy video processing on the go.
The stats bear this out as well. We usually run Geekbench on every phone we review, but the developers have just upgraded this to Geekbench 4, so we're not sure if the numbers correlate.
To be sure, we also ran the new software on the Samsung Galaxy S7 Edge and the iPhone 6S. The results were rather startling: despite having fewer cores and reportedly less RAM, the iPhone 7 was 4% faster than the S7 Edge.
More predictably, the iPhone 6S is about 20% slower than the new model – something you can see in our speed test, where both phones just run through a selection of apps.
How does this translate to real-world performance? Well, the aforementioned speed of opening and closing apps is impressive, but that's not the whole story.
Where the iPhone 7 really comes to the fore is when you're just ripping through different apps, opening up music before browsing the web and then playing a game.
It's quite a feat to produce something that plays back music or podcasts so well, and with such decent sound quality, as well as rapidly browsing the web or checking your emails.
We're absolutely way past the need for such power, but at the same time, it feels nice to know the iPhone 7 is an upgrade.
Talking of musical performance, the audio quality on the iPhone 7 is superb as ever. It's a hard time to choose between Apple Music and Spotify, for instance, but both offer clean visuals and, if you're willing to dig, Apple's platform is quickly becoming a decent alternative to its rival music streaming firm.
The audio performance is good from both streaming services, and more good news is that your headphones will still work just fine without the 3.5mm jack: plug in a pair of headphones with the adaptor and you'll still be able to get all the use out of the inbuilt controls, for instance.
It's hard to say whether the Lightning port connection for headphones improves things, but without an adaptor you can't listen to music and charge the phone at the same time… which is a real pain.
Take a look at how the iPhone 7 did in our speed test:
Gaming too is superbly strong on this phone, once again ably assisted by the improved performance from the A10 chipset.
What does that mean in real terms? In theory, much more visually-impressive games. In practice, however, it doesn't mean a whole lot. Many of the titles that can use this extra power are yet to come out, and we've lost count of the times Apple has told us we now wield console-quality graphics in our hands.
That said, there is one new feature that really improves the gaming experience: Taptic feedback from within the phone.
The new vibrating engine delivers smaller, more targeted buzzing of the phone, so when you're firing a machine gun, or crashing a car into the side of a wall, it feels more realistic and engaging.
It sounds like a small thing, but if this is the kind of feature that's been made possible by the omission of the headphone jack then we're not complaining.
iOS 10
The new iPhone is always the poster child for the new version of any operating system, and the iPhone 7 is no exception.
Apple's new iOS 10 is one of the best platforms the company has ever put together – but it's something of an acquired taste.
There's a lot more going on here than before, with the 'left of home screen' panel containing all manner of updates and information – it's like the News panel and the notification pane from the top of the phone have been merged into one, with more information and widget choices readily available.
The lock screen has also been given an overhaul, with the same pieces of information available with a swipe across. The iPhone 7 also has 'raise to wake' enabled, so whenever you pick up the phone it'll instantly wake itself.
Apple says this was done to stop people missing the lock screen altogether, such is the speed of Touch ID, and that's mostly been solved here.
But what it has done, especially when combined with a non-clickable home button, is create something of an unlocking vortex when you're trying to interact with the lock screen.
Pick up the phone, play with some widgets and decide you want into the phone – suddenly, you'll place your finger down to open things up through Touch ID, and you're not in. The phone is now telling you to press the Home Button again… for no good reason.
That's probably the most complex element of the OS, and anyone coming from an Android phone will enjoy the range of widgets and new twists on board. However, those upgrading their iPhone might not find quite so much joy. Over weeks of use, it didn't seem to become any easier how to unlock the damn thing.
The iPhone 7 is about to get treated to its first proper update too, with iOS 10.1 now rolled out to Apple's new iPhone and you can download it right now if you, for some reason, haven't been prompted to a million times from the phone.
The iPhone 7 was treated to tweaks to the battery charging speed, raise-to-wake function and motion handling in the iOS 10.1 update, but more recently we've seen iOS 10.3 land on the handset.
Most of the updates are behind the scenes improvements, but something that stands out in iOS 10.3 is Apple's new storage management system.
In short, once you've downloaded and installed the update you'll notice you'll have an extra bit of storage space thanks to the iPhone 7 saving data more efficiently. Time to download that game you've had your eye on...