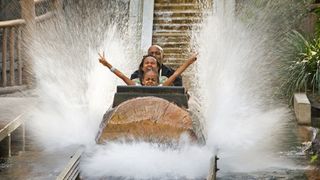 How to master manual focus
Your DSLR has comes with a highly advanced autofocus system, so why on earth would you want to use manual focus? Actually there are some very good reasons - various subjects and environmental conditions either fool the camera, or make it considerably harder to get a good shot in autofocus mode.
The AF sensor in your digital camera needs certain things to perform well, and at the top of the list is light and contrast. It uses edges or textures to focus on areas of contrast. If you're shooting in low-light, AF can have problems seeing subtle, indistinct features.
If contrast is low, as in misty conditions or when aiming at smooth water or wet sand, your camera's AF circuitry has difficulty locking onto the subject. Manual focus, then, helps you get sharp shots when AF can't correctly interpret what the lens is seeing.
SEE MORE: Best camera focus techniques - 10 surefire ways to get sharp photos
Another set of AF issues occurs when the camera focuses on the wrong thing. Shooting through a wire fence or a glass window, for example, can cause focusing problems in AF mode because the camera focuses on the obstruction, rather than the subject beyond it, and likewise it can be particularly challenging to get good nature shots through branches, leaves or long grass.
Your camera will always focus on the closest thing the sensor sees, and this can cause problems when shooting a particular animal, when another one flies or walks through the frame and distracts the AF.
So switch to manual focus when you know your camera could get confused.
The final set of conditions where you're better off focusing manually is to do with speed: either because the subject is moving so quickly that it's hard for the camera to focus in time, or the slight delay of hunting to achieve focus is long enough to miss the shot.
When shooting racing cars on a bend, for instance, it's often better to pre-focus on a particular spot on the track in AF, then lock your focus in MF, and wait for a fast-moving car to reach that spot before taking your shot.
The same principle applies in nature photography, where pre-focusing on a perch allows you to prepare for a bird's landing or take off to get a crisp action shot without AF delay, or even when photographing your children in the park.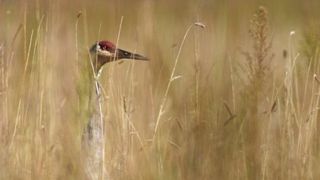 Tip 1. Situations where manual focus is best
Photographing animals
When shooting through foliage or grass, manual focus and a wide aperture reduces the foreground to a pleasing colourful blur (confused about aperture - download our Free f-stop chart to master your aperture).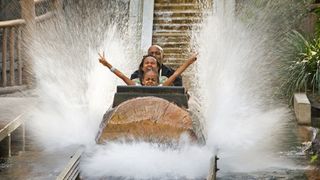 Capturing speed
With fast subjects like this, it's best to pre-focus on a particular spot and, when the subject reaches that mark, fire the shutter.
Landscapes
If you autofocus on the horizon, you'll waste much of your depth of field. For more on how to focus for this type of image, see our cheat sheet on calculating hyperfocal distance.
Creative shots
When you want to combine a series of shots into a panorama or an HDR image, manual focus is absolutely essential to ensure that the focus doesn't change between images.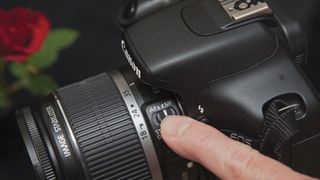 Tip 2. Using camera-assisted manual focus
Step 1
Engage manual focus by moving the switch on the side of your lens to MF. Zoom the lens to the required setting.
Step 2
Look through the viewfinder and half-press the shutter button, holding it down to activate the display.
Step 3
With your left hand cradling the camera, use your left thumb and index finger to rotate the lens's focus ring.
Step 4
Watch for a focus point to light up in the viewfinder and the Focus Confirmation Light to come on as focus is achieved.
Tip 3. Main manual focus controls
To help you - literally - get to grips with the manual focus controls on your DSLR, we put together the photography cheat sheet below, which illustrates where to find some of your most useful buttons. Feel free to drag and drop this infographic on to your desktop to save as a reference or print out and stash in your camera bag.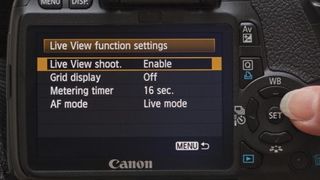 Tip 4. How to use manual focus in Live View
The Depth of Field Preview button on your DSLR stops the lens down to the selected aperture to allow you to see the area of sharp focus. However, the image in the viewfinder becomes so dark you can hardly see it.
Many photographers now use Live View to examine this depth of field in detail. Another option is to simply capture an image, play it back, and zoom in to check that everything is in focus.
Here is a quick guide to how to use manual focus in Live View.
Step 1
Press your camera's Menu button, navigate to the Live View function settings, then set Live View Shoot to Enable.
Step 2
Compose your shot and zoom to frame your subject. Then move the AF/MF switch on your lens to MF.
Step 3
Press the Live View button and use the arrow keys to navigate the white oblong to where you want to focus.
Step 4
Press the Magnify + button, once for zooming in to 5x magnification, then a second time for 10x.
Step 5
Now smoothly rotate the focus ring on your lens to obtain the sharpest image you can at 10x magnification.
Step 6
Press the Live View button again to close Live View. Now press your shutter button to capture the image.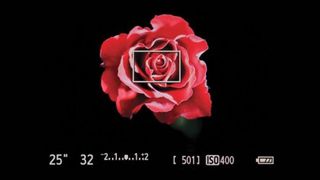 Tip 5. Use manual focus for macro photography
Although most macro lenses have autofocus, manual focus is the best technique for close-ups of small subjects.
You'll quickly get frustrated trying to autofocus on a butterfly or bee because even the slightest movement, by you or your subject, will cause the lens to go off on a slow hunt for focus - and by that time the subject is long gone!
Instead, set your lens to manual focus for the distance that your subject will be when at the desired size on the sensor (often 1:1). Now slowly rock back and forth with your DSLR until the subject is at its sharpest in the viewfinder.
Then gently squeeze off a few shots to maximise your chances of a sharp image.
Tip 6. How to set hyperfocal distance
Hyperfocal distance is the point you focus on for the maximum depth of field that includes infinity (the point beyond which everything in an image looks sharp, right through to the horizon- and this will change depending on the focal length of the lens).
When you focus at infinity, you're actually wasting two-thirds of your potential depth of field! The in-focus area of an image is partly governed by the aperture of the lens, and we know that the narrower the aperture, the greater the depth of field.
However, the way this area of sharpness is distributed is one-third in front of the spot you focus on and two-thirds behind it. It stands to reason, therefore, that if you focus on the horizon, or anywhere beyond the infinity mark, you are wasting two-thirds of your sharp area.
In the days before autofocus, manual focus-only lenses stopped at infinity, so all you had to do, when photographing stars at night for example, was to wind the focus ring all the way to the left, or anticlockwise, to get sharp results.
Modern AF zoom lenses actually go some way beyond infinity to allow the autofocus mechanism to hunt, so twist your focus ring all the way to the left - and shoot at a wide aperture - and there may be nothing in focus in your image at all!
For a given aperture and focal length, look up the distance in the chart above and focus on an object at that distance from the camera. Note that there are two tables, one for crop-sensor cameras and one for full-frame cameras.
For example, a Canon EOS 550D (1.6x crop-factor sensor) with zoom lens set to 24mm and an aperture of f/11 gives us a hyperfocal distance of 9ft, so focusing on an object nine feet away from the camera ensures that everything from half that distance, or 4.5 feet, will be in focus.
We've put together the cheat sheet above for calculating hyperfocal distance on cameras with APS-C sensors, as well as full frame DSLRs. Feel free to drag and drop this infographic on to your desktop to save as a reference.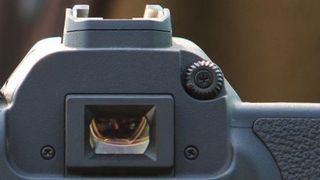 Final tips for how to use manual focus effectively
The only way to get consistently good results using manual focus is to practise your technique! So here are a selection of manual focus challenges, after first calibrating your dioptre to ensure that the image you see through your viewfinder is as sharp as possible - this is particularly important if you wear glasses, which you remove when putting your eye up to the camera…
Tip 1
Set your camera on a tripod and autofocus on something large. Now rotate the little dioptric adjustment knob, just under the top right of the eyepiece. Rotate it back and forth until the place you focused on and the shutter speed/aperture display is really crisp and sharp. This sets your camera up for your eye.
Tip 2
Practise the camera-assisted manual focus techniques. Select the centre focusing spot, shoot a few frames then select a different focus spot and try it with that. Compare your shots - do you see much difference in sharpness? The centre spot will always be the most sensitive.
Tip 3
Live View focusing is best done on a tripod. Place a stone or other object to focus on at the hyperfocal distance from the camera (using the hyperfocal chart on p83), then use the arrow keys to move the magnified area on the viewing screen to that spot. Zoom in to 10x magnification and focus.
Tip 4
Autofocus (using the centre spot) on a static subject and then switch to MF. Now recompose and shoot. As long as the camera-to-subject distance stays the same, your subject will remain in focus. This is a good technique in poor light where you can focus on a bright highlight and then 'fix' the setting.