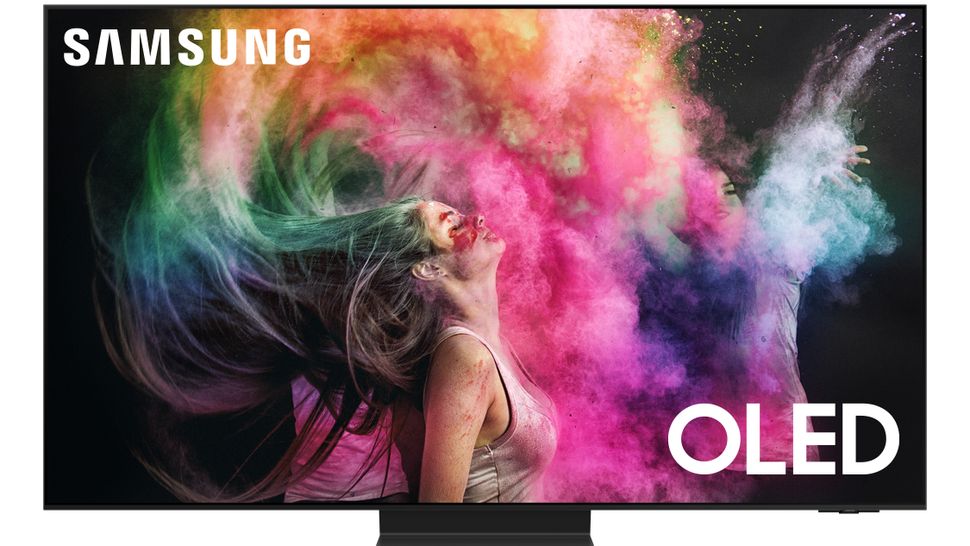 Sizes: 55, 65, 77 inches
Screen tech: QD-OLED
Processor: Neural Quantum Processor 4K
HDMI: 4x HDMI 2.1
HDR: HDR10, HDR10+, HLG
The Samsung S95C is the firm's premium QD-OLED TV for 2023. The main selling point: it's the brightest OLED we've ever seen, an impressive 32% brighter than last year's already stellar S95B. Thanks to its Samsung One Connect box, it's also a startlingly thin TV, even by OLED standards.

For
Incredibly bright
Great for gaming
Absurdly slim design
Against
No Dolby Vision HDR
Expensive
Sizes: 55, 65 inches
Screen tech: QD-OLED
Processor: Neural Quantum Processor 4K
HDMI: 4x HDMI 2.1
HDR: HDR10, HDR10+, HLG
The Samsung S95B was the company's first QD-OLED TV, and it's one of the best TVs you can buy in 2023. The S95B requires a bit of legwork to get the best from its stunningly designed slice of TV tech, but the picture results are sensational enough to justify the effort. It's also affordable compared to the S95C.

For
Ultra-slim design
Brilliant picture quality
Surprisingly affordable
Against
No Dolby Vision support
Unfriendly smart TV interface
Samsung is swinging for the fences with its QD-OLEDs this year, releasing two new series of TVs that boast the same Quantum Dot OLED tech as 2022's stunning Samsung S95B QD-OLED TV.
While the Samsung S90C is set to offer a (slightly) more affordable experience for OLED lovers, the more expensive Samsung S95C QD-OLED is the true follow-up to the S95B. And in case you've forgotten, the latter is a TV that bagged a perfect score from TechRadar last summer.
Excitingly, the Samsung S95C QD-OLED is set to be significantly brighter than the S95B; it's the brightest OLED TV you can currently buy (at time of writing).
But how does the Samsung S95C stack up against the Samsung S95B? Does the new QD-OLED panel's brightness boost really warrant an upgrade if you already own the S95B? Below, we compare the two Samsung TVs, covering price, size and feature differences.
Better bust out some shades and a high factor sun tan: this is going to be one seriously bright battle between two of the best OLED TVs in 2023.
Samsung S95C vs Samsung S95B: Price, sizes and availability
US retailers recently received the first batch of Samsung S95C QD-OLED TVs, though the set isn't out in the UK, Europe or Australia just yet. As such, only the US and UK prices below are official. In the absence of final Australian pricing from Samsung, we've given estimates on what we expect the S95C to retail for in that territory.
The Samsung S95C OLED TV will cost you:
55-inch – $2,699 / £2,199 / (around AU$3,300)
65-inch – $3,599 / £2,999 / (around AU$4,500)
77-inch – $4,499 / £5,099 / (around AU$6,700)
The Samsung S95B OLED TV will set you back:
55-inch – $1,599 / £1,499 / AU$2,999
65-inch – $1,799 / £1,999 / AU$3,999
Considering the brightness gains the S95C makes over its predecessor – more on that in a minute – we're not surprised to see the 2023 QD-OLED launching at higher prices than the S95B when it shipped last summer. Yes, those are hefty figures, and at these price points, the Samsung S95C is well placed to go toe to toe with the LG G3 OLED.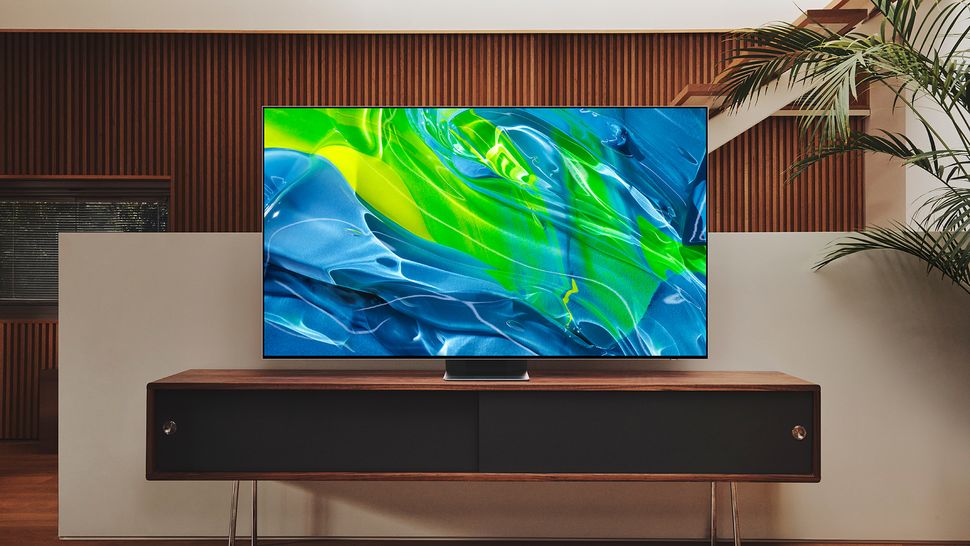 Samsung S95C vs Samsung S95B: Features
The Samsung S95C and Samsung S95B are both QD-OLED TVs. This means they combine the best features of traditional W-OLED panels and their self-emitting pixels with the strengths of Samsung's best QLED screens. Thanks to the presence of a quantum dot filter, both of these TVs combine the infinite blacks of OLED with the brighter highlights of QLED panels.
In our Samsung S95B QD-OLED review last year, we found it to be the brightest OLED TV we'd ever tested. Thanks to its quantum dot filter, the S95B was able to reach a peak brightness of 1060 nits in the TV's Standard mode. For comparison's sake, the LG C2 OLED, which we currently rank as the best TV in 2023, hits a peak of around 800 nits.
But that's nothing compared to the Samsung S95C QD-OLED… at least from what we've seen during a recent hands-on test. Put simply, the S95C is just about the brightest OLED TV we've ever seen. The only other OLED panels that can currently come close based on early impressions are the LG G3 OLED and the Sony A95L QD-OLED TV.
Based on that hands-on at an event at a Samsung facility in New Jersey, the S95C is around 32% brighter than the S95B. During our (admittedly brief) tests, Samsung's new QD-OLED's peak light output on a 10% white window measured a hugely impressive 1374 nits in Filmmaker mode.
These significant brightness boosts over the S95B are gained thanks to Quantum HDR OLED Plus: a feature of the S95C that uses AI deep learning to fine-tune brightness on a per-pixel level.
Not that this makes the S95B QD-OLED in any way a relic. When it comes to shared features, these OLED TVs cover many of the same basics. Both panels have four HDMI 2.1 ports, with the S95B supporting 4K up to 120Hz and the S95C going one step further by supporting a 4K signal up to 144Hz.
Support for such speedy refresh rates make both the S95C and S95C ideal displays to pair with a next-gen console. If you want to play the best Xbox Series X games or best PS5 games on one of these Samsung QD-OLEDs, additional features like VRR, Nvidia G-Sync and FreeSync Premium Pro further boost these TVs' gaming credentials.
As for audio, the Samsung S95C QD-OLED will offer an enhanced experience over the S95B. While we appreciate the Object Tracking Sound system (that helps elevate voices and incidental sounds) in last year's model, the S95C is treated to Object Tracking Sound Plus to further improve the directionality of its speakers.
Samsung S95C vs Samsung S95B: Design
The Samsung S95B QD-OLED TV is one of the thinnest panels we've ever tested. It's just not as absurdly skinny as the S95C. Sporting Samsung's new 'Infinity One' design, the S95C is the slimmest OLED screen the company has released.
The main reason the S95C is so svelte is down to the Samsung One Connect Box. Unlike the S95B with its internal cable connections, HDMI cables and other connections are housed in a separate media receiver for the S95C. This not only helps declutter your cables, it shaves the dimensions of the S95C.
While both QD-OLEDs are obviously two attractive looking TVs, the S95C is one of the most startlingly pretty OLED panels we've ever seen.
Samsung S95C vs Samsung S95B: Conclusion
Whether you go for the Samsung S95C or choose to save a little money by opting for the older Samsung S95B, you're buying one hell of a TV. Both these QD-OLEDs match top QLED TVs for brightness while offering far superior contrast thanks to their perfect black levels.
That said, the S95C really does seem to be an incredibly special TV. While you'll have to wait for our Samsung S95C QD-OLED TV review for our final verdict, the brightest OLED panel Samsung has ever produced could also be the best TV in 2023.