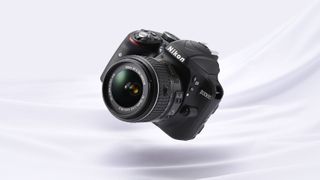 If you've decided it's time to start taking your photography a little more seriously then you should definitely start looking into a DSLR. These cameras offer a great mix of top-notch image quality and polished performance that will stand your creative efforts in good stead.
You'll be glad to know there's plenty of choice out there that should fit pretty much every budget. With the UK's Black Friday on the horizon, we're certain there are going to be some deals out there for you to take advantage of. We've got Black Friday pages for the US and Australia too.
Before you get excited by a tempting discount and click 'confirm to order' as soon as it appears, we're going to take you through some of the key factors you should consider before buying to ensure you're buying the right camera for you.
Ease of use
If you're new to DSLR photography, you might want to consider an entry-level model like Canon's EOS Rebel T7i (known as the EOS 800D outside the US) or Nikon D3400. While image quality can rival much pricier models, these DSLRs are designed to make using them as easy as possible, often coming with helpful guide modes to help you get to grips with the camera's various functions.
Image quality, sensors and chips
DSLRs fall into two distinct camps - those with APS-C sized sensors, and those with full-frame chips. APS-C sized sensors have long been used by entry-level and mid-range DSLRs, and provides a good balance between system portability, image quality and cost.
Full-frame sensors are used in many high-end enthusiast and professional DSLRs. With a larger physical size, it gives them better light gathering capabilities and the space to cram even more pixels on the sensor.
Most of the Black Friday deals are going to be focused more on APS-C format DSLRs - there's much more choice, but that's not to say you won't be able to potentially pick-up a full-frame DSLR at a good price.
4K video can be hard to find
4K is an increasingly popular feature on cameras, though DSLRs have been slow to feature this – with the exception of the EOS 5D Mark IV, the latest Canon EOS DSLRs all feature 1080p video capture, while there's only a handful of Nikon DSLRs offering 4K capture.
And, as these are the latest models, they're unlikely to be discounted on Black Friday. If 4K is a must, then you'll want to look at a mirrorless camera, where this feature is much more widely found.
Connectivity for creatives
Wi-Fi, NFC and Bluetooth connectivity are becoming standard features on many new DSLRs, allowing you to transfer images from your camera to smart device and onto social media without the need for a computer.
This can be really handy for some photographers, but if this isn't a key concern for you, slightly older models don't always have this functionality and they'll come in at a slightly lower cost. If it's not a deal breaker for you, these already more affordable older models are likely to be more heavily discounted this Black Friday, without too many compromises to image quality.
Lens bundles
If you're buying your first DSLR, then opt for one that comes with a bundled lens. These are normally what are known as a standard zoom lens (or kit lens) and covers a broad focal range from landscapes to portraits, making them a great choice if you're starting out. The minimal extra outlay over the body-only price makes them an even more tempting choice.
Be careful though as Canon and Nikon both offer non-image stabilized and stabilized versions of the same lens. You want to go for the stabilized version (make sure 'IS' is in the lens title for Canon, and 'VR' for Nikon). The kit will cost fractionally more, but it's worth the extra outlay to avoid unwanted camera shake.
As well as a standard zoom lens, some dealers on Black Friday will also be bundling a second lens to tempt buyers. This is normally a modest telephoto zoom lens that allows you to get even closer to the action, and you can make a decent saving compared to buying it individually. Make sure you know what you're buying, as these second lenses can be old models, so the money saved might not be as great as it first appears.
Our deal predictions
We're pretty certain that dealers will be looking to discount some of their DSLR stock. Don't expect the latest and greatest models to be discounted, but don't be put off - we reckon they'll be some cracking cameras to suit all budgets that are likely to be heavily discounted.
Below we've picked out some key models that we think you should look out for, from entry-level bargains to full-frame powerhouses.
Entry-level bargains
Many of the Black Friday deals are likely to be focused towards beginners, with a raft of entry-level DSLRs being discounted. We reckon the Nikon D3300 is likely to be a prime model - it's been replaced by the D3400 (a minor upgrade, but does feature Wi-Fi and Bluetooth connectivity options), so dealers are going to be wanting to shift these from their shelves.
It's a great introduction to DSLR photography, with a cracking 24MP sensor and an easy-to-use interface perfect for beginners, backed up by a solid performance and great battery life.
The same can be said for Canon's EOS Rebel T6i (otherwise known as the EOS 750D outside the United States). Recently replaced by the EOS Rebel T7i / EOS 800D, we reckon this means dealers are likely to be discounting this great DSLR heavily. There's a great 24.2MP sensor, while the T6i also benefits from a brilliant vari-angle touchscreen display and polished control layout that makes it really easy to use, while there's Wi-Fi and NFC connectivity on offer as well.
Mid-range marvels
If you're looking to upgrade from your entry-level DSLR, then Nikon's D7200 is brilliant option. Recently replaced by the D7500, this is still a cracking enthusiast DSLR and we reckon you should be able to pick it up at a bargain price. Packed with features, a decent performance and an excellent 39-point AF system, the D7200 is topped off with a cracking sensor to make it an ideal camera for enthusiasts – especially if you already own some Nikon lenses.
There's also Canon EOS 7D Mark II, Canon's top-of-the-range APS-C DSLR. A real sports and action orientated camera, this 20MP DSLR can shoot at 10fps, while the 65-point AF system is incredibly sophisticated. While it hasn't been replaced, it's getting a little old now and there might be a new one on the horizon early next year, so we could expect dealers anticipate this and offer some decent discounts.
Full-on full-frame
With the likes of the Canon EOS 6D Mark II and Nikon D850 both pretty new, we can't see these being discounted, but some older models might be.
Canon's EOS 5D Mark III is still available, despite the EOS 5D Mark IV being around for a year now, and is ripe for some Black Friday discounts. Still one of the most advanced full-frame DSLRs we've seen, it's packed with features for the serious photographer, including a 22.3MP full-frame sensor, 8fps shooting, 61-point AF system and rock-solid build quality.
It's a similar story with the Nikon D810. It's just been replaced by the D850 and should be discounted as dealers look to make way for Nikon's brilliant replacement. Don't ignore this brilliant DSLR though - considerably cheaper than the D850, the 36.3MP sensor is still one of the best around, while its 1200-shot battery life, the 51-point AF system and excellent handling ensures that the D810 doesn't disappoint.
That's not forgetting the D610 - Nikon's most affordable full-frame DSLR is the oldest camera in its line-up, so there's bound to be some good deals on offer. The 24MP sensor might not rival the resolutions on off of some of the competition, but it doesn't disappoint, while the easy to use controls make this one of the most accessible full-frame cameras out there.
Sign up for Black Friday email alerts!
Get the hottest deals available in your inbox plus news, reviews, opinion, analysis and more from the TechRadar team.
Phil Hall is an experienced writer and editor having worked on some of the largest photography magazines in the UK, and now edit the photography channel of TechRadar, the UK's biggest tech website and one of the largest in the world. He has also worked on numerous commercial projects, including working with manufacturers like Nikon and Fujifilm on bespoke printed and online camera guides, as well as writing technique blogs and copy for the John Lewis Technology guide.