New speakers
Stereo speakers finally catch up to what Apple did on iPhone 7
40% louder than the single bottom-firing S8 Plus speaker
Still not as crisp a sound compared to iPhone X speakers
You can't really see it, but the Galaxy S9 Plus, along with the Galaxy S9, has stereo speakers, a first for a Samsung flagship and, frankly, a long- overdue addition for the world's smartphone leader.
Samsung-owned AKG Acoustics has finely tuned the brand new top earpiece speaker and the returning bottom-firing speaker so that they're 40% louder than the single speaker on the S8 Plus. And support for Dolby Atmos brings simulated 360-degree sound to the new smartphone.
These two S9 Plus speakers are plenty loud, and sound almost as crisp as the iPhone X speakers in our audio tests. Apple has been outfitting its phones with stereo speakers since the iPhone 7, so we're just pleased to see Samsung catch up.
The best part about having stereo speakers in the Galaxy S9 Plus? You won't accidentally mute all sound from the bottom-firing speaker when holding the phone in landscape mode. That's been a constant issue with past Samsung smartphones.
Interface and specs
New chipsets are 30% faster and S9 Plus has 6GB of RAM
Android 8.0 Oreo is here, don't expect Android P for months
64GB or 128GB of internal storage (region dependant)
The Galaxy S9 Plus is the fastest Android phone we've tested thanks to the fact that it uses the Qualcomm Snapdragon 845 chipset (in the US and China to support both CDMA and GSM carriers) or Samsung's own Exynos 9810 (globally for GSM carriers).
Both 10nm chips are the latest and greatest in smartphones right now, and they're coupled with 6GB of RAM, compared to the 4GB in the S9. You'll have more headroom to multitask on the 6.2-inch screen, enjoy flawless 3D gaming, and run virtualized applications on Samsung Dex.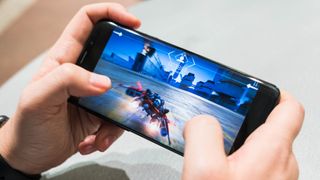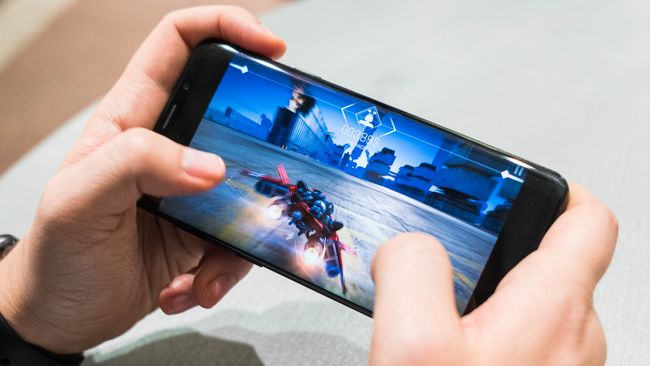 We saw a 30% speed boost over the S8 Plus and Note 8 performance in benchmarking apps that push the chip cores to their limit. And more importantly, in real-world experience we didn't see a hint of slowdown. That can change over time with any phone (as applications become more robust), but Samsung outfitted the S9 Plus to be future-proof.
Don't worry about the overbearing software this year. The Galaxy S9 streamlines menus as part of a fairly bloat-free Android 8.0 Oreo software skin, now known as Samsung Experience (it's not called TouchWhiz anymore and not nearly as big of a turn off next to stock Android). Just don't expect the Android P update for months if not a whole year.
We like pretty much everything about Samsung's version of Android except its default keyboard, which routinely suggests wrong or randomly capitalized words. iOS 11 has this issue, too… maybe this is another way Samsung is trying to emulate Apple in 2018.
You're getting either 64GB (US) or 128GB (everywhere else) of internal storage in the S9 Plus, and a spot for a microSD card so you can add up to 400GB of additional space. With LG and Apple now upgrading their devices to 256GB (for a higher price), this is the one area in which Samsung has held back, especially in the US. A microSD card becomes a must if you're looking to shoot an ample amount of 4K video.