AR Emoji
Samsung's answer to Apple's Animoji is a little half-baked
Easy to save and share on any third-party application
Like it or not, Samsung's answer to Apple's Animoji is here on the Galaxy S9 Plus with the debut of AR Emoji. This uses the front 8MP camera to analyze a 2D image of you and then maps more than 100 different facial features to a 3D avatar.
Image 1 of 6
Image 2 of 6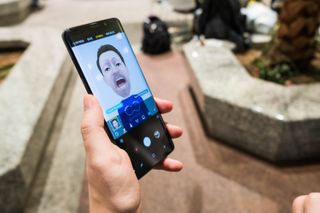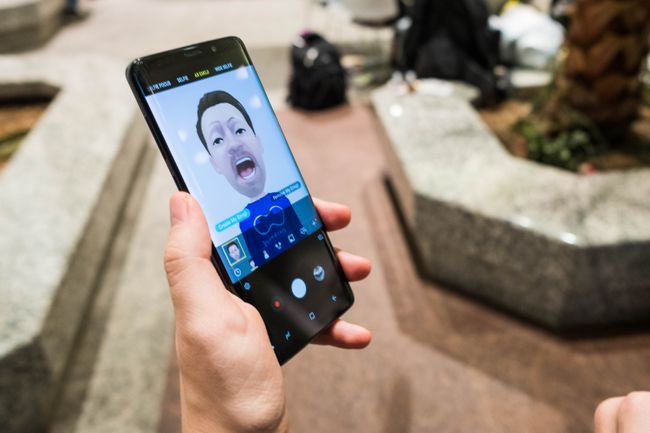 Image 3 of 6
Image 4 of 6
Image 5 of 6
Image 6 of 6
Samsung's take on AR masks do mirror facial expressions onto a customizable avatar, but do so rather stiffly using its single camera and software-based algorithms. AR Emoji movement can't compare to Apple's iPhone X TrueDepth camera array.
The good news is that it's easy to send AR Emoji messages to friends. Samsung has chosen to record your expressions (whether a custom message or a pre-made one) in the universal GIF format. Friends/former friends who own non-Samsung handsets will be able to enjoy/loathe your constant AR tomfoolery.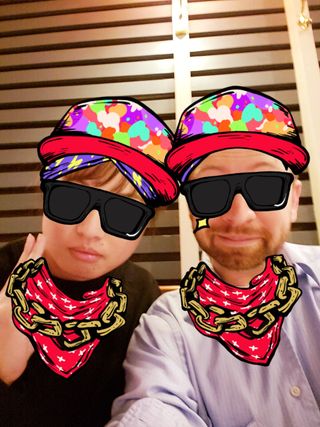 The feedback from friends? Our AR personas failed to look like us no matter how many times we ran through the creation process, and we found AR Emojis to be the least convincing reason to buy the Galaxy S9 Plus – the novelty quickly wears off.
You will find more variety to Samsung's AR Emoji menu the deeper you look, though. In addition to being able to change the gender, skin color, and hairstyle of your human avatar, you can cycle through creative AR stickers, in case you want to go full-on bunny rabbit or wear a more gangster outfit complete with sunglasses, chains, hats and bandanas. This is Samsung's take on what Snapchat can do, and it's at least a little more creative.
Bixby
Bixby Voice is a very smart assistant that doesn't always listen well
Bixby Vision can provide live translations with okay results
Internet connection required for features to work
The S9 Plus launches with Bixby Voice and Bixby Vision built-in, an improvement over last year's Galaxy phones that saw Samsung's AI feature defanged for several months.
What's here from day one is a sometimes-convincing virtual assistant meant to rival Siri and Google Assistant. It can actually do a bit more by following through on commands – asking it to "Open Twitter and tweet 'This is what it's like to be the only one in the @futureplc NYC office on a snow day #SamsungGalaxyS9'" let me dictate my tweet without requiring me to open the app or type.
This what it's like to be the only one in the @futureplc NYC office on a snow day #SamsungGalaxyS9 pic.twitter.com/zaM7EkTF5UMarch 8, 2018
Apple and Google's AI can't follow through like this. However, both can understand me better than Bixby, and that's a big deal. You see, Bixby kept thinking I said 'Future peel see' when I was dictating that tweet, and when asking it to "Send an email to Gareth Beavis with the subject: 'How's your Galaxy S9 review coming?'" it got everything right but ended the subject with 'question Mark.' Bixby is like a smart student who routinely fails to listen.
Bixby Vision breaks ground with features like live translation. You can decode a foreign language sign or menu by pointing your camera at it – all without snapping a photo and waiting for it to translate. It's good news for travelers, though you'll need data to power this internet-connected feature and its Google Translate backend is far from reliable. It's helpful in a pinch, but we found asking for the English menu so much easier.
Bixby Vision will also continue to name and detail landmarks through location-aware smarts and attempt to identify food – and it now has the helpful (or shame-inducing) power to inform you of the amount of calories in that food. But its ability to correctly name foods is more of a joke than a reliable tool when it guesses that a lollipop is a corndog.
The 8MP front-facing camera is put to use if you'd like a makeover. Bixby Vision has a new makeup mode, overlaying various blushes, mascara, and lipsticks via partnerships with the CoverGirl and Sephora cosmetics brands. It's an augmented reality feature designed to "guide you through the purchase flow," notes Samsung. It seems like more of a neat tech demo for your new phone, and not a convincing use of the 'AI' buzzword.
Improved biometrics
Face unlock and iris scanner now work at the same time
It works okay, but the success rate trails Apple's Face ID
New to the S9 Plus is the fact that the face unlock and iris scanner biometrics now work at the same time to unlock the phone. This is Samsung's answer to Apple's Face ID technology.
It works most of the time. Whenever our eyeballs and mug were looking down at the phone it opened very quickly, except when we were walking in bright sunlight – and, that's just the sort of situation where you'll want to recheck Google Maps or quickly reply to a message to say "I'm on my way."
Image 1 of 3
Image 2 of 3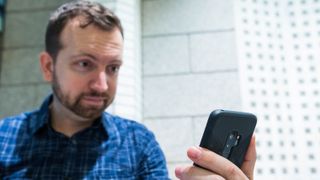 Image 3 of 3
We've had similar issues with Face ID on the iPhone X and experience more here. Even a 95% success rate out of 100 unlock attempts in a normal day means it'll fail five times every day, and that's annoying. Samsung's face unlock technology has also been spoofed in the past, so enabling it could leave you vulnerable even if it's not exactly easy to crack.
None of these 'futuristic' options are as seamless as unlocking your phone through a good old-fashioned front fingerprint sensor – technology that both companies retired from their phones last year. At least Samsung includes a rear fingerprint sensor as an alternative unlock method.
Here's something funny we picked up on while testing the S9 Plus: Samsung now lets you optionally hide notification content until the scanners recognize your eyes or face. That's great for privacy, but as soon as it does recognize you it'll bypass the lockscreen, and you'll have to revert to pulling down the notification shade. Apple had a very similar issue when Touch ID Gen 2 performed too well and lockscreen notifications disappeared before anyone got to read them.