Beautifully built and impressively bright, with genuinely immersive Dolby Atmos sound, the Panasonic LZ2000 is an obvious choice for film fans who want an all-in-one package but don't want to compromise. It's a solid partner for next-gen games consoles as well, although only two of its four HDMI inputs support 4K 120Hz playback.
Pros
+

Superb picture performance

+

My Home Screen Smart TV platform

+

360° Soundscape Pro audio system
Cons
-

Only two HDMIs support 4K playback

-

Expensive
Why you can trust TechRadar We spend hours testing every product or service we review, so you can be sure you're buying the best. Find out more about how we test.
Panasonic LZ2000: One-minute review
The Panasonic LZ2000 is a premium 4K OLED TV that's tailor made for home cinema fans. It sits at the top of Panasonic's OLED range, combining a leading edge panel with a full-fat Dolby Atmos sound system, complete with rear mounted height and side-firing drivers.
The combo is formidable, and allows the LZ2000 to rank among the best TVs you can buy right now. The brand's celebrated picture processing is pixel perfect, and colour accurate, and sonically it rivals any mid-range option among the best soundbars.
Of the set's four HDMI inputs, two are capable of handling 4K 120fps playback, a feature found in the best gaming TVs that owners of a PS5 and/or Xbox Series X will appreciate. There's also a dedicated Game Control Board UI, which groups related info for easy access.
Smart duties are the domain of Panasonic's own My Home Screen platform, which remains a reliable option when it comes to streaming services and catch-up TV.
Panasonic LZ2000: Price & release date
Available: Now
Price: £2,299 / £2,499 / £4,299 (depending on size)
The Panasonic LZ2000 is on sale now in the UK. The 55-inch model we're testing here launched at £2,299 but is now listed at a more competitive £1,999. It's also available in 65- and 77-inch screen sizes (TX-65LZ2000, TX-77LZ2000), priced at £2,499, and £4,299 respectively
The Panasonic LZ2000 isn't available in North America or Australia, although it is widely stocked across Europe.
Panasonic LZ2000: Features
Master OLED Pro panel
4K 120Hz support
360° Soundscape Pro Dolby Atmos sound
The LZ2000 wears its flagship status well. The TV utilises Panasonic's range-topping Master OLED Pro panel, with a variety of brightness boosting features, including a proprietary heatsink.
Like other LZ models before it, it has an advanced Dolby Atmos audio system, in the guise of 360° Soundscape Pro, which features both height and side-firing drivers mounted on the rear of the panel, plus a forward facing under-screen array for left, centre and right duties.
Key specs
Sizes available: 55, 65, 77 inches
Screen type: OLED
Resolution: 4K
HDR support: Dolby Vision IQ, HDR10+ Adaptive, HDR10, HLG, HDR Photo
Audio support: Dolby Atmos, Dolby Digital, PCM
Smart TV: My Home Screen v. 7
HDMI ports: 4
Picture and sound is handled by an HCX Pro AI processor, here working extensively with sensors in the set to optimise performance based on the viewing room environment. The screen also introduces a new beam steering feature, which allows you to direct sound to one side of the room or another.
Smart TV functionality comes via My Home Screen v.7, which not only offers key streaming services but allows you to customise the home screen with preferred service shortcuts.
The LZ2000 has both terrestrial Freeview Play and satellite tuners.
To the rear are four HDMI inputs, of which two support High Frame Rate 4K 120Hz video from a next-gen games console. There's eARC on one of these and support for VRR.
There's also a trio of USB ports, a optical digital audio output, AV minijack and Ethernet connections to compliment Bluetooth and Wi-Fi, as well as a headphone/subwoofer minijack output and CI slot.
Features score: 5 out of 5
Panasonic LZ2000: Design
Up-firing height and side-firing speakers
Pedestal stand
69mm deep
For a flatscreen that packs in so many features, the LZ2000 is remarkably svelte looking. Those rear-mounted drivers, which make up its Soundscape Pro audio system, don't add significant extra depth, while the dark bezel itself is smart and wafer thin.
As the TV sits on a central pedestal stand, it'll suit most AV furniture. The LZ2000 comes with a hefty remote control, which has dedicated buttons for Netflix, Rakuten TV, Prime Video, Disney Plus, YouTube and Freeview Play.
Features score: 4.5 out of 5
Panasonic LZ2000: Smart TV
My Home Screen 7
Dedicated Game Control Board
Voice assistant compatible
Panasonic may be introducing the Android OS on TVs lower down its range but for this premium panel it's sticking with My Home Screen, and that's no bad thing. It's helpfully customisable and easy to use.
To personalise the smart experience, you can pin your favourite apps and inputs onto the Home Screen. The main app selection rail features contextual menus, as you move between them, making it easy to browse.
You'll find all the key services baked in, including Netflix, Amazon Prime, Britbox, Disney Plus, Apple TV Plus, Rakuten TV, and YouTube. Thanks to Freeview Play, there's a full selection of catch-up too, including BBC iPlayer, ITV hub, All 4, My5, UKTV Play, CBS Catch Up and Legend.
There's also a Gallery 'relaxation' mode, for those that want their TV to be a beacon of wellness. Voice control comes via Google Assistant and Amazon Alexa.
The big new UX addition is a Game Control Board. This groups game specific details, like resolution, frame rate, input lag, VRR and HDR info, in one place. Gamers should be pleased with the set's Game mode performance. We measured input lag at 14.5ms (1080/60).
Smart TV score: 5 out of 5
Panasonic LZ2000: Picture Quality
HCX Pro AI Processor
Universal HDR support
Auto AI picture management
Panasonic knows how to eke extra performance from its OLED panels, having been employing levels of heat management for several generations now. Here, it's lifted average picture levels yet again, making this set a fantastic option no matter if you watch in a fully dark cave or a brightly lit living space.
The aforementioned Master OLED Pro panel takes the latest OLED.EX design from LG Display, and couples it with a proprietary heatsink, which creates extra headroom to drive panel brightness. There have also been some custom modifications inside the panel itself, for good measure.
It's worth noting that if you want the picture performance of the LZ2000 but don't need the extra audio hardware, then Panasonic's LZ1500 model should fit the bill.
Panasonic's picture processing has always impressed. Here, the latest HCX Pro AI chipset, allied with this next-gen panel, really shines.
HCX Pro AI excels when it comes to shadow detail, and colours really sing. Blues in particular have greater depth. Final colour tuning comes via Hollywood colourist Stefan Sonnenfeld, so that's encouraging.
The screen offers multi-HDR support, including both Dolby Vision IQ and HDR10+ Adaptive. Both of these settings again use light sensor data to manage image parameters dynamically.
There's also a Netflix Adaptive Calibrated mode. The set's HDR performance is excellent. We measured peak brightness close to 1000 nits using the Normal image preset.
Picture performance score: 5 out of 5
Panasonic LZ2000: Sound Quality
360° Soundscape Pro
Technics-tuned
150w power output
Beam steering audio
Sure, the LZ2000 comes with a lofty price tag, but when you consider that its audio performance rivals that of an upper mid-range Dolby Atmos soundbar, then perhaps that ticket price is justified.
Those rear and side-mounted drivers contribute massively to the sense of sonic immersion it delivers. Sound steerage is pronounced and its power output is a claimed 150W total. You'll have no problem filling a room.
The soundstage is wide and high, and front articulation from the Technics-tuned LCR soundbar array is outstanding.
Audio presets comprise Auto AI, Standard, Music, Speech, Stadium and User.
The Auto AI audio system isn't quite the slam dunk you might expect, and isn't recommended. It seems to have a problem with dialogue, and will shift it about the soundstage during a chatty scene. This can be disconcerting.
One novel new feature is beam steering. You can opt to direct sound from the front soundbar, favouring either left or right drivers. Using an onscreen graphic, you literally steer the output to your chosen position. If one person in the room wants a quiet read, but you want to catch-up on the news, you can point the audio to your seating position. The bookworm is then less likely to be disturbed. Beam steering doesn't work with Dolby Atmos content, but it's undoubtedly a clever wheeze.
Audio performance score: 5 out of 5
Panasonic LZ2000: Value
Premium price tag
Advanced Dolby Atmos sound system
4k 120Hz HDMI support
As befits a flagship television, the TX-55LZ2000 is unapologetically pricey - but you certainly get a lot for your money. It's worth noting that the price of this 55-incher has slipped since its original launch, dropping to £1999.
The key consideration here is the aforementioned 360° Soundscape Pro system. It offers a comparable performance to a mid/upper-midrange Atmos soundbar, which goes a long way to helping justify the overall package price.
The fact that only two HDMI inputs support High Frame Rate 120fps gameplay could be a concern for serious gamers though.
Value score: 4.5 out of 5
Should you buy the Panasonic LZ2000?
You want an all-in-home home cinema
If you hanker after a home cinema system with immersive audio bells and whistles, but don't have the space for extra boxes or even a soundbar, then the LZ2000 is a brilliant option. It offers superb picture quality and impressive audio.
If you want a high spec gaming display
The LZ2000 has two HDMI inputs able to handle 4K 120Hz sources, plus VRR and ALLM. The new Game Control Board is a welcome bonus.
You want a screen that looks great in both a dark room and in high ambient light
Not only is the Master OLED pro panel inherently bright and punchy, the set makes extensive use of adaptive technologies (Dolby Vision IQ, HDR10+ Adaptive and Netflix Adaptive Calibrated mode) to intelligently manage picture settings regardless of light levels.
Don't buy it if…
You already own a dedicated Dolby Atmos sound system
You'll be wasting your money. If you already have a full-blown Dolby Atmos home cinema system, or mid-range or better soundbar, then you probably won't need the LZ2000's Soundstage Pro audio trappings. Save some cash and buy the LZ1500 instead.
You want a full board of 4K 120Hz capable HDMI inputs
While most users will be fine with two 4K 120Hz-capable inputs (for Xbox and PS5), avid gamers might want to look elsewhere for a full quartet of 4K 120Hz inputs.
Also consider...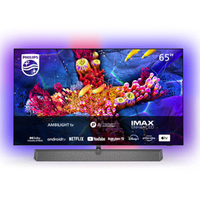 Philips OLED+937
This Philips flagship 4K OLED with Bowers & Wilkins Dolby Atmos soundbar provides strong competition for the LZ2000. The set uses the brand's 6th Gen P5 picture engine, and has a high brightness OLED.EX panel. It also has two 4K 120Hz HDMI inputs, and a strong smart platform in the form of Android OS. It's only available in 65- and 77-inch screen sizes though.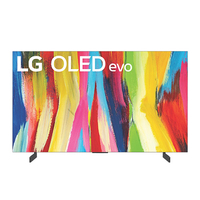 LG C2 OLED
The hugely popular C2 line from LG is difficult to beat when it comes to value. It also uses OLED EX glass and employs brightness boosting algorithms for added visual pop. It trumps the Panasonic LZ2000 with all four HDMI inputs capable of 4K 120fps, but conversely its audio performance is nothing to shout about.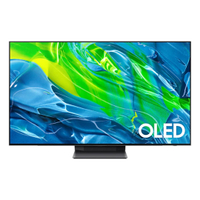 Samsung S95B OLED
Samsung's debut QD-OLED is an outstanding buy that's particularly good for bright room viewing. It offers superb dynamics and a cracking colour performance. All four HDMI inputs are HDMI v2.1 compliant, with 4K 120fps playback, making this a top choice for gamers, but the lack of Dolby Vision HDR support will be a turn-off for film fans.
Home entertainment AV specialist
Steve has been writing about AV and home cinema since the dawn of time, or more accurately, since the glory days of VHS and Betamax. He has strong opinions on the latest TV technology, Hi-Fi and Blu-ray/media players, and likes nothing better than to crank up his ludicrously powerful home theatre system to binge-watch TV shows.