Otty Original Hybrid mattress: two-minute review
As a restless sleeper, prone to turning from my back to sides a lot throughout the night, I'm constantly on the hunt for the best mattress to sleep on. I tried the Otty Original Hybrid over the course of the month and rated it on its general performance including, pressure relief, edge support, cooling and ease of set up.
As someone who's not used to sleeping on a firm mattress, it took me a while to get used to the Otty. It has a firmness rating of 7 out of 10, which is one of the firmest designs the company sells. That said, the top of the mattress does have a nice cushioned structure that made it easy to turn my body and supported me in all the right places at night – particularly in the hips and lumbar area when sleeping on my back.
I also found that as the weeks went on and I got used to the mattress, I became less restless and found it easier to find the best sleeping position, so much so that my Oura Ring's 'sleep score' improved over the course of a week. My partner commented that he didn't notice me move throughout the night as much as I normally do either, and likewise I didn't notice him move so much and that's definitely a nod to the mattress's impressive motion transfer technology.
With this in mind, I think this mattress would be a particularly good choice for back and side sleepers, and anyone wanting something that feels generally firm but has that slight bounce of a hybrid design – but more on all this later in my review. Remember that the mattress comes with a 100-night trial period, so if you have a try and decide it's not right for you, there's always the option to return it.
Otty Original Hybrid mattress review: price
An upper mid-range mattress
Regular sales mean a double can cost around £524.99, down from £949.99
In the Otty range there are four mattress designs to choose from. The Original Hybrid is above average in price and sits in the middle of the brand's range in terms of price and spec. The entry-level Otty Hybrid Aura costs from £299.99 for a single and the company's highest-end Otty Pure+ Hybrid Bamboo & Charcoal Premium mattress, costs from £549.99 at sale price for a single. Meanwhile, you can pick the Original Original Hybrid up for around £412.49 for a single at sale price. And you will find that you can take advantage of the company's regular sales that come up regularly – particularly at peak trading times such as Black Friday and Cyber Monday.
You'll notice that for a hybrid design the Otty Original Hybrid comes in an impressive number of sizes that tailor for UK and EU sizes. This gives you much more to choose from size wise, compared to similar hybrid mattresses such as the Emma Hybrid or the Nectar Essential Hybrid, for example.
Here's the official pricing for the Otty Original Hybrid mattress in the UK:
Single: RRP £749.99 (usually £412.49)
Small double: RRP £899.99 (usually £494.99)
Double: RRP £949.99 (usually £524.99)
King: RRP £1.099.99 (usually £604.99)
Superking: RRP £1,249.99 (usually £687.49)
If you want to buy a mattress when prices are at their lowest, it's a good idea to keep an eye on TechRadar's mattress sales guide, which will give you the low-down on which brands are dropping their prices every month. I've also seen that Otty regularly bundles up its mattresses with a range of products including its Otty Adjustable Pillows, its Supima Cotton Duvet Cover and Case set, its waterproof mattress protector and its seasonal duvets.
Otty Original Hybrid mattress review: specs
Swipe to scroll horizontally
| | |
| --- | --- |
| Price (double size) | RRP £949.99 (usually sold at £524.99) |
| Type | Hybrid |
| Firmness | Medium-firm (7/10) |
| Materials | Foam, natural latex, foam, innersprings |
| Depth | 25cm |
| Delivery | Free standard delivery |
| Trial period | 100 nights |
| Guarantee | 10 years |
Otty Original Hybrid mattress review: materials and design
25cm hybrid with foam and springs
Temperature-regulating memory foam
Removable and washable cover
The Otty comes with a combination of specially-designed materials to help create a mattress that offers a great night's sleep. Within its generous 25cm depth there are up to five layers designed to provide comfort and support as you sleep. Gracing the top of the mattress is a removable and washable cover that is 97% polyester and 3% spandex. This is very smooth and enticing to sleep on.
Underneath is a layer of heat-regulating memory foam that's designed to keep you cool in summer and cosy in winter. Then there's a layer of high-density support foam and a layer of 2000+ 16cm encapsulated pocket springs – these give the mattress a subtle bounce and are designed to keep your spine perfectly aligned to support your joints and back as you sleep. This all lays on a high-density base foam to provide ultimate support. Side supports are also included to give the mattress its edge support and hold you comfortably in place.
While it doesn't have the moisture-wicking properties as seen in Otty's Hybrid Pure Bamboo & Charcoal Mattress, the mattress is designed with an Airflow system that allows fresh air to circulate throughout the mattress. This helps remove excess heat to keep you at a good temperature at night.
Design score: 4.5 out of 5
Otty Original Hybrid mattress review: comfort
On the firmer side with a cushioned top layer
Most comfortable for side and back sleepers
Took our front sleeper some time to get used to
To find out just how comfortable the Otty mattress is, there was only one way to test it – by lying on it. The mattress is on the firmer side, with a rating of 7 out of 10, making it the firmest mattress Otty sells.
I asked a few friends of varying heights to sleep on the mattress and tell me what they thought. 6ft Daniel, who is used to sleeping on his front, found the mattress a little too firm for his liking, although after a while he managed to find a 'very comfortable sleeping position' that he thought was a step up from the memory foam mattress he had already been sleeping on. 5ft 8 Tina also tried the mattress. As a side sleeper with a slim build, she liked how 'spongey' the top later of the mattress felt, and she noted that she could tell it was a mattress that had a well-built structure. Tina has been sleeping on the Emma Premium and said that the Otty felt just as comfortable when side sleeping. She tried it with a pillow with a high loft that seemed to complement the Otty mattress well – creating enough space between the mattress and the base of her shoulders and neck.
When I slept on the mattress myself I really liked the feel of the cushioned top layer. The removable top cover felt very soft under my skin and I was able to find a range of positions I thought would be comfortable to sleep in throughout the night.
I myself am a side and back sleeper – prone to restlessly switching positions throughout the night (having young kids waking you up throughout the night will inevitably make you that way). But I managed to find myself some comfortable positions on the Otty Original Hybrid to sleep in for long stints of time. I tried lying on my back and felt that my body was evenly supported and my spine felt neutral. I sometimes like to sleep on my back with one knee bent up in what's known as the 'The Yogi' position, and I felt that the mattress evenly supported my hips while in this pose.
I also sometimes like to sleep with a Groove X pillow between my knees, which is ideal for keeping your lower back comfortable when you sleep. So I tried using it while sleeping on the Otty mattress and I think the combination worked well.
While not the best I've tried, I thought the support was very good and I didn't feel like I was 'losing myself' in the mattress like some designs can make you feel. The Otty mattress does in fact have a rather good sinkage measurement and to test this myself I used an 8kg weight and positioned it in the centre of the mattress. I measured it at 1.5inches, which I find to be an average sinkage measurement for a double hybrid mattress of this nature. This also backs up my first-hand testing comments that while the mattress has some cushiony 'give', it will do a good job at supporting your back and joints where needed.
Comfort score: 4.5 out of 5
Otty Original Hybrid mattress review: temperature regulation
Pocket springs and foam combine well for temperature regulation.
Includes temperature regulating foam
Airflow System allows fresh air to circulate through mattress
Some mattresses can be more effective at dispersing heat than others – particularly all-foam mattresses. That's what makes a hybrid design a great alternative. Combining the comfort of memory foam with a pocket spring structure that allows the air to circulate around the mattress, the Otty Original Hybrid did a great job at keeping me at a decent temperature throughout the night.
The mattress has an 'Airflow system' which sees small perforations throughout that allow air to circulate freely throughout the mattress, removing excess heat. Testing this mattress in winter in a room that was 18 degrees, I didn't notice feeling either too warm or too cool.
Both Otty's anti-bacterial bamboo and charcoal Pure and Pure+ mattresses have upgraded materials that wick away moisture and eliminate odour, and these additions to the Otty Original Hybrid could make its temperature-regulating abilities even better, however.
Temperature regulation score: 4.5 out of 5
Otty Original Hybrid mattress review: motion isolation
Scored well in our motion isolation test
Firm mattress aids good motion isolation
Good option for restless partners
There's nothing more annoying than being disturbed by a snoring, restless partner when you're trying to get a good night's sleep. While there's not much you can do about the snoring – although our guide to how to stop snoring could help – you can do something about the mattress to stop you noticing their every move.
When I slept on the Otty Original Hybrid next to my partner I found that the mattress felt firm enough that I didn't notice them move too much in the night. As the more restless sleeper, I asked my partner to comment on whether they could feel me move in the night and they told me: 'no more than usual'.
To investigate further I used some wine glasses and some weights to mimic someone else in the bed moving positions and getting in and out of bed. I placed an empty wine glass in the centre of the mattress and dropped a 8kg weight next to it – at 4,10 and 25 inches away.
While the mattress did well at keeping the wine glass standing at 10 and 25 inches away, it toppled over at 4 inches. Bearing in mind that the 8kg is quite a heavy weight, the lesson learnt here is that while this mattress has good motion isolation technology, it's best not to get too close if you want to go undisturbed by your partner at night.
Motion isolation score: 4 out of 5
Otty Original Hybrid mattress review: edge support
Adequate edge support around the edge of the bed
Corner support could be improved
Felt comfortable sitting on the sides of the bed
Getting in and out of bed easily should be a given, but with a mattress that has bad edge support you're more likely to tumble out of bed in the morning and struggle to clamber on. Good edge support is also needed to keep you in position when you sleep and stop you slipping out of bed at night.
To test the Otty Original Hybrid's edge support I sat on all three exposed sides of the bed. I found that while it wasn't the best I have tried over the years, the edge support on the mattress did allow me to sit and slowly stand out of the bed as opposed to sliding out. The corner support could be improved, however, as I found each corner squished a little too much for my liking when I sat on each.
To test the edge support further, I used an 8kg weight to measure the sinkage on the sides of bed, which came at around 1.5inches. This seems average for a hybrid bed like this and in keeping with the sinkage measurements in the middle of the bed as previously mentioned.
Edge support score: 4 out of 5
Otty Original Hybrid mattress review: setup
Easy to haul up stairs
Comes with a cutting tool to open plastic cover
Mattress delivered vacuum-packed, rolled and boxed
When you order an Otty mattress online, you have to wait until you've put your address in and checked out to see if there will be any delivery fees. I had the mattress delivered to a UK mainland address and there were no delivery fees to pay.
The mattress arrived in vacuum-packed plastic and rolled up, and came with a nice welcome brochure with instructions and a cutting tool to open the plastic. There was also a large protective cover in the box, which is sent in case of any customer returns, so it can be protected in transit. Mindful details like these aren't always a given when buying a mattress online, so it was nice to see these extra touches.
Weighing 33.8kg for a double, I found the mattress easy enough to haul up the stairs and onto the bed – although having reviewed quite a few bed in a box mattresses I have figured out 'the knack'.
Once I placed it on the bed I used the cutting tool to slice away the plastic and the found the mattress easy enough to slide out of the bag. Otty suggests leaving the mattress for at least four hours before sleeping on it and that it can take a few days to reach its full height after being vacuum packed. With this in mind, I left it for a few days before sleeping on it. Otty recommends that you turn the mattress every month for the first six months, which is something that not everyone will remember to do – but it's worth noting if you want to get the best from the mattress.
Some new mattresses (particularly memory foam) can come with an off-gassing smell that is a little unpleasant. To assess just how much of a smell the Otty Original Hybrid brought with it, I left the windows closed for a couple of days while it reached its full height. While there was a definite odour in the room, it wasn't particularly offensive and didn't hang around for too many days after the room was well ventilated.
Setup score: 5 out of 5
Otty Original Hybrid mattress review: customer reviews
Trustpilot reviews feed onto the Otty website
9,179 mostly positive Otty reviews at the time of writing
Some reviews note that this mattress helps with back pain
Otty feeds its latest customer reviews from Trustpilot through to its website, which you can view at the end of the site. While these are not all specifically related to the Otty Original Hybrid, the feedback for Otty is generally very impressive. The majority of reviews have five star ratings with customers claiming that the 'mattress is a very good quality' and that the delivery experience have been very good, while quite a few Otty Original Hybrid reviews mention that this mattress helped relieve back pain.
Should you buy the Otty Original Hybrid mattress?
With its carefully formulated structure, temperature regulating materials and supportive pocket springs, this mattress did well to impress me during the month that I slept on it.
Both myself and the testers who tried it out found it to be comfortable and cushioning in the right places, while verging on the firmer side of medium-firm. While we all agreed that the corner support could be improved, we didn't have any major complaints. I personally think the bed is best suited to those who sleep on their backs and sides, as it cushions you nicely in the hips and back when you sleep.
The mattress is also reasonably priced and great value for money compared to other hybrid designs that have similarly luxurious finishes. The mattress comes well equipped with everything you need to get it out of the box and set up on your bed easily, doesn't leave much of an odour after opening and well ventilating the room, and it has just enough cushioning on its firm support design to leave you feeling comfortable during the night.
In my testing process, I found the motion transfer to be very good too – with both my partner and myself agreeing that we didn't get too disturbed in the night by the other movements. This is something my Oura Ring would agree with too, as my 'sleep score' noticeably improved while trying out this bed. With all these points in mind, I think the Otty Original Hybrid is definitely worth considering for your own bedroom.
Otty Original Hybrid mattress review: also consider
Swipe to scroll horizontally
| Header Cell - Column 0 | Otty Original Hybrid Mattress | Otty Aura Hybrid Mattress | Simba Essential Hybrid Mattress | Emma Premium Mattress |
| --- | --- | --- | --- | --- |
| Price (double size) | £524.99 (usually sold at £949.99) | £749.99 (usually sold at £399.99) | £899 (usually sold at £539) | £1,331 (often sold at £598.95) |
| Type | Hybrid | Hybrid | Hybrid | Hybrid |
| Firmness | Medium-firm (7/10) | Medium-firm (6-10) | Medium-firm | Medium |
| Materials | Memory foam, natural latex, foam, innersprings | Memory foam, foam, pocket springs | Simbatex foam, Aerocoil springs, foam | Memory foam, foam, AeroFlex springs |
| Depth | 25cm | 23cm | 20cm | 25cm |
| Delivery | Free standard delivery | Free standard delivery | Free carbon neutral delivery | Free delivery |
| Trial period | 100 nights | 100 nights | 200 nights | 200 nights |
| Guarantee | 10 years | 10 years | 10 years | 10 years |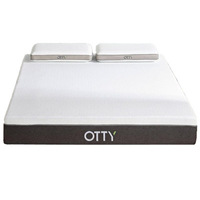 Otty Aura Hybrid Mattress
If you're not looking to spend as much of your bedroom budget on the Original Hybrid mattress, you could consider the less expensive Otty Aura Hybrid mattress. It comes with similar features as the Original, but has 1,000 encapsulated pocket springs instead of 2,000.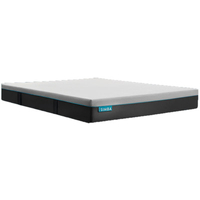 Simba Essential Hybrid Mattress
The Simba Essential Hybrid is also an excellent alternative choice and ideal for features one comfort layer of 1,500 titanium Aerocoil microsprings teamed with open-cell Simbatex foam. What it lacks in springs it makes up for in sleep surface, as it comes with a hypoallergenic and breathable mattress cover and has great edge support.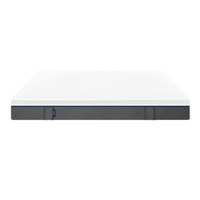 Emma Premium Mattress
For a slightly less-firm finish, you may want to choose the Emma Premium mattress. This breathable design comes with a removable and washable cover for easy maintenance and a medium-firm support.
Read more in our Emma Premium Mattress review
How I tested the Otty Original Hybrid mattress
To give the Otty Original Hybrid mattress a fair test, I slept on it over the course of a month. It was early spring, and the days were chilly and the nights long. Some days the central heating needed to be on, so my bedroom never really got above 19 degrees at night. I placed the Otty mattress wooden slatted bedframe from John Lewis & Partners, which seemed to complement it perfectly. My partner also slept on the bed alongside me and gave his opinion. I also ran standardised tests set by TechRadar to objectively assess softness, edge support and motion isolation.