Wacom One: One-minute review
Wacom is known for producing premium, professional tools that set the standard, with some of the best drawing tablets currently available. So how well does the company fare when challenged to create a more affordable, entry-level device?
In short, pretty well, judging by the resulting One by Wacom. This pen tablet is lightweight, uncomplicated and stylish, making it an excellent choice for those early in their creative career. It's worth noting that this is not the same as the Wacom One, which is a pen display, meaning it has a built-in screen.
Instead, the One by Wacom is a small yet mighty screenless slate, packing some great specs in its pocket-sized frame. With 2048 levels of pressure sensitivity in its powerful stylus and a wonderful 2540 LPI drawing surface, it's about as good as you can get from an entry-level drawing tablet without adding on any of the price-inflating frills. It was created to be the next evolution of one of Wacom's most successful and well-loved entry-level slates – the Wacom Bamboo.
Since students are one of the target audiences for this pen tablet, the One by Wacom is the first graphics tablet officially optimized to work with Chrome OS (alongside its more professionally geared sibling, the Wacom Intuos), and while a few other drawing tablet providers have since updated their products to work better with the system, very few have the level of ease and compatibility that Wacom does with Google's Chromebooks.
If you're looking for the full complement of features to support more advanced, professional workflows, you might find the One by Wacom somewhat limiting. It's by no means the most detail-oriented tablet, and the lack of shortcut buttons means you'll either need to invest in a separate shortcut remote, or work with a keyboard close to hand.
However, in its two travel-friendly sizes, small and medium, the One by Wacom allows you to use some of the best digital art software and photo editing software to draw or tweak your creative projects. These smaller sizes do mean you're more likely to feel a bit cramped while working, experiencing greater discomfort, so it's worth thinking about how long you'll need to use the tablet in any given setting.
Overall, though, I found the One by Wacom the perfect companion as a digital art hobbyist, especially as a means to help me complete smaller tasks throughout the week – quickly touching up images in Photoshop, or adding them into a template, as well as mapping out rough sketches for larger projects, for example. As someone who regularly works away from home and the office, it's rapidly becoming my go-to companion.
One by Wacom: Price and availability
List price (small): $49.95 / £35.99 / AU$99.00
List price (medium): $99.95 / £49.99 / AU$189.00
The One by Wacom is minimal in almost every sense of the word, including price. Despite being well made and pretty powerful, this petite pen tablet offers fantastic value for money, priced at just $49.95 / £35.99 / AU$99.00 in its smaller size and $99.95 / £49.99 / AU$189.00 in medium.
For our review, we tested the medium One by Wacom. Along with the tablet itself, the One by Wacom comes with its Wacom stylus, a pen nib remover, three replacement nibs and a USB cable. There's no USB-C adapter, meaning creatives with newer MacBooks will need to employ the use of a converter.
At its price point, the One by Wacom offers fantastic value for money, and will deliver almost everything you need as a baseline pen tablet.
One by Wacom: Specs
Price: $49.95 / £35.99 / AU$99.00 (S), $99.95 / £49.99 / AU$189.00 (M)
Dimensions: 210 x 146 x 8.7 mm (S), 277 x 189 x 8.7 mm (M)
Active drawing area: 152 x 95 mm (S), 216 x 135 mm (M)
Thickness: 8.7mm
Weight: 250g (S), 432g (M)
Resolution: 2540 LPI
Connections: USB
Compatibility: Windows 7 or later, Mac OS X 10.10 or later, Chromebook Chrome OS 87 or later (Kernel 4.4 + required)
Pressure levels: 2,048
One by Wacom: Design
Portable and lightweight
No shortcut keys
Robust, premium materials
By design, the One by Wacom is supremely portable, yet still very effective. In its smaller size, the slate is 210 x 146 x 8.7mm, and in medium it measures 277 x 189 x 8.7mm, weighing 250g and 432g respectively.
Unlike its predecessor, the Wacom Bamboo, the One by Wacom does away with oversized wasted space around the drawing surface, offering a respectable active drawing area of 152.0 x 95.0 mm (S) / 216.0 x 135.0 mm (M). However, this does mean there's less space on which to rest your hand while drawing.
The tablet is encased in durable, well-made plastic that feels neither tacky nor cheap, and I felt comfortable stashing the device in my bag without worrying about damage. It's black on the front, with the rear of the slate a bold, yet sophisticated, matte red. Four rubber pads on its base stop the tablet from skating across whatever surface you might be drawing onto, and on the side is a fabric pen loop to hold the stylus – which is useful seeing as the rounded pen is prone to rolling off of surfaces.
The surface itself seems to be the same as used in the Wacom Intuos, with a lightly textured finish that doesn't appear prone to scratching, judging from my testing experience. On the surface are dots to help create a sense of scale, which I found useful as a reference point when looking between the screen and the tablet.
Its stylus is all-black and plastic, and super-light at just 9g. Compared to some of Wacom's more premium pens, this one definitely feels more basic. There's no grip, and it doesn't have quite enough weight to it. Still, it's by no means poorly designed and is very comfortable to use.
One by Wacom: Performance
No line jitter, minimal lag
Virtually plug and play
Wonderful drawing experience
I loved drawing with the One by Wacom, especially when it came to completing quick tasks throughout my day. Once you've downloaded the drivers, the device is plug and play, so it's very easy to quickly whip out if you're in a bind.
Wacom's drivers are, as I've come to expect, simple and effective – and, for a model as simple as the One by Wacom, scarcely needed to be used. Perhaps only for fine-tuning or to flip its orientation.
Thanks to its surface, the One by Wacom offers an excellent, true-to-life paper feel, although the stylus quality does detract from this somewhat. The level of resistance otherwise is perfect, and after using the slate for several weeks I can't see any scratches or other imperfections anywhere – even having taken it out on the road a few times.
There was no line jitter at all, and there was minimal lag, especially considering its low price point. It worked flawlessly in Creative Cloud programs such as Photoshop and Illustrator, as well as various other software I tried it on with my Windows PC and MacBook Pro.
Since there are no shortcut keys, and only two hotkeys on the stylus, the One by Wacom becomes a little more problematic in use if you're working to a deadline or have more in-depth, detailed work to complete. Students and other entry-level users are unlikely to miss these, but if you're generally accustomed to speeding through projects, then having to resort to using your keyboard and mouse might be a little irritating. Of course, you can opt to invest in a shortcut key, but this does somewhat negate the affordable price tag of the One by Wacom.
Overall, the tablet's size is both a blessing and a curse. Where other pen tablets such as the XP Pen Deco Pro feature larger borders surrounding the active drawing area to give your hand somewhere to rest, the edge on the One by Wacom isn't as deep, so I ended up feeling quite cramped after some time using it, and especially when working on finer details.
One by Wacom: Stylus
Feels a little cheap
Battery free
2,048 pressure levels
The stylus, for me, was the biggest giveaway of the affordable price point of the One by Wacom. Where the tablet itself feels just premium enough, the stylus is pretty light and minimally designed.
First, the positives. The stylus is battery-free, which makes it a better companion to a hyper-portable tablet, and it comes with two spare nibs and a nib remover – which is more than I got with the Wacom One I reviewed recently. The nibs are of the typical high quality I've come to expect from Wacom, and overall the stylus is comfortable to hold and enjoyable to draw with.
However, there are some drawbacks. While the One by Wacom stylus offers double the pressure sensitivity of the Wacom Bamboo at 2,048 pressure levels, compared to more affordable mid-range options from the likes of XP Pen and Huion that offer 8,192 pressure levels, it's a little underwhelming, even given its low price point.
The pen is made of the same plastic material as the black lining of the tablet, but feels cheaper. I think this is down to its weight – it's just 9g, versus the 15g Wacom Pro Pen 2 or even the 20g 2nd-generation Apple Pencil. Personally, I prefer a weightier stylus.
The pen has no grip, either, plus its tactile buttons feel a bit tacky, and are a little too easy to nudge accidentally. Overall, it feels as though the stylus has taken the biggest hit with regards to Wacom streamlining its typically premium features – which is a shame.
It's by no means a bad stylus; it performs wonderfully. It just feels like a huge departure from the quality I've come to expect from Wacom, even considering the lower price.
Should I buy the One by Wacom?
Buy it if...
You're an entry- to mid-level creative or student
For people on a budget, or just starting out in the creative industry (or as a hobbyist!), the One by Wacom will be your best bet. It's close to perfect for anyone who fits this profile, with its high-quality build arriving at an affordable price.
You frequently need to complete creative tasks on-the-go
The One by Wacom is supremely portable – more so than any other tablet I've tried, and this makes it perfect for anyone regularly shifting between workspaces or travelling.
You need a device for quick odd-jobs
It might not fit the bill for longer shifts or detail work, but the One by Wacom is excellent for minor tweaks or quick edits. I found it super-handy for editing images in Photoshop on multiple occasions.
Don't buy it if...
You're a professional or mid-weight creative
The lack of shortcut keys, as well as any border upon which to rest your hand, and higher pressure levels, means the One by Wacom is likely to fall short for more experienced creatives with greater demands.
You need to do long shifts on detail-oriented projects
For long stretches, the One by Wacom can be limiting. Its size and design make it uncomfortable to work on over longer periods and for detail work.
You prioritize stylus design and feel
The stylus was the biggest disappointment by far. It felt cheap, and while it performs well, it really made me miss the higher-spec styluses I've been using recently.
Wacom One: Report card
Swipe to scroll horizontally
| | | |
| --- | --- | --- |
| Value | A true budget-friendly option from Wacom isn't to be sniffed at. The One by Wacom is the perfect entry-level device at the perfect entry-level price. | 5 / 5 |
| Design | It's simple and sweet, and that's charming. A set of shortcut keys would have been welcome, alongside a larger version with a bit more room to breathe. | 4.5 / 5 |
| Performance | The One by Wacom performs incredibly well, given its price. For its target audience of students and entry-level creatives, it offers the perfect balance of delivering a great drawing experience while being easy to use. | 4.5 / 5 |
| Stylus | Yes, the One by Wacom is an affordable model, however, Wacom could have put more effort into the design of the stylus, perhaps by adding a few more grams to its weight, improving the buttons, and adding a grip. | 3.5 / 5 |
Also consider...
Swipe to scroll horizontally
| | | |
| --- | --- | --- |
| Row 0 - Cell 0 | One by Wacom | XPPen Deco Pro |
| Price | $49.95 / £35.99 / AU$99.00 (S), $99.95 / £49.99 / AU$189.00 (M) | $99.99 / £99.99 / AU$139.99 (S) or $129.99 / £129.99 / AU$169.99 (M) |
| Dimensions (w x h x d) | 210 x 146 x 8.7 mm (S), 277 x 189 x 8.7 mm (M) | 350.8 x 199.5 x 16.5mm (S), 399.7 x 227 x 16.5mm (M) |
| Active drawing area | 152 x 95 mm (S), 216 x 135 mm (M) | 228.6 x 127mm (S), 279 x 152.4mm (M) |
| Thickness | 8.7mm | 7mm (thinnest) |
| Weight | 250g (S), 432 (M) | 630g (S), 808g (M) |
| Resolution | 2540 LPI | 5080 LPI |
| Connections | USB | USB-C |
| Pressure levels | 2,048 | 8,192 |
| Compatibility | Windows 7 or later, Mac OS X 10.10 or later, Chromebook Chrome OS 87 or later (Kernel 4.4 + required) | Windows 7 or later, Mac OS 10.10 or later, Android 6.0 or later |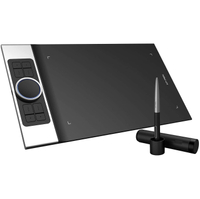 (opens in new tab)
XPPen Deco Pro
XP Pen has established itself well in the drawing tablet space for its more affordable alternatives to the likes of Wacom – but you get what you pay for. The build quality is lesser, and it isn't quite as enjoyable to draw on. However, it does grant smoother workflows with its shortcuts.
Read our full XPPen Deco Pro review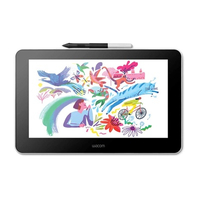 (opens in new tab)
Wacom One
If you've got a budget to stretch, it's well worth investing in the Wacom One as your alternative entry-level Wacom product - only this one has a built-in display. It's a considerable jump in list price, and the Wacom One still lacks some of the features we like to see for more mid to pro level creatives, but it's a step in the right direction.
Read our full Wacom One review
First reviewed March 2023
How I tested the One by Wacom
First, I stress-tested the tablet for at least an hour in a variety of drawing and editing software to test the One by Wacom, including Adobe Creative Cloud programs such as Photoshop and Illustrator, as well as Clip Studio Paint and free software such as Krita.
Then, I moved on to work in longer periods on specific projects - for this tablet, I started working on a new project. As it's not the best for detail work, I spent a lot of the time sketching and playing with different paintbrushes to get a feel for how the tablet handles. I took the tablet on the road with me to see how well it travels, too.
I've recently been testing other tablets including the XPPen Deco Pro and the Wacom One, so I spent some time comparing these, while also comparing to my go-to creative platform, the iPad Pro.