Best drawing apps and digital art software (2023): Top programs for artists and illustrators
Best
Contributions from
last updated
Sketch and paint with the best drawing apps and digital art software on Windows, Mac, iPhone, and iPad
VERDICT
REASONS TO BUY
REASONS TO AVOID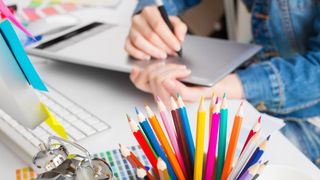 (Image credit: Shutterstock)
The best drawing apps and digital software offers all the creative freedom of pads, pencils, pens, and brushes in a single program.
For artists and illustrators of all experience levels, the best graphic design software unlocks a canvas of possibilities. A way to bring ideas to life, and seamlessly share work with clients, friends, and the rest of the world. And the very best software for digital art caters to all - capturing every stroke, whether you're illustrating comics or working in watercolors.
We've tested the best drawing apps and the best digital art software across Windows, Mac, iPhone, and iPad. As part of our process, we've reviewed each art app's tool sets, online collaboration tools, and the best cloud storage options. We've also covered software for beginners and professionals.
So whatever medium you work in, armed with the best laptop and tablet for drawing and digital art, you can create artwork that always hit the brief.
The best drawing apps & digital art software of 2023 in full
Best digital art & drawing software overall
Specifications
Operating system:
Windows, macOS, iPadOS, Android
Billing:
Monthly, Annual, Annual billed monthly
Reasons to buy
+
Easy-to-use
+
Cloud-based suite
+
Comprehensive tools
Reasons to avoid
-
Subscription only
-
May intimidate newcomers
-
Limited on Android
When it comes to creative software, Adobe has dominated the scene for decades, and Adobe Photoshop CC (CC stands for Creative Cloud) is loved by artists and designers across the world. It provides creative types with a plethora of cloud-based tools to create and enhance photos, illustrations and 3D visuals.
This software isn't just one of the best photo editors. If you're a professional designer, you can use it to create packaging, banners, websites, logos and icons. Not only can you come up with your own creations, but you're also able to make use of intuitive templates if you're more of a beginner, or you're working to a tight deadline.
You can design your own illustrations and turn images into paintings as well, with the option of switching between animate and print-style options. When you've created a piece, you can enhance it with a range of built-in effects.
There are multiple pricing tiers, depending on which other apps and features you'd like bundled with Photoshop CC. The cheapest is the Photography level which comes with Adobe Lightroom CC, as well as 20GB of cloud storage (at around $21 / £20 / AU$30 per month). Up from that is the Single App plan which comes with 100GB of cloud storage, as well as Adobe Portfolio, Adobe Fonts, and Adobe Spark. For the All-Apps plan you get access to all Adobe creative desktop and mobile apps as well.
Read our full Adobe Photoshop review
Best drawing app for painting
Specifications
Operating system:
Windows, macOS
Plan:
Subscription, Perpetual license
Billing:
Annual, Lifetime
Reasons to buy
+
Custom brushes
+
Support for third-party apps and hardware
+
Subscription-free license
+
Photoshop brush plugins
Reasons to avoid
-
Not massively advanced
-
No iPad or Android versions
Corel offers a host of creative software packages, one of which is a drawing app called Painter. Aimed at designers, artists and students, this cross-platform application provides you with the likes of 'thick paint' which you can daub onto your digital canvas, and then scrape around or blend to create some highly realistic looking masterpieces.
There's a large selection of brushes, with the ability to create custom brushes and palettes – plus you can import these, too. Painter is a downloadable app which is available on both Windows and Mac. It's compatible with third-party software like Photoshop and drawing tablets from companies such as Wacom, as well.
While many of the best digital art & drawing software providers have moved to a subscription-only model, Painter is still available as a one-time purchase at around $400 / £360 / AU$600. There are special rates for an education edition for students and learning centers.
Read our full Corel Painter review
Best drawing app for iPad and iPhone
Specifications
Operating system:
Windows, iOS, iPadOS
Billing:
Monthly, Annual, Annual billed monthly
Reasons to buy
+
Excellent array of features, tools, and brushes
+
Simple and satisfying to use
+
Very flexible tool
Reasons to avoid
-
No Android version
-
Had singular setup glitch
Adobe Fresco is a drawing tool for iPads, Microsoft Surface Pros and Creative Cloud Desktop for Windows. You can download a version for free, but if you want to use all its features you'll need a subscription. It's worth noting that if you already subscribe to either the Adobe Design Mobile Bundle plan, the Adobe Photoshop Single App plan or the Adobe Creative Cloud All Apps plan, you already get access to the full Fresco.
Fresco is a very satisfying app to use. It packs in many powerful features and a great selection of brushes, broken down into three categories: Pixel brushes, like those you find in Photoshop and Vector Brushes, like you find in Illustrator. But Live Brushes was the star, letting you recreate the effects of actually painting with watercolors or oil.
There are a great number of tools, including some animation options, and some very original touch gestures to facilitate and help speed up your workflow. If you love drawing on a tablet, this is definitely an app worth testing out.
Read our full Adobe Fresco review
4. Rebelle
Best digital art software for a realistic painting experience
Specifications
Operating system:
Windows, macOS
Reasons to buy
+
Designed by a pro artist
+
Simulates realistic painting experience
+
Lots of customization options
+
Toolkit bursting with brushes and tools
Reasons to avoid
-
Can lag on older hardware
-
Not as advanced as Corel Painter
Developed by artist Peter Blaskovic, Rebelle is another highly versatile drawing and painting application. Described as "one-of-a-kind paint software", it's been designed to simulate a real-world painting experience for creatives working on watercolor, acrylic, wet and dry media artwork.
Blaskovic created the app as part of his experimental drawing projects and wanted an easy-to-use program to access natural painting tools on-the-go. The app uses realistic color blending, wet diffusion and drying techniques, and offers a plethora of watercolors, acrylics, inks and pastels.
There are also 'dry' tools like pencils, markers and erasers, so you don't have to stick to paintbrushes. The app also boasts some interesting capabilities like the ability to tilt the canvas you're working on.
What's more, Rebelle works with Photoshop, allowing you to tap into 23 additional blending nodes. You can download a trial version to see if Rebelle is the best digital art and drawing software for you.
5. Artweaver
Best free drawing app for PC only
Specifications
Operating system:
Windows
Plan:
Free, Perpetual license
Reasons to buy
+
Easy to use
+
Collaboration features
+
Lots of brushes
+
Record your work
Reasons to avoid
-
Only available on Windows
-
Limited free version
Artweaver is one of the oldest painting tools out there. The digital art app serves up a diverse set of predefined brushes and pencils that can be used to create amazing pieces of art.
Not only does Artweaver offer an intuitive and easy-to-use interface which makes it suitable for novices, but it also boasts an impressively configurable brush system. So while you can choose from a variety of predefined brushes, you can also tweak them to suit your exact needs.
Furthermore, Artweaver has another strong suit when it comes to working on joint art projects, because you can use the app to collaborate with colleagues and clients on the same document.
Want to get a better idea of your artistic process and exactly how it flows? Then you can get the application to record your work. That way, you can review, evaluate and improve your abilities (hopefully).
Artweaver is only available on Windows, but it's temptingly cheap and there's also a free version available though it has limited functionality compared to the paid version. Existing users can upgrade to the latest version at a discounted rate.
6. ArtRage
Best digital art software for cross-platform painting
Specifications
Operating system:
Windows, macOS, iOS, Android
Reasons to buy
+
Custom brushes
+
Oil paint feature
+
Realistic painting
+
Recordable actions
Reasons to avoid
-
A little slow and unstable
-
Lite version may be limited for some
ArtRage is an art program primarily for Windows and Mac, but also has app versions for iOS and Android. All versions are available as a one-time purchase, with the mobile app being particularly affordable.
It packs in a good range of painting features, such as pencils, pens, and oil painting brushes, as well as digital editing features such as layers, transform, filters, and custom brushes. Like Rebelle, it simulates real-world painting, with brushes reacting to the textures of the canvas.
The recent addition of collaborative workflow tools means that ArtRage can certainly hold its own among the best digital art & drawing software packages.
As well as drawing apps for tablets, the desktop software is available as a full package or a Lite version, which is half the price but limited in comparison. So, there's flexibility here, but it's worth checking the version you want does what you need.
There are also a good range of support options available on the website, such as manuals, tutorials, as well as an online community for advice, suggestions, tips, and tricks.
Best digital art & drawing software: FAQs
How to choose which digital art & drawing software is best for you
Why you can trust TechRadar We spend hours testing every product or service we review, so you can be sure you're buying the best. Find out more about how we test.
When deciding which digital art & drawing software is best, first consider how many features and tools you may need, the types of projects you're creating, and your skill-level with this type of software.
In some cases, fully featured digital art tools may not be needed. For example, if you're just trying to make simple image, such as a logo, you may find the best free logo designer or similar will be fine. For more complex works, the best photo editors and professional graphic design software may be best.
Whether you're a freelance artist or working in-house, online collaboration tools are essential for sharing your work, receiving feedback, and getting each project pixel-perfect and signed off. If you're working across mediums, look for supported integration between related apps - for example, Photoshop seamlessly integrates with Adobe Lightroom.
Budget is another factor. We've rounded up the best free drawing software tools out there alongside premium paid-for apps, but there will be trade-offs. Adobe Fresco is a good intermediate app in this case, as it operates a freemium model, letting you get a real taste of what it offers before you commit to subscribing.
What is digital art & drawing software?
Digital art & drawing software transforms your computer monitor or mobile device screen into a blank canvas.
Unlike many general graphic design software, drawing apps tend to provide tools especially for artists and illustrators. Offering a vast array of tools, brushes, and color pallettes, artists will enjoy a realistic creative experience.
These sophisticated programs can emulate a variety of mediums, modeling paint effects with great accuracy.
However, the best software for digital art also allows you to break away from traditional methods. Layers, effects, filters, and many other tools allow you to manipulate your art in ways not previously possible.
What is the best drawing app for PC?
Adobe Photoshop is the best drawing app for Windows devices. The digital art software sets an industry-standard for features and tools, including impressive AI work to lighten the load. It also works well combined with the likes of Adobe Illustrator and Adobe Fresco. Corel Painter, Rebelle, and Krita offer extra for digital artists and painters.
What's the best drawing app for Mac?
Photoshop is the best app for drawing on Mac. It may feel daunting if you're a beginner, but the powerful tool is intuitively designed, delivering pro results. It syncs your artwork across iPhone and iPad, too. If you're an artist looking for painting apps on Mac, we recommend trying Corel Painter and Rebelle. Krita is a good free and open-source alternative.
What's the best free digital art software?
Gimp is the best free digital art software on WIndows, Mac, and Linux. The open-source drawing app is as powerful as Adobe Photoshop, however, there is a learning curve to mastering the tool. The freemium Adobe Fresco is also worth trying, without having to pay for the full app. Krita is a fully-featured open-source digital art app for Windows, Mac, and Android, if you want to paint and draw. For a simple free drawing app on PC, try Artweaver. It's been around a while now, and the free version is somewhat limited, but the highly configurable brush system makes it worth a download.
What apps do digital artists use?
Digital artists express themselves through a range of drawing apps. Many professionals use Photoshop, which works across desktop, mobile, and tablet and integrates with Adobe's other digital art apps like Adobe Illustrator. Gimp is an open-source alternative to Photoshop, although it's tied to desktops. The well-loved Procreate is a favorite drawing app among talented digital artists. Autodesk Sketchbook is a great professional illustrator app for iPhone, Android, Windows, macOS, and iPad.
What are some digital art software alternatives?
While we've tested out the best digital art and drawing software, there are still alternative tools available - especially if looking for something more entry-level, or simply competent when it comes to art and design.
PaintShop Pro is a neat little art program. Although not as fully featured as some of the above it's still very competent software for many aspects of art and design. Whether it's photo editing, drawing, or creating/designing graphics, there are a lot of tools and additional plugins available to get the effect you want. Originally developed by Jasc, it's now part of the Corel stable of creative programs.
Adobe Illustrator can sometimes be thought of as being the little brother to the more powerful Photoshop, but don't overlook its possibilities. While Photoshop was originally built for photo editing, Adobe Illustrator has always been designed around illustration and drawing. You don't need to choose between one or the other, however, as if you subscribe to even the basic level Adobe creative apps plan, you can have both Photoshop and Illustrator together.
Sketchup is more focused on 3D design rather than general painting and drawing, but is worth considering if that's the main reason you need software for drawing. Even better is that there's a free version, but even the paid-for versions are relatively cheap by comparison to some of the above, with an annual cost varying according to how many features you want to unlock.
GIMP is a dedicated art program specifically built to run on Linux operating systems. While it may not be as powerful as some of the software listed, it makes a big effort to do a lot of things, from photo editing to sketching to design. Anyone who already works with Linux has probably heard of it and even has a copy, but if you were thinking of moving to Linux but weren't sure what creative software was available, you could do a lot worse than try out GIMP.
Microsoft Paint is a basic art package that comes with every Windows install, and has done so since at least Windows 3.x. The release of Windows 10 has seen 3D editing tools added to it, but let's be fair-it's still a simple program that isn't going to rival anything else on this list. However, because of the easy availability of MS Paint it's worth mentioning - if nothing else because it does have a basic toolkit that is expanded on by other software.
How we test the best digital art & drawing software
We've tested, reviewed, and rated a range of design apps across all industries, including the best photo editors, the best mockup software, and the best interior design software.
To test for the best digital art & drawing software we first set up an account with the relevant software platform, whether as a download or as an online service. We then tested the service by creating a handful of images to see how the software could be used for the editing and development of each image. The aim was to push each software platform to see how easy it was to use different features, tools, and filters where available. We assess overall user interface and experience, the breadth of tools and brushes on offer, and value for money.
Are you a pro? Subscribe to our newsletter
Sign up to the TechRadar Pro newsletter to get all the top news, opinion, features and guidance your business needs to succeed!
Nicholas Fearn is a freelance technology journalist and copywriter from the Welsh valleys. His work has appeared in publications such as the FT, the Independent, the Daily Telegraph, The Next Web, T3, Android Central, Computer Weekly, and many others. He also happens to be a diehard Mariah Carey fan!