Best mockup software of 2023
Best
Contributions from
last updated
Prototype your product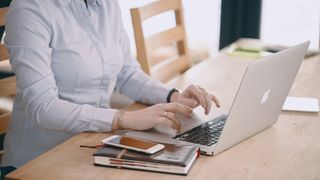 (Image credit: Pixabay)
The best mockup software makes it simple and easy to set up digital prototypes to visualize your products before going into development.
Even better, mockup software help businesses streamline the design process without having to invest in high-end graphic design software. They offer a great way to illustrate and refine concepts, understand how a product looks and feels, and what's needed to create them when a project gets the greenlight.
So, for example, using mockup software means you'll just need to design a single screen for an app, rather than develop an entire functioning app. This allows organizations time to invest into creating truly viable products - and get to market faster.
We've tested the best mockup sites against a specific set of criteria, including user interface, template library size, cloud storage support, and toolset variety. We've also considered any third-party integrations, their pricing structure, and plenty more.
Below we list what we think are the best mockup software platforms currently available.
We've also listed the best laptops for graphic design.
---
The best mockup software of 2023 in full:
Why you can trust TechRadar We spend hours testing every product or service we review, so you can be sure you're buying the best. Find out more about how we test.
1. Placeit
Best mockup software overall
Reasons to buy
+
Huge template library
+
Lots of template types
+
Logos and videos
Reasons to avoid
-
Some templates are outdated
-
Focus on Apple devices
Placeit offers one of the best mockup website experiences - it's all sensibly laid out and easy to use. Even so, it is easy to be overwhelmed by the magnitude of choice on offer.
It has templates for clothing, mugs, phones, MacBooks, iPads, iMacs, pillows, hats, bags, business cards, flyers, banners, packaging, and loads more for you to visualize your product. Alongside these pre-designed image templates, the site also offers template videos, preformatted social media banners, and even a logo designer.
The process of generating a mockup is quite simple - it starts with uploading an image, and each mockup will tell you the exact pixel dimensions to fit the template so there's no guessing and awkward cropping needed. You can then add text and pick a color palette, depending on the product, and then download it. Placeit even handles the skewing for 3D-effect images to give a more lifelike impression.
Placeit has been around since 2013, and as such it has had to adapt to an evolving tech landscape. While many of its templates are perfectly up-to-date, you're still likely to come across some dated templates simply because it has such an extensive catalog.
Furthermore, the digital content appears to be focused on Apple products, so you may struggle to find the right image if you're designing something for a Windows or Android device.

2. Mediamodifier
Best mockup software for beginners
Reasons to buy
+
Lots of templates
+
Easy to use
+
Free option
Reasons to avoid
-
Mockup database isn't updated frequently
-
Free service is limited, images watermarked
Where some services offer only images of phones, tablets, and computers, Mediamodifier has a much wider selection of potential placements. Like Placeit, these include t-shirts, mugs, and business cards. We're especially keen on the social media mockups that create fake posts that you can show as part of your marketing pitch.
Using the mockup site is remarkably easy. Pick the mockup you want and then drag the correct sized image (pixel measurements are provided for each one) to be combined with it onto that template; depending on the mockup there may also be control for color palettes, shadows, and text. As well as JPG and PNG files, you can download PSD files to tweak at a later date in Photoshop.
For those just looking for ideas, Mediamodifier has a free service where the size of the images is limited, and they are watermarked, but this is generally acceptable for first-stage planning. Those looking for the highest resolution images without a watermark will need to sign up for a paid subscription.
Mediamodifier also offers detailed documentation on creating mockups and designs on their website, with plenty of tutorials, tips, and inspiration.

3. Smartmockups
Best mockup site for high-resolution prototypes
Reasons to buy
+
Excellent image quality
+
Dropbox and Canva integration
+
Regular updates
+
Simple and complex mockups available
Reasons to avoid
-
Has a few bugs
-
May be template overkill for some
Smartmockups is a remarkably slick mockup site that lets you achieve professional results without Photoshop or other digital art apps.
Available mockups are divided into six groups; technology, print, packaging, apparel, home & living, and social media. Smartmockups offers thousands of choices, and new ones are added each week. What's more, there's a good mix of fuss-free product-only mockups and stylized options with backups and other subjects in frame.
In addition to these templates, Smartmockups also provides the tools needed to construct custom templates based on an image that you provide, such as an awkward shape that's not in the company's library or just simply a specific image you want. It has all the tools to correctly fill the space in a 3D editor.
But the flexibility of this solution is only part of the story. Because this service also offers some of the highest resolution images for any mockup service. We like that images can be cropped before they're downloaded, so you don't have to bother with the hassle of additional photo editing software. The third-party integrations to online platforms to Dropbox and Canva are also practical, so you can pull in images directly from your preferred cloud storage solution.
Basic features and a limited number of templates are available for free use, but you'll need to sign up for a subscription to access all mockups, with new ones dropping each week alongside customizations and video mockups.

4. MockFlow
Best mockup site for wireframing
Reasons to buy
+
Easy to use
+
Powerful editing system
+
Great for wireframing apps and sites
+
Templates for popular web pages
Reasons to avoid
-
Global style control is needed
-
UI-focus
MockFlow is one of the best mockup sites for those looking for a focus on user interface designs.
The tool has six modules that can be used to construct conceptual websites and applications, and even a mechanism to streamline UI approval for a project in agile-like development. It's designed with collaboration in mind and even has video calling capabilities so that you don't need to turn to another piece of software to discuss something with colleagues.
You can choose to build something from scratch, but given the intention of mockup software, you may also want to consider picking a template to apply your own branding and media to. For website mockups, there are pre-designed pages for things like FAQs, customer support, help centers, and tens of other constructs, which can be used as-is for a quick visualization or populated with your own content.
Overall, it offers a detailed look at how your business could appear, but there are some areas that could be improved. Making global changes isn't possible, for example, which means you'll have to change each page individually. It's also on the more expensive end, which may be hard to justify if you're unlikely to use all of its features, though there is a free version with a stripped-back set of capabilities.

5. MockupsJar
Best free mockup site
Reasons to buy
+
Free
+
PNG, JPEG and PDF downloads
+
Support for physical and digital products
+
Fair template library
Reasons to avoid
-
Smaller number of templates
-
Hobbled free version
-
Requires some technical knowledge
MockupsJar is a free mockup website - but there are limitations here. So, you can create mockups online free as long as you are happy with adverts, watermarks, and the restriction of some paid-for features.
The low price does mean that you don't get access to the thousands of illustrations that other sites give; at the time of writing, MockupsJar has just over 900 mockups on its site, covering a broad spectrum including smartphones, tablets, computers, web browsers, product packaging, clothing, and books.
You'll likely need more technical know-how than compared with other rivals: it's not as easy to use, and the photo editing capabilities are more stripped back so you'll need to make sure your image is ready to go before uploading it. It seems that the service also automatically crops images that are outside of the set aspect ratio, so that's something to consider before uploading, too.
That said, if you want something for free created by a very small team of developers, and are prepared to work around its foibles, then MockupsJar is fine and has already amassed over 1.2 million mockup downloads. Just don't expect it to generate anything to compare with a more commercial site.
---
How to choose the best mockup site for you
When choosing which mockup website is best, start by considering all the services they offer and whether they align with your needs. Are you a digital-only brand or will you be selling physical products, and if so, do they have mockup templates for phones, laptops, mugs, t-shirts, business cards, and other products?
If you're in need of a logo maker, check that it has one of these and that it offers the right amount of customization that you require.
Other important aspects to consider are how easy it is to use in relation to your specific skillset, how large the template library is, and how frequently it's updated (if you're designing phone applications, then you'll want to make sure you can get access to the latest models).
Check which formats are available for downloads, too: while JPG and PNG and fine, you may wish to be able to edit the file at a later date in apps like Photoshop.
You'll also want to check if the site offers sufficient documentation and tutorials, and whether their support is prompt, knowledgeable, and helpful.
Should I pay for a mockup site?
It's also worth checking whether you can get what you need for free, and if it's for an initial consultation then a low-resolution image with watermarks could be absolutely fine. However, if you're after the best service possible that can showcase your design in a pitch, then expect to have to pay. This will generally be a monthly or annual subscription rather than on a per-image basis, but you'll typically get access to unlimited downloads.
What are the best mockup site alternatives?
Mockup sites are finetuned services that allow you to simply illustrate a product without having to have a lot of technical knowledge.
Somebody with good photo editor skills (and equipped with skills found in the best Photoshop courses online) can create their own designs. However, this will require them to have a template image ready and an understanding of how to skew an image to fit the template's bends and creases.
There are some sites, like Motion Array and mockups-design.com, that cater to this type of user by offering Photoshop-ready files.
How we test the best mockup sites
We've extensively tested a range of design tools and apps, including the best interior design software, the best free logo makers, and the best digital art and drawing software.
To test the best mockup sites, we analyzed and compared each platform across numerous points. We looked at how extensive their template libraries were, how frequently they were updated, the interface's simplicity, and the number of formats the mockups could be downloaded in.
We explored the services offered, the variety of products they offered templates for, and whether they support high-resolution images - a must for professional designs.
As part of our review process, we also evaluated their documentation, tutorials, third-party integration, and pricing plans, among other things. The best mockup sites offer comprehensive training and accessible support for all experience levels.
Are you a pro? Subscribe to our newsletter
Sign up to the TechRadar Pro newsletter to get all the top news, opinion, features and guidance your business needs to succeed!
With several years' experience freelancing in tech and automotive circles, Craig's specific interests lie in technology that is designed to better our lives, including AI and ML, productivity aids, and smart fitness. He is also passionate about cars and the decarbonisation of personal transportation. As an avid bargain-hunter, you can be sure that any deal Craig finds is top value!