If you're looking for a reliable, affordable and robust drawing tablet, the Wacom One will be right up your alley. Offering a smooth and realistic drawing experience, alongside a premium feel to its design and materials, the Wacom One is ideal for students and newbies to the drawing tablet game; but the lack of programmable keys and brightness control might see it fall short for more experienced creatives.
Pros
+

Well-designed with robust materials

+

Great value for money

+

Natural drawing experience
Cons
-

No programmable shortcut keys

-

Feels parallel to general-use tablets

-

Screen brightness isn't great
Why you can trust TechRadar We spend hours testing every product or service we review, so you can be sure you're buying the best. Find out more about how we test.
Wacom One: One-minute review
Despite coming in at a more affordable price, the Wacom One upholds the brand's reputation for producing high-quality, high-performing drawing tablets. While it's designed to be more of an entry-level offering, this tablet delivers fantastic value for money and some great specs.
When the Wacom One was released back in 2020, traditional graphics tablets were already facing competition from general-use tablets – especially the iPad Air and iPad Pro, as a result of Apple releasing its screen-extending SideCar feature. More advanced tablets such as the Wacom Cintiq and XPPen Artist 15.6 Pro distinguish themselves by offering larger screens, programmable keys and other value-adding features for experienced creatives at a lower price point; but more basic, entry-level tablets such as the Wacom One face steeper competition.
Still, this tablet is more affordable than most graphics tablets for the build and spec quality it delivers; enough for it to rank among some of the best drawing tablets currently available. Plus, it's far more affordable than an Apple model, making it a great option for entry-level creatives or students using digital art software.
The Wacom One is designed well, and is clearly made using more durable materials than used by some of the budget brands competing with the company, although this does make the tablet a little heavier. Nevertheless, it's compatible with Windows, Apple and even some Android devices (although, for the latter, you might need an adapter), plus the Wacom One also works with a range of different styluses.
The stylus included with the Wacom One is unlikely to leave you wanting. Wacom is known for making ergonomic, well-weighted pens, and I'd go as far as to say that the one here is one of my favorites, with the only caveat being that it has only one programmable button.
Setup is nice and easy, once you get past its wide array of cables; simply download the Wacom drivers online and you're good to go.
For me, as more of a hobbyist creative, the Wacom One delivered pretty much everything I needed. Would it be nice to have at least one programmable key, so I don't need to reach for my keyboard? Sure. Would a few more height options from the foldable legs make the device a little more ergonomic? Most definitely.
Still, I really enjoyed my time with this drawing tablet, and would strongly recommend it for artists who don't want to splash out on a general-use tablet, or who don't quite feel like they need the full gamut of workflow features found in more advanced drawing tablets.
Wacom One: Price and availability
List price: $399.95 / £359.99 / AU$699.99
The Wacom One is available for $399.95 / £359.99 / AU$699.99, which means it sits comfortably in the mid-range of drawing tablets. Depending on your region, it's around the same price as the more pro-oriented XPPen Artist 15.6 Pro. However, the Wacom One is better constructed and the screen feels far more fluid to draw upon.
Out of the box, the Wacom One arrives with its stylus and wires, with both the stand and pen-holding loop are already built in. Like some of its competitors, it would have been nice to see Wacom throw in a few accessories, such as nib replacements or a pen case. Nevertheless, I love that the device does come bundled with some software offers, which vary depending on your region;- this is a huge selling point for entry-level creatives. As of writing, in the US and UK, these offers include limited-time free licenses for the Affinity Suite, Skillshare and Magma, while AU creatives can get their hands on software such as Adobe Fresco and Creative Cloud.
Wacom One: Specs
Swipe to scroll horizontally
| | |
| --- | --- |
| Row 0 - Cell 0 | Wacom One |
| Price | $399.95 / £359.99 / AU$699.99 |
| Dimensions (w x h x d) | 443 x 280 x 12.6mm |
| Active drawing area | 166 x 294mm |
| Thickness | 14mm |
| Weight | 1kg |
| Display resolution | HD, 1920 x 1080p |
| Resolution | 540 LPI |
| Connections | HDMI/USB-C |
| Color Gamut | 72% NTSC |
| Pressure levels | 4,096 |
| Compatibility | Windows 7 or later, MacOS X version 10.13 or later |
Wacom One: Design
Sturdy, premium build
Anti-glare film, but no etching
Simple, classy design
The Wacom One isn't exactly a thing of beauty, but I wouldn't say many drawing tablets are – this model is simple and understated. The base of the device is made using strong, white plastic, and features two built-in foldable legs to adjust the height. On the top of the device, you'll find the charging port, a fabric stylus holder, and the power button.
Note that there's no VESA mount, if you did want to make the drawing tablet part of a more professional setup, nor does the tablet have any programmable shortcut keys.
The Wacom One is fairly compact, measuring 225 x 357 x 14mm (w x h x d), with an active drawing area of 166 x 294mm. It weighs a respectable 1kg, making it fairly easy to travel around with.
The screen is high definition at 1920 x 1080p, covering a slightly below-average 72% NTSC color gamut. It's equipped with an anti-glare film, which is handy when you're up against the low brightness of the Wacom One – more on that shortly. The quality of the materials making up the screen is great, and following a couple of months of use, I haven't noticed any scratches as I have with more budget-friendly models.
Wacom One: Performance
Plug-and-play
Fluid, satisfying drawing experience
Lack of shortcuts made some tasks slow to complete
Once I downloaded the Wacom drivers and plugged in the slightly unwieldy octopus cable, I was all set to get drawing. I mostly used Adobe Creative Cloud programs for my testing, but did try out some free drawing software. Although I didn't get around to using all of the included, limited-time software offers, I particularly enjoyed Clip Studio Paint and Bamboo Paper.
As a digital art hobbyist, I don't typically use the full range of programmable shortcut buttons found on more advanced drawing tablets, but I did really feel the absence of them on the Wacom One. Even having one or two to speed up some of the niggly commands on programs such as Photoshop would have been helpful.
Overall, though, the Wacom One was a joy to use. The screen could perhaps do with offering a little more resistance for a more pen-to-paper experience, but it's pleasingly responsive and smooth.
I generally found working on the Wacom One to be nice and accurate from any viewing angle; I didn't notice any parallax. However, after a while I did find myself struggling with its low brightness – my apartment has overhead halogen bulbs, and after a while, the combination of these two factors started to mess with my eyes.
Wacom One: Stylus
4,096 pressure sensitivity levels
No pen holder
One programmable shortcut key
The Wacom One comes with its own battery-free stylus, which I found an absolute treat to work with. Even over long periods, I didn't notice any significant hand fatigue thanks to its ergonomic design.
The top third of the pen is white to match the tablet's casing, and the part of the stylus you actually hold is black and lightly textured with a firm, but not rubbery, grip. There's only one shortcut button, but I was pleased to find it's pretty difficult to accidentally nudge while working, unlike the XPPen styluses I've recently tested.
Since this is a Wacom stylus, you'd be right to expect reliability and fantastic performance – and I'm pleased to say the pen delivered on both fronts.
It isn't the highest-spec stylus on the market, considering it only offers 4,096 pressure levels versus more professional devices that offer 8,092. However, considering the intuitiveness of the pressure sensitivity, and the lack of noticeable line jitter, it's a fair trade at this price point. The stylus offers a competitive 60 degrees of tilt, so it was easy to achieve my desired, true-to-life variations in pen strokes.
Should I buy the Wacom One?
Buy it if...
You're an entry- to mid-level creative or student
The Wacom One is one of the best drawing tablets around for more junior artists, making it a great upgrade from more budget-friendly pen tablets or lower-quality pen displays.
You need something robust enough to lug around
Well designed, and built using sturdy materials, the Wacom One is a tablet you can throw into a backpack without fear for use on the move.
You're on a budget
While there are more budget-friendly brands offering higher-spec devices for a similar price, Wacom offers reliability and quality that's hard to match.
Don't buy it if...
You're prone to eye fatigue or work in low light
The screen's low brightness is a real hindrance. If you'll be working in an environment with overhead or dim lighting, the Wacom One might prove difficult to use.
You're considering an iPad or Surface tablet
If you're even considering buying a general-use tablet or upgrading your current device in addition to buying the Wacom One, then don't bother with the latter. The advances manufacturers such as Apple are making in terms of pressure sensitivity and workflow functions will see the Wacom One become redundant.
You're a professional artist
While the Wacom One offers decent build quality and specs, ultimately, it lacks some of the features that more professional artists will need to maintain their workflows – especially when it comes to programmable shortcuts.
Wacom One: Report card
Swipe to scroll horizontally
| | | |
| --- | --- | --- |
| Value | The Wacom One, like other devices from the manufacturer, is affordable and offers great value for money; but there are cheaper, higher-spec models out there. | 4 / 5 |
| Design | Build quality is great, but the Wacom One doesn't come with any programmable buttons or a VESA mount. Still, it's only when comparing to more professional-grade models that the One looks lesser-than. | 3.5 / 5 |
| Performance | The drawing experience with the Wacom One is superb, but workflow-wise it can be a pain – especially when you can't work for more than a couple of hours in the evening due to its low brightness. | 3.5 / 5 |
| Stylus | I always expect excellence from Wacom styluses, and the Wacom One delivers here. While I'd love to see more pressure levels and another shortcut key, overall it's a great pen. | 4.5 / 5 |
Also consider...
Swipe to scroll horizontally
| | | | |
| --- | --- | --- | --- |
| Row 0 - Cell 0 | Wacom One | XPPen Artist 15.6 Pro | iPad Air |
| Price | $399.95 / £359.99 / AU$699.99 | Row 1 - Cell 2 | Row 1 - Cell 3 |
| Dimensions (w x h x d) | 443 x 280 x 12.6mm | 443 x 280 x 12.6mm | 247.6 x 178.5 x 6.1mm |
| Active drawing area | 166 x 294mm | 355 x 193.5mm | 247.6 x 178.5mm |
| Thickness | 14mm | 11mm | 6.1mm |
| Weight | 1kg | 4.56kg | 0.46kg |
| Display resolution | HD, 1920 x 1080p | HD, 1920 x 1080p | HD, 2360 x 1640p |
| Resolution | 540 LPI | 5080 LPI | - |
| Connections | HDMI/USB-C | HDMI/USB | USB-C |
| Color Gamut | 72% NTSC | 88% NTSC, 120% sRGB | Wide color display |
| Pressure levels | 4,096 | 8,192 | Unconfirmed |
| Compatibility | Windows 7 or later, MacOS X version 10.13 or later | Windows 10/8/7, MacOS X version 10.10 or later | Apple iPadOS |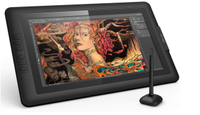 XPPen Artist 15.6 Pro
This affordable, mid-weight model comes in at around the same price as the Wacom One in most regions. While it's purportedly aimed at professionals, its cheaper build and a couple of less-than-ideal quality issues make it better for slightly experienced but not-yet-pro creatives.
Read our full XPPen Artist 15.6 Pro review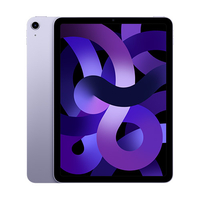 iPad Air (2022)
If you don't care about programmable keys, but do want something a little more interactive, I'd recommend the iPad Air as a strong alternative to the Wacom One. With its SideCar feature, you can extend your Apple Mac or MacBook display, and pairing with an Apple Pen will give hobbyists or entry-level creatives almost everything they need.
Read our full iPad Air (2022) review
First reviewed February 2023
How I tested the Wacom One
As in all of our drawing tablet reviews, I used an array of different drawing and editing software to put the Wacom One to the test. This included Adobe Creative Cloud programs such as Photoshop and Illustrator, as well as Clip Studio Paint and free software such as Krita.
After spending an hour or so in different programs to stress test the performance of the tablet, I spent about 8 hours working on a small project to get a feel for how the tablet handles all stages of the creative process, from sketching and planning to final touches.
I've recently been testing XPPen tablets including the Artist 15.6 Pro, so I spent some time comparing the two on their handling of the same tasks, while also comparing the Wacom one to my go-to drawing surface, the iPad Pro.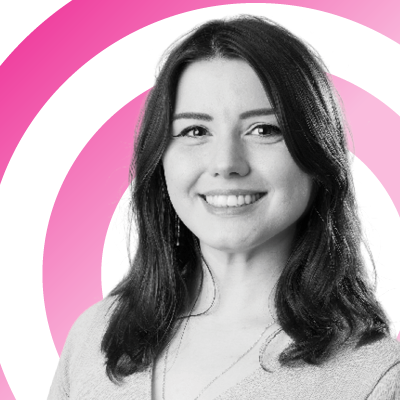 Managing Editor, Lifestyle
Josephine Watson (@JosieWatson) is TechRadar's Managing Editor - Lifestyle. Josephine has previously written on a variety of topics, from pop culture to gaming and even the energy industry, joining TechRadar to support general site management. She is a smart home nerd, as well as an advocate for internet safety and education, and has also made a point of using her position to fight for progression in the treatment of diversity and inclusion, mental health, and neurodiversity in corporate settings. Generally, you'll find her watching Disney movies, playing on her Switch, or showing people pictures of her cats, Mr. Smith and Heady.