It goes without saying that the Surface Pro 6 is more capable and powerful than its 2017 predecessor. Much of this newfound power comes through the inclusion of quad-core processing, thanks to Intel's 8th-generation Kaby Lake Refresh processors that hit the streets earlier in the year.
We've also seen some significant increase in battery life as well as multi-core performance, which should clearly offer better longevity out of the tablet – as well as faster video encoding and other processor-hungry tasks.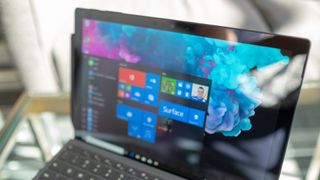 Benchmarks
Here's how the Surface Pro 6 performed in our suite of benchmark tests:
3DMark: Unable to run
Cinebench CPU: 568 points; Graphics: 52 fps
Geekbench 4 Single-Core: 4,234; Multi-Core: 13,905
PCMark 8 (Home Test): 3,062
PCMark 8 Battery Life: 4 hours and 0 minutes
TechRadar Battery Life Test: 8 hours and 45 minutes
Unfortunately, there's not much boost in visual performance, if at all, of the Surface Pro 6 over the previous model, with the same graphics subsystem as before in this specification.
As a general rule, the Surface Pro 6 is best for creative professionals and even students. But you'll also get some solid mileage out of this laptop when playing casual games like Hearthstone or Candy Crush. Just don't expect this Windows tablet to handle complex media rendering and encoding or complex spreadsheet functions with reams of data.
In contrast, the iPad Pro 2017 with the Apple A10X Fusion chip scored 9,343 points in the Geekbench 4 multi-core test. This is up there alongside many laptop processors from 2017, although a lot has changed since then. Still, the new iPad Pro 2018 switches things up a bit.
To be fair, the iPad Pro and Surface Pro will forever be a bit of an apples to oranges situation considering how the two are built on entirely different operating systems with different levels of overhead on their corresponding processors. With no true multitasking or open-ended app management on iPad Pro, it will always have less overhead than the Surface Pro. But it also has less versatility.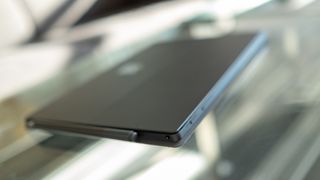 Battery life
Microsoft has gone and beefed up the long-lasting power of Surface Pro 6 by a big margin, particularly when it comes to video playback.
Battery life through simulated everyday use, represented by the PCMark 8 test, stays mostly the same as before. But, we have seen a gain of nearly a two-hour increase – one hour and 47 minutes, to be exact – in our video rundown test on Surface Pro 6. That's a welcome boost. Between the two figures, you should see a substantial improvement in time away from the outlet from its predecessor.
However, the iPad Pro 12.9 has been known to reach its rated 10 hours of battery life consistently – not just in video playback, but also general use. So, the Surface Pro 6 still isn't quite up to par, which is unsurprising. After all, the version of iOS on the iPad Pro was intentionally designed and developed for the device, whereas Windows 10 was intended for countless devices and therefore has no way of being as similarly optimized.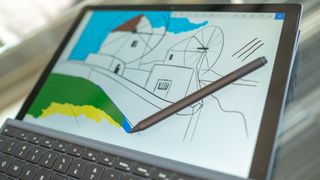 Software and features
Like the Surface Laptop 2, the Surface Pro 6 isn't exactly feature rich or have many distinct pieces of software to speak of, which is a bit of a double-edged sword. The good thing about this is that there's no bloatware on this device at all, as it comes directly from Microsoft.
Another good? The Windows Hello facial recognition, which uses the tablet's infrared camera next to its webcam, is very fast and accurate. We can barely open the tablet from its Type Cover before it's already logged us into Windows 10.
The downside here, however, is that there is basically nothing else in the way of distinctive software and features. If it's on this tablet, you can get it on any other Windows 10 tablet.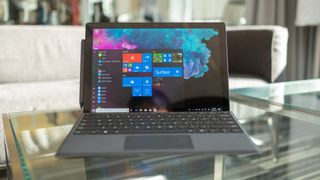 Final verdict
The Surface Pro 6 is Microsoft's best tablet yet. This we have no doubt.
However, we're truly left wondering why Microsoft thought this one worthy of a number seeing as it improves on fewer aspects of the device compared to 2017's model. Microsoft hard lined against giving last year's model a '5' in its name, insisting that it didn't have enough improvements to make it worthy of a number.
This time, even though the device only has a few enhancements and unique features to offer, Microsoft not only gives it a number, but also skips the '5' entirely. In almost any other case, this would just be marketing drivel. However, due to Microsoft's previous, well-documented statements, it's definitely hard to move past.
To be worthy of a number, much less skipping one in the sequence entirely, we anticipated some considerable improvements to the design – an even sharper screen, perhaps; hardwired connections that are modern and not proprietary, maybe; perhaps even a drastic pricing move that includes every essential accessory in the box would have been enough.
Instead, the Surface Pro 6 is faster, longer lasting and now comes in a sleek, new black shell – which, by the way, doesn't have the 128GB and 1TB storage options. And that's about it. Make no mistake; it's a better product than last year, but only barely, hardly worthy of being numbered '6', much less '5'.
If you already own a Surface Pro 2017, we'd say that this upgrade isn't worth the cost. Otherwise, it's still the best Windows tablet on offer.
Images Credit: TechRadar