Iolo develops System Mechanic. It's an American software company focused on security tools for Windows PCs, with System Mechanic as its best-known product.
There are four different tiers of System Mechanic. The highest tier, Iolo System Mechanic Ultimate Defense (opens in new tab), is what we're reviewing. We'll judge it based on specific criteria, including features, customer service, user-friendliness, pricing, etc.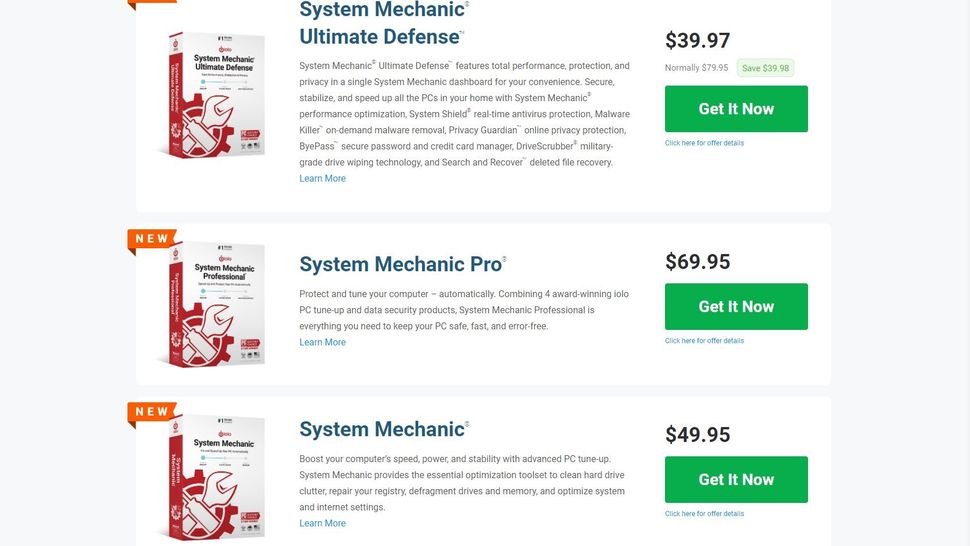 Plans and pricing
Let's start by listing the four different tiers of System Mechanic.
System Mechanic (Basic) (opens in new tab)
This version is the basic one, with various tools to improve your PC's performance. It includes the essential functions such as:
Junk file deletion
Bloatware removal
Disk defragmenter
Internet speed optimizer
Software vulnerabilities checker
System Mechanic Business (opens in new tab)
This version is almost the same as the basic System Mechanic but explicitly built for enterprise users.
System Mechanic Pro (opens in new tab)
This version includes all the features of the basic System Mechanic, plus extra ones such as antivirus/malware protection, file recovery, and Drive Scrubber.
System Mechanic Ultimate Defense (opens in new tab)
This tier is the most advanced. It includes all System Mechanic features plus some extra iolo products packed into one app.
The additional products include:
Privacy Guardian
ByePass
System Shield
Malware Killer
Driver Scrubber
Ultimate Defense usually costs $80 per year for a subscription, but iolo discounts it to $64 for first-time buyers. There's a 30-day free trial period and money-back guarantee beginning from when you purchase.
Note: For unexplained reasons, Iolo automatically tries to subscribe you to a $20 per month technical support package when you purchase a product. This extra charge is significant, so ensure you double-check and remove it before entering your payment details.
Features
Junk file deletion
Junk files are temporary files that perform actions on your computer for various purposes. They are helpful for a time but often remain past their utility and take up unnecessary space. System Mechanic enables you to find and delete these junk files.
Disk defragmenter
This feature consolidates fragmented files on your hard drive to increase data access speed.
Internet speed optimizer
System Mechanic optimizes hidden Windows Internet settings for faster downloads, improved video quality, and smoother gaming.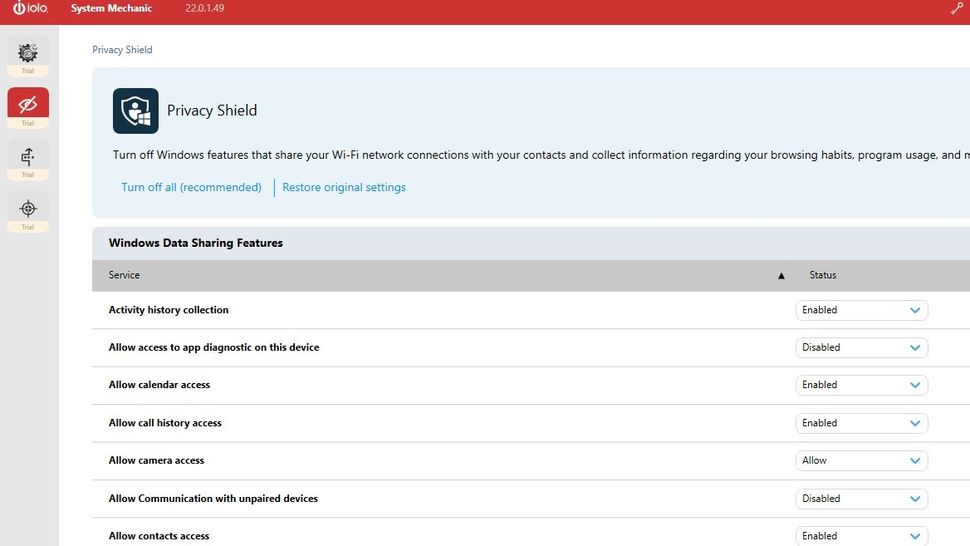 Privacy Shield
Privacy Shield prevents any form of browser fingerprinting. To the unaware, fingerprinting is a method through which websites collect specific information such as your browser type and version, timezone, operating system, etc.
This tool also deletes tracking cookies from your browsers (opens in new tab).
ByePass
ByePass is a tool for safeguarding online passwords and credit/debit card information. It helps protect your online purchases by masking your payment details from spying eyes. It's also a password manager (opens in new tab) that allows you to avoid typing in your passwords every time you log in to a website.
Malware Killer
As its name suggests, this tool detects malware (opens in new tab) on your PC and removes them swiftly.
Driver Scrubber
This feature erases data from your computer to never be recovered. It's helpful if you work with sensitive information or at some point need to wipe your drives before selling, donating, or recycling your PC.
System Shield
This feature offers real-time antivirus (opens in new tab) protection for your PC.
Search and Recover
System Mechanic lets you recover accidentally deleted documents.
Interface and in use
System Mechanic Ultimate Defense is pretty user-friendly. Downloading the setup file from the official website was simple, and we immediately ran it. Installation takes a few minutes. Afterward, you'll need to provide an email address to activate your account, and you can start using it instantly.
System Mechanic has a dashboard from which you control all its functions. This dashboard is pretty easy to understand, so you'll likely not have issues navigating the software. You can find all its features easily and use them.
Support
Iolo provides outstanding customer support. You can contact the company directly through email, live chat, or telephone. All users have basic support, but you can get prioritized support for a $20 monthly fee. There's also a suitable knowledge base and Frequently Answered Questions (FAQ) page available online to familiarize users with the software.
The competition
System Mechanic Ultimate Defense has many competitors, such as Ashampoo WinOptimizer (opens in new tab) and Auslogics BoostSpeed (opens in new tab). It's often more expensive than rival tools, but its extensive feature set makes it worthwhile compared to rival tools.
Final verdict
System Mechanic Ultimate Defense has the appropriate toolset to maintain and improve your computer's performance. It's a tool we'll recommend for every Windows user. However, we recognize that it's expensive and may be out of reach for a specific subset of Windows users.
We've also featured the best PC optimization software (opens in new tab)