Two-minute review
Asus ROG Rapture GT-AXE16000: Two-minute review
Asus is in a mad race with itself to produce the fastest, most overpowered, feature-laden wireless router. It must already hold at least nine of the top 10 positions for super-premium gaming routers, yet the new ROG Rapture GT-AXE16000 is the latest standard bearer.
It's big, brash, spiky and my wife hated it. The RGB top (and its seven preset patterns) illuminates half the house at night and there's no timer to turn it off. Setup is simple: just scan a QR code on the device's bottom with Asus' phone app, set the network name and password, and voila.
The phone and browser apps are well designed. They're responsive, show connection statuses, alert you to issues (and suggest solutions), provide extensive QoS options, include server-grade apps, enable mesh network creation (from other Asus routers) and offer a plethora of premium consumer-router level features. There are extensive, easy-to-setup parental controls that bind children and devices together and set either online or offline schedules for weekdays and weekends. There's also (adjustable) content blocking with presets for different age groups and, unlike some rivals, you don't need to pay a premium for the feature. Nor must you pay for the built-in security, which comes via Asus' Trend Micro-powered AiProtection feature.
In addition to four Gigabit Ethernet ports (two can be aggregated) and USB 2.0 and USB 3.0 ports, there's a 2.5GbE WAN port (which can be aggregated with one 1GbE LAN port) and two (count 'em) 10GbE ports, one of which can also be used for WAN. Inside there's a 2GHz quad-core CPU that keeps everything ticking under load.
The GT-AXE16000 also supports quad-band Wi-Fi with a crazy 16,000Mbps theoretical throughput. That's spread across a 2.4GHz band, two 5GHz bands and the new 6GHz band. Despite the power and the simple design, we did have issues testing it. Neither our new Wi-Fi 6E sporting Dell XPS 15 nor our new Asus Zenbook recognized the 6GHz band, whether it was bound together with other bands or separated. Only our Asus Zenfone did! That's despite driver updates and location hacks (not every global region allows the same 6GHz channels to be used).
Still, it flew in my tests. Up close I downloaded large movie files from our NAS at 825Mbps. Two rooms away, in my weatherboard cottage, it only dropped to 520Mbps, which rivals the best two-node, mega mesh systems like the Asus ZenWiFi Pro XT12. At the bottom of the garden (25m away) it managed 101.5Mbps. While the latter is a little slow compared to rivals, it's worth remembering that once the 'new' Wi-Fi 6E connection technology settles down, this router has a great deal more headroom to go faster.
Other special gaming features include shortest-route-to-game-server optimization, game packet priority (even when a VPN is running) and a Mobile Game Mode that ensures phone-based games get top priority.
Ultimately, it's the highest-spec consumer router available at the time of testing (March 2023) – but that also makes it extreme overkill for most users. Still, we have to admit, nothing else carries the aspirational cachet of this monster from Asus.
Asus ROG Rapture GT-AXE16000 review: price and availability
The Asus ROG Rapture GT-AXE16000 router is available now in most major global markets and is priced at $700 / £580 / AU$1,299.
While it's incredibly expensive, it does arguably offer the performance, features and new technology to justify the price tag... as long as you actually need it.
For most buyers, Synology's dramatically cheaper consumer and SMB routers – the WRX560 and the RT6600ax (respectively) – represent a much better choice in terms of value for money. With the latter, you can even buy multiple units to build an all-powerful mesh network and still save a fortune vs the GT-AXE16000.
If you're desperate for a ROG gaming router, we'd recommend checking out this model's slightly older sibling, the Asus ROG Rapture GT-AX6000. It's still overkill for most buyers, but it shares many of the firmware features of the GT-AXE16000 and costs half the price. All you're missing out on is the next-gen Wi-Fi 6E connectivity.
Asus ROG Rapture GT-AXE16000 review: key specs
• Wireless connectivity: Wi-Fi 6E (IEEE 802.11ax), quad-band (2.4GHz, 2x 5GHz, 6GHz)
• Processor: Quad-core @ 2GHz
• Memory: 256MB NAND, 2GB RAM
• Ports: 2.5Gb WAN/LAN, 4x Gigabit Ethernet LAN; 2x 10GbE; USB-A 3.2 Gen 1, USB-A 2.0
• Dimensions (HxWxD): 353 x 353 x 193 mm
Asus ROG Rapture GT-AXE16000 review: design and features
Imposing design
Best connectivity options on the market
Dripping with features
You can't get away from the fact that the Asus ROG Rapture GT-AXE16000 is physically huge. You'll need some serious desk space to house it. But, once positioned and turned on, you can bask in the infinity-mirrored lid and RGB goodness that sits within it.
Setup is as simple as we'd expect nowadays; you just scan a QR code with the phone app and step through a short process to choose a network name and password.
Once activated, you can access the extensive settings via the phone app or web browser. The phone app is excellent and well-polished. It displays what's on your network, how everything is performing and gives access, priority and bandwidth control over everything on it. It offers insights into security issues and service improvements. It also provides excellent Parental Controls which assign comprehensive, timed access settings for different users and/or devices. There are even content-filtering options (these are always fallible) with different (customizable) presets for different age groups.
You can set up most other features via the app – and there are many of them – but several are better served by going through the web browser.
All the stalwart consumer-configurables are there, and everything is rendered responsive and rapid thanks to the speedy 2GHz quad-core processor.
There's frankly too many key features to delve into in the space of a review, but a non-exhaustive list of others includes: AiMesh which allows you to network multiple Asus routers together for additional coverage; configurable Edge protection from Trend Micro which protects everything on your network, blocks malicious sites and isolates infected devices; extensive VPN controls; extensive traffic analysis and logging tools; RGB controls; wireless channel combining and separation; guest network controls; extensive WAN and LAN routing controls; extensive USB device options including 4G WAN, print server, backup, BitTorrent and general server options; cloud syncing; voice control via Alexa and Google Assistant and extensive firewall settings.
Where the ROG Rapture routers really stand apart is with the game optimization settings. You can prioritize gaming traffic in many ways. The first set of speed-ups operates across three levels. Level One prioritizes traffic to particular devices. Level Two uses QoS to prioritize gaming specific traffic. It can also automatically recognize other ROG products on your network (motherboards, laptops, desktops etc) and automatically prioritize traffic to and from them. Level Three integrates the third-party WTFast VPN service to help reduce pings.
The Game Radar feature measures the speed of different games' different servers so you can quickly see what has the healthiest ping. Meanwhile, Mobile Game Mode on the phone app prioritizes all traffic to your handheld device.
Beyond all the software smarts, it's in wireless connectivity that GT-AXE16000 really shines. It supports quad-band Wi-Fi with a 16,000Mbps theoretical throughput. That's spread across a 2.4GHz band, two 5GHz bands and the newer 6GHz band. My only problem was that I struggled to use the latter, as hardly any laptops recognized the 6GHz network – even though they had compatible Wi-Fi 6E adapters and were set to the same region. Only my Asus ROG phone recognized it. Still, I'd expect this to become less of an issue as the new technology settles. Right now, it either provides a speed boost or headroom for the future.
The physical network ports will tempt any router enthusiast on their own. There are four Gigabit Ethernet ports, two of which can be aggregated. There are USB 2.0 and USB 3.2 Gen 1 ports which can make use of Asus' extensive and advanced USB features. The WAN port supports 2.5GbE connections and can be aggregated with one 1GbE LAN port. There are also two 10GbE ports and one of them can be used as a second WAN.
You could run a competitive LAN off the Asus ROG Rapture GT-AXE16000 router.
• Design and feature score: 5/5
Asus ROG Rapture GT-AXE16000 review: performance
Extremely fast
Headroom for growth
Not the best long distance
With great throughput comes great processing requirements, so Asus includes a 2GHz quad-core CPU, 256MB of NAND memory and 2GB of DDR4 RAM. It's bigger and more powerful than some cheap laptops.
I tested it with a series of updated Wi-Fi tests. These saw me download large video files to my upgraded, Wi-Fi 6E-sporting Dell XPS 15 laptop from a Synology NAS that was physically connected to the router. The latter was positioned in the middle of my single-storey weatherboard house.
I combined all four bands into one SSID and let the router pick what was best. However, it quickly became clear that the 6GHz band was not being used – even when separated into its own discrete network. I tried with several Wi-Fi 6E laptops, but none of them would see it, no matter how I tweaked the drivers and location settings. I also wasn't in a position to test the 10GbE connections either, so straight off the bat the Asus ROG Rapture GT-AXE16000 is so fast that I need to update my updated tests before I've even used them.
Nonetheless, with last-gen 5GHz connectivity tech, it scored 825Mbps for transfer speeds up close, which is up there with the fastest we've seen. Two rooms away, it managed 519.3Mbps which rivals competitor 'mega mesh' systems that have a second node in the room that's connected by a dedicated, wireless, backhaul channel.
Finally, 25 meters away, at the bottom of my garden, it managed 101.5Mbps. That's a little slow compared to the best performers and mesh systems, but certainly better than your average router. It's also worth remembering that other cheap Asus routers can be used to extend the GT-AXE16000's network using the company's AiMesh technology. But you don't really want to be considering buying an upgrade after investing in a beast like this.
• Performance score: 5/5
Should I buy the Asus ROG Rapture GT-AXE16000?
Swipe to scroll horizontally
Asus ROG Rapture GT-AXE16000 score card

| Attributes | Notes | Rating |
| --- | --- | --- |
| Value | Undeniably one of the most expensive consumer routers currently on offer, it nonetheless justifies its asking price with a raft of next-gen features that make it one of the most future-proof routers we've tested. | 4 / 5 |
| Design | It's deliberately big and flashy, but I kind of like its looks, and the design is great from a usability perspective, with a full-featured mobile app that makes things easy. | 5 / 5 |
| Features | A tour de force in terms of both hardware and software features, the GT-AXE16000 is overflowing with capabilities when it comes to setting up and managing a home network. | 5 / 5 |
| Performance | With Wi-Fi 6E wireless and 10GbE wired connections, there's cutting edge performance on offer here – although at the time of testing, compatibility issues meant I couldn't test those Wi-Fi capabilities to their full potential. Even on last-gen tech, this was still one of the fastest routers I've tested. | 5 / 5 |
Buy it if...
You want every feature under the sun
There's very little the Asus ROG Rapture GT-AXE16000 can't do for a consumer router. The game acceleration features will attract competitive gamers wanting to maximize performance.
Speed is everything
The Asus ROG Rapture GT-AXE16000 is so fast, I couldn't even test it properly. If you can make use of 10GbE wired connections and 6GHz Wi-Fi, this will fly like nothing else.
You want a statement piece
Most routers look horrendous and impart no joy through ownership. Looking at the ROG Rapture will raise a smile like looking out on your driveway and seeing an Aston Martin.
Don't buy it if...
You want to save money
The Asus ROG Rapture GT-AXE16000 is expensive overkill to most buyers. You can save a fortune while getting comparable performance and features elsewhere.
You can't make use of the connections
Older ROG Rapture routers offer similar features but no 10GbE ports or Wi-Fi 6E. If you can't use that extra speed, you're wasting money.
You don't have much spare space
The Asus ROG Rapture GT-AXE16000 is physically huge. It will take up a great deal of desk space and it's hard to hide. It can't easily be wall mounted either.
Also consider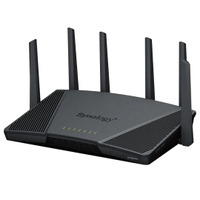 Synology RT6600ax
Synology's Wi-Fi 6 flagship is very fast and packed full of features that can run a demanding smart home or SMB office. It's not pretty, but it's downright cheap compared to the rest of the market. You can buy multiple units and make a mesh and still save a fortune.
Read our in-depth Synology RT6600ax review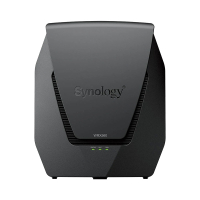 Synology WRX560
If you want the best, all-round router, Synology's WR650 is it. It's more consumer friendly than the excellent RT6600ax and yet offers almost all the same features with an even bigger price drop. Extraordinary value.
Read our full Synology WRX560 review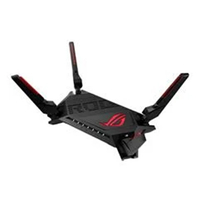 Asus ROG Rapture GT-AX6000
The ROG Rapture GT-AX6000 Pro provides similar performance and features for half the price. For people who can't reach the top speeds afforded by the Asus ROG Rapture GT-AXE16000, there's not much difference between the two.
Read our in-depth Asus ROG Rapture GT-AX6000 review
[First reviewed March 2022]