Acer Predator Orion 7000: Two-minute review
The Acer Predator Orion 7000 is an absolute beau of a gaming machine, with gorgeous RGB lighting and exquisite cable management. Of course, its massive size and heavy weight are also nothing to sneeze at, making it difficult to move around or lift without a second person. Once it's in place, however, the massive chassis will be most likely under your desk meaning that it shouldn't be an issue. And it's designed to pull apart easily for tool-less access to the insides.
The internals aren't just for show, though they make quite the gorgeous one, as the state-of-the-art fans and liquid cooling system ensure that this PC will never overheat even when overclocking it with high-end titles. And if you need a handy way to overclock and ramp up the fans in response, the PredatorSense feature allows for precise control over both.
Acer Predator Orion 7000 Key Specs
Here is the Acer Predator Orion 7000 configuration sent to TechRadar for review:
CPU: Intel Core i7-12700H
Graphics: Nvidia GeForce RTX 3080
RAM: 32 GB DDR5
Storage: 1TB M.2 PCIe Gen 4 SSD and 2TB 7200RPM SATA III hard drive
Optical drive: 2.5-inch USB 3.2 Gen2 Type C hotswap drive bay
Ports: 6 USB 3.2 Type-A, 2 USB 3.2 Gen 2 Type-C, 2 USB 2.0 Type-A, 1 Universal Audio Jack, 1 HDMI 2.1 port, 3 DisplayPorts 1.4a
Connectivity: Intel Wireless WiFi 6E AX211, Bluetooth 5.2
In terms of pure performance, the Predator Orion 7000 is a top contender for the best gaming PC you can buy off the shelf out there, with some truly solid benchmark performances. For instance, it completely blows away the Maingear Turbo in both the Geekbench5 and CinebenchR23 benchmarks thanks to its more powerful processor, and it more or less matches the Turbo across the 3DMark suite of GPU tests.
However, those same impressive scores don't translate to improved gaming performance, since even though the general performance is excellent it doesn't reach the standards of the Turbo's extremely high framerates playing the best PC games. But gaming is still effortlessly smooth on the Orion 7000, even when pushing it to the max, so only those running endless benchmarks will notice any nuances in the performance
For all these premium specs and features built into the PC, you're sure to pay a premium price for them. The setup we were sent will set you back $3000 and includes an Intel Core i7-12700H, Nvidia GeForce RTX 3080, 32GB DDR5 RAM, and 1TB of storage.
The configurations being offered in Australia and UK are quite different from the US ones, with the former offering an Intel Core i9-12900K, Nvidia GeForce RTX 3080, 16GB DDR5 RAM, and 512GB of storage. The latter has an Intel Core i9-12900K, Nvidia GeForce RTX 3090, 32 GB DDR5 RAM, and 1TB of storage. This means that the configurations outside the US are more powerful and expensive machines at the cost of more choices in the configuration.
But considering what's under the hood, the starting prices are mostly a steal. As, despite falling prices for the best GPUs and best CPUs, these prebuilt and customizable PCs are the best value ways to get your hands on some top-tier specs.
Acer Predator Orion 7000: Price and availability
How much does it cost? $3,000 (£3,300 / AU$5,500)
When is it out? It is available now
Where can you get it? You can get it in the US, UK, and Australia, though it's difficult due to low stock
As expected from a high-end gaming PC, the Acer Predator Orion 7000 fetches a pretty penny on the market. In the US, the one we received is $3,000, while the cheapest ones in the UK and Australia respectively are priced at £3,300 and AU$5,500, with prices going as high as AU$7,200 for the latter region.
However, considering the chips, cooling system, and aesthetics we would argue that this is a PC worth investing in if you want to essentially future-proof it.
Acer Predator Orion 7000: Design
Stunning RGB lighting and see-through chassis
Great port selection and cable management
Too heavy
Watching the glow of the RGB lighting illuminate the RTX 3080, fans, and beautifully managed cables never gets old. Then there's also the fact that said chassis is built for practicality as well, as it can be pulled apart without the use of tools.
It's a well-made machine, with a sturdy chassis that houses an excellent port selection. It includes six USB 3.2 Type-A ports, two USB 3.2 Gen 2 Type-C ports, two USB 2.0 Type-A ports, one headphone jack, one microphone jack, one HDMI 2.1 port, and three DisplayPort 1.4a. Even better, three of the Type-A, one of the Type-C, the disc drive, and the headphone/microphone jack are located at the top front of the chassis for convenience.
The only real complaint against the Orion 7000 is its size and weight. This is a gamer's gaming PC and as such all that hardware, including the state-of-the-art fans and liquid cooling system, plus the size of the casing itself makes it bulky and hard to transport. We found it requires at least two people to safely move the PC around.
With the powerful combination of fans and liquid cooling, near-perfect circulation is all but guaranteed. We didn't notice as much as a whisper of heat coming from the PC, and this was on the standard settings without using the PredatorSense tool to further modify the fan speeds. The sound while wearing headphones is phenomenal, crisp and sharp audio that's perfect for picking up subtle cues or for feeling dropped right in the middle of all the action.
And the fact that it comes with a decent gaming keyboard and mouse is just icing on the cake.
Acer Predator Orion 7000: Performance
No game can stand against it
No overheating issues
Has ray-tracing, HDR, and more
Benchmarks
Here's how the Acer Predator Orion 7000 performed in our suite of benchmark tests:
3DMark: Night Raid: 75,573; Fire Strike: 32,056; Time Spy: 16,938
Cinebench R23 Multi-core: 21,288 points
GeekBench 5: 1664 (single-core); 14,050 (multi-core)
PCMark 10 (Home Test): 8874 points
Total War: Warhammer III (1080p, Ultra): 97fps; (1080p, Low): 272fps
Cyberpunk 2077 (1080p, Ultra): 63fps; (1080p, Low): 126fps
Dirt 5 (1080p, Ultra): 82fps; (1080p, Low): 255fps
The Acer Predator Orion 7000 is a beast when it comes to playing PC games, no matter how demanding the task is. For instance, we completely maxed out every option in Final Fantasy VII Remake including 4k resolution, HDR, ray-tracing, and 120FPS.
To our extreme surprise, the Orion 7000 exceeded all of our expectations, performing at max 256FPS with all those settings turned on. Meanwhile, it runs Hitman 3 butter smooth, at 84FPS on average for the Dartmoor benchmark, and a whopping 103FPS on average for the Dubai benchmark.
Then there's the PredatorSense tool, which allows you to both overclock your PC and increase fan speeds to overcompensate for it, to your exact specifications. It's a great feature that's incredibly easy to use and customize.
The Orion 7000's configuration, which is equipped with the RTX 3080 and Core i7, churned out some phenomenal benchmark scores. Not even the Maingear Turbo, which uses a stronger graphics card, could beat this computer.
It's interesting how the mostly tied or superior scores didn't translate into superior framerates for the suite of PC games we benchmarked with, compared to the Turbo. Though considering the slight improvement in the chips department it makes sense.
That said, the Orion 7000 is still a high-quality, high-end gaming PC that eats demanding and poorly optimized games for breakfast. And thanks to the well-constructed cooling system, it keeps running smoothly without turning into a furnace under your desk.
Should you buy an Acer Predator Orion 7000?
Buy it if...
You want a powerhouse of a gaming PC
The specs in this baby are phenomenal and will showcase the best of any PC game at fully maxed out resolution and framerate with ray-tracing and HDR enabled.
You value both style and substance
Not only is this machine powerful but its clear chassis and beautiful RGB lighting elevate it to showstopping status.
You need an excellent port selection
The port selection is varied and in plentiful supply, with ports on the top of the chassis for even more convenience.
Don't buy it if...
You need a budget machine
This is not the gaming PC to buy if you have a limited budget, as the starting prices are still well in the thousands.
You want a smaller, quieter PC
This is a behemoth of a PC that needs to be below your work desk. And while the fans are not the loudest, they do let you still know they're there.
Also consider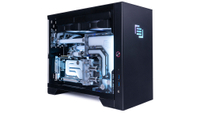 (opens in new tab)
Maingear Turbo
If you want a gaming PC that has it all and then some, this top-of-the-line option should be right up your alley. As long as the price tag isn't an issue for you.
Check out our full Maingear Turbo review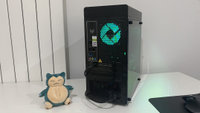 (opens in new tab)
Acer Predator Orion 3000 (2022)
This is an excellent budget machine with some solid specs encased in a compact design that can easily fit on your desk.
Check out our full Acer Predator Orion 3000 (2022) review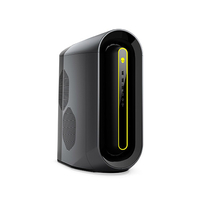 (opens in new tab)
Alienware Aurora R10 Ryzen Edition
The case is somehow even more gorgeous than the Orion 7000's, with some impressive performance to boot. Though the price tag is pretty steep.
Check out our full Alienware Aurora R10 Ryzen Edition review
First reviewed February 2023
We pride ourselves on our independence and our rigorous review-testing process, offering up long-term attention to the products we review and making sure our reviews are updated and maintained - regardless of when a device was released, if you can still buy it, it's on our radar.