Acer has introduced its flagship, 17-inch gaming laptop for 2018, and it's a powerful desktop replacement with lots of options (save for graphics) and features tailor-made for a mobile gaming rig.
This is the Acer Predator Helios 500, a 17.3-inch gaming laptop powered by up to Intel Core i9 processors and Nvidia GeForce GTX 1070 graphics.
We've had a brief time to test drive the laptop during Acer's annual keynote event in New York City, and we've come away impressed – especially considering the price – if a little uninspired.
Price and availability
Acer is setting the Predator Helios 500 to start at $1,999 or £1,799 (about AU$3,179) when it lands in stores and online in the US in June and the UK in July. Acer has not yet disclosed Australian pricing and availability.
That starting price gets you quite a lot: a 17.3-inch, 1080p (configurable to 2160p) Nvidia G-Sync display at 144Hz, which is powered by an 8th generation Intel Core i5 processor (up to Core i9) and an Nvidia GTX 1070 graphics card. Backing that up are up to 16GB of DDR4 memory and SSD options ranging from 512GB to 1TB (you can also get up to a 2TB hard drive).
With that, the Helios 500 falls well in line with its competitors when it comes to pricing for the hardware inside.
Image 1 of 16
Image 2 of 16
Image 3 of 16
Image 4 of 16
Image 5 of 16
Image 6 of 16
Image 7 of 16
Image 8 of 16
Image 9 of 16
Image 10 of 16
Image 11 of 16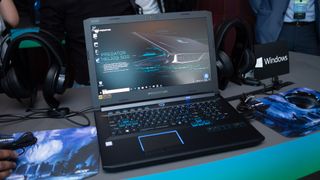 Image 12 of 16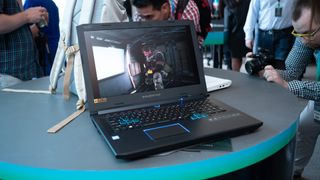 Image 13 of 16
Image 14 of 16
Image 15 of 16
Image 16 of 16
Design and display
There isn't that much different about the Helios 500 design from its smaller cousin, the Helios 300. The laptop adopts a matte black shell adorned with light blue Predator-branded accents. You won't find any chrome or gold on this laptop.
As expected, the Helios 500 is rather heavy at 8.82 pounds (4kg), so this laptop sits squarely in the desktop replacement category. Of course, Acer makes ample use of the laptop's tall base with a full-sized, fully RGB-backlit keyboard (numpad included) that offers satisfyingly deep travel and strong bounceback from the keys. This is a gaming laptop with a keyboard that can be used for lengthy bouts of typing with no problem.
As for the display, Acer seems to have all but ignored the trend of shrinking bezels, which is understandable. With a screen that large, do the bezels even matter?
The short answer from our brief time with the device is 'no, it doesn't.' The UHD (2160p) display on the Helios 500 is a sight to behold when playing PlayerUnknown's Battlegrounds (PUBG). However, it's currently unknown just how much the Nvidia GTX 1070 inside can handle other games at such a high resolution.
Performance
While we were unable to glean too much regarding the laptop's power from our short time with it, the spec sheet shows lots of promise. The game of PUBG that we played while at the show went down with zero fuss, stutter or slow down, if that's any indication.
However, no other, more intense games were found on the demonstration unit available during Acer's event. Further testing at TechRadar headquarters will have to determine just how performant that Core i9 processor is when paired with Nvidia's latest.
That said, we did find the Helios 500 to run rather cool after several minutes of gameplay – even when touching the base of the laptop. It's easy to chalk this up to two of Acer's latest, proprietary AeroBlade 3D metal cooling fans, and five heat pipes inside.
Early verdict
Acer's newest 17-inch gaming laptop isn't rewriting the rule book on mobile PC gaming, but rather keeping pace with the competition. The result is a fine-looking and potent desktop replacement that, at the moment, we'd be comfortable seeing replace our desktop. If the price is right, then all that's left is to suss out the performance – stay tuned for a full review.