Our updated Apple Watch review isn't the only opinion about the new iPhone-compatible smartwatch out there today.
Ten other outlets have weighed in on the "iWatch" after spending a week wearing, poking at and testing out its wearable Force Touch display.
The consensus is that it's one of the best smartwatches out there, but it's also not for everyone, sort of difficult to use at first and in no way essential.
With the Apple Watch pre-order date fast-approaching this Friday and the release date just two weeks after that, it's time to see if the Apple Watch price is worth paying.
It's the best smartwatch yet
Although these tech experts have only had the Apple Watch for a week, they have been able to judge Apple's first wearable against the competition.
"Of the half-dozen smartwatches I've tested in recent years, I've had the best experience with Apple Watch," attests Lauren Goode at Recode.
"Apple Watch is a fine watch for both men and women—a standard previous smartwatches couldn't meet," opines Geoffrey Fowler of the Wall Street Journal.
More: our in-depth Apple Watch vs Android Wear comparison
"It is more seamless and simple than any of its counterparts in the marketplace," writes Joshua Topolsky for Bloomberg. "It is, without question, the best smartwatch in the world."
"Once you get to know the watch, you realize that Apple carefully observed its rivals' failures and adjusted its product accordingly," says David Pogue at Yahoo. "Apple Watch is light-years better than any of the feeble, clunky efforts that have come before it."
"Apple Watch, again, existing functions are rethought and combined in a new and uniquely appealing way," says Matt Warman of The Telegraph.
A little more dissent about the Apple Watch is felt from other reviews' statements, proving that the first iteration isn't perfect.
"I like wearing the Apple Watch, and it might be my favorite smartwatch...if its battery life lasted beyond one day," Scott Stein of CNET points out.
"As with most first-time products, it isn't flawless or essential," explains USA Today. "But among smartwatches, Apple Watch is second to none."
Explaining what Apple Watch can do
"The Apple Watch's most ingenious feature is its 'taptic engine,' which alerts you to different digital notifications by silently tapping out one of several distinct patterns on your wrist," writes Farhad Manjoo of the New York Times.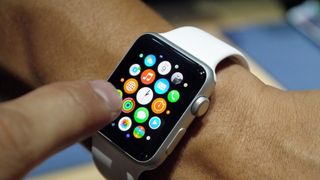 Although Apple Watch can't replace your iPhone, Recode made sure to test the phone call quality, saying, "My mother told me that call quality was very good, and that [she] couldn't even tell I was calling from a smartwatch."
"It becomes far more valuable once you're on the move," wrote Nilay Patel of The Verge as he toured his daily routine for his Apple Watch review. "The Watch made it a lot easier to keep my phone in my pocket on the walk to the train - I saw notifications coming in on my wrist, and I could control the music apps on my iPhone from the Now Playing Glance on the Watch."
"Adding in links is easy, as is changing out the entire strap," praises Lance Ulanoff of Mashable. "I've resized other metal watch straps before, and it's a difficult and often frustrating process best left to watch repair shops. That's not the case with the Apple Watch."
Apple Watch fitness tracking, notifications
Apple Watch's insistence on you standing up and moving may be its stand out feature.
"I like Apple Watch's regular reminders to get up and move. It does this even when your watch is offline," wrote Recode.
"The Apple-made integrated fitness apps, Activity and Workout, are far and away the best fitness apps on any existing smartwatch that isn't a dedicated "fitness watch," notes CNET.
It may not replace our Fitbit Surge, though. "Unlike the Fitbit and other popular activity trackers, there's no social component here to let you compete with your friends," points out The Verge.
Of course, as the next quotes demonstrate, Apple Watch isn't for everyone.