The best Apple Watch bands 2023: Top straps for every Watch model and size
Best
Contributions from
last updated
Make your Apple Watch bands work for any outfit or occasion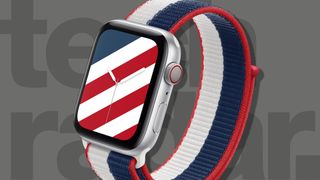 (Image credit: TechRadar / Apple)
One of the best Apple Watch bands in this guide will upgrade your smartwatch, making it more stylish or even more practical, depending on the type of watch strap you choose. There are many different styles of Apple Watch bands to choose from, including directly from Apple, Amazon and other third-party sellers.
Best Apple Watch Bands: Quick Menu
1. Best everyday bands
2. Best workout bands
3. Best swimming bands
4. Best leather bands
5. Best designer bands
6. Best metal bands
We've tested many of the best Apple Watches over the years and tried many of the best Apple Watch bands as a result, which means we know the key factors to consider when you want to personalize your smartwatch. The essential thing you need to know is the size you need.
Smaller Apple Watches with a casing size of 40mm or 41mm use the same-sized smaller bands, while Watches that measure 42mm, 44mm, or 45mm need the same series of larger bands. The 49mm Apple Watch Ultra also works with the same-sized bands as the 45mm Apple Watches.
We've picked more than 30 of the best Apple Watch band options to suit all kinds of preferences. A new strap isn't the only way to give your Apple Watch an upgrade. Read our best Apple Watch accessories guide and our best Apple Watch charging stands and best Apple Watch screen protectors lists as well.
We've tested many of the best Apple Watch bands below, but there are some products listed here that we haven't had hands-on time with. However, based on our experts' opinion, we think all these options are worth your time. Each of our selections considers online reviews, brand reputation, product capability, and unique features to help you find the best Apple Watch band for you.
The best Apple Watch bands 2023
Why you can trust TechRadar We spend hours testing every product or service we review, so you can be sure you're buying the best. Find out more about how we test.
Everyday Apple Watch bands
Your Apple Watch is an everyday essential wearable, so you want a similarly everyday Apple Watch bands to go alongside it. These bands look good and are suitably durable, so they can withstand whatever you get up to. They might not be as stylish as an expensive designer option, but they'll look as appropriate on public transport as they will in the office. Think of these bands in the same way as your reliable favorite T-shirt or pair of jeans - just in smartwatch form.
For every occasion
+ Plenty of color options
+ Comfortable to wear
- You need the right size
The Apple Solo Loop has developed a reputation for being the best general all-day Apple Watch strap for a good reason: it's ultra-comfortable in every way. There are plenty of colors to choose from, and it's made from liquid silicone rubber, giving it a unique, stretchable quality. This Apple Watch band is sweat and swim-proof and has got you covered all day.
2. Apple Braided Solo Loop
Comfortable and smart
+ Soft and comfortable
+ Easy to wear
- Expensive
The Apple Braided Solo Loop uses the same stretchy design as the Apple Solo Loop band, but this time it's made from weaving 16,000 recycled polyester yarn filaments around ultra-thin silicone threads. It looks suitably smart and feels very soft. This one's sweat and water-resistant, rather than swim-proof, so don't take it in the pool. Still, if you like the design, it's highly recommended.
Cheap yet effective
+ Low price
+ Watch strap design
- Questionable durability
The Wepro Black Buckle keeps things simple. It's made from silicone so it's sweat-resistant and dirt proof, but it looks more like a traditional watch strap than most other silicone bands. It utilizes a classic buckle design, which isn't as convenient as the pull-over method, but means you can easily adjust it throughout the day and it makes this band a lot cheaper too.
4. Tasikar Strap Apple Watch Band
Tough and rugged
+ Strong magnetic strap
+ Durable design
- Bit chunky
The Tasikar Strap is a good budget option. It uses magnetic straps to keep the band tightly clasped, while still feeling comfortable around your wrist. You can flip it around, too, giving you two colors in one. That makes it suitable for the office as well for less formal occasions. It looks built to last, though that durability comes at a cost – this strap is a little on the chunky side. The use of magnets means it's heavier than some, too.
Apple Watch bands for working out
When you're working out, you don't want an Apple Watch band that makes you feel sweaty or hot. Instead, you want something fairly breathable - that's also water and sweat-resistant. There are plenty of these out there, so we've focused on the top choices. Each will look good so you can wear them in any setting, but the focus is on comfort when working up a sweat.
Great for most workouts
+ Breathable design
+ Lightweight
- No good for swimming
The Apple Sport Loop is designed for better breathability, with a hook-and-loop fastener that you can easily loosen as needed. The double-layer nylon weave looks good and provides sufficient cushioning while also leaving room for moisture to escape. It's durably designed, so it won't falter while you're exercising thanks to the securely anchored attachment loops. That said, the fabric material means it's not great for swimming and other water activities.
Durable and breathable
+ Breathable design
+ Simple fit
- Basic looking
The Nike Sport Band for the Apple Watch doesn't just carry a brand name, it also has a distinctive design. It's made from fluoroelastomer with compression-molded perforations for added breathability. The design screams exercise, but it should feel good whether you're getting your sweat on in the gym or lazing on the couch. It aims to be soft, smooth, durable and strong. And it comes in a range of different colors, including an extra-eye-catching multi-colored Pride option.
Top running choice
+ Reflective thread
+ Breathable design
- Limited colors
The Nike Sport Loop has a reflective thread that runs through its nylon weave and shimmers when light strikes it. It's no substitute for high-vis gear when running in the dark, but it is a useful benefit to this lightweight and breathable watch strap. This one only comes in a limited choice of colors, but it ticks other sporty boxes, namely through the addition of dense loops on the inside of the strap to provide cushioning while also letting moisture escape.
4. Supcase Unicorn Beetle Pro
Great for weightlifting
+ Shock absorption
+ Bezel protection
- It's chunky
If you're looking for a rugged Apple Watch band for when you're lifting, but don't want to sacrifice too much style, the Supcase Unicorn Beetle Pro is a good option. It protects your Apple Watch via a bumper that provides rugged shock absorption, along with a raised bezel that protects the screen. The chunky look won't be for everyone, but if you're doing the sorts of activities that put your Apple Watch at risk, you should find it's more protective than most sports bands.
5. Twelve South ActionBand + ActionSleeve
Workout wrist-strap alternative
+ Better heart monitoring
+ Positioned out the way
- Specific purpose only
The Twelve South Actionband + Actionsleeve does things a little differently: you wrap it around your bicep or arm rather than your wrist. This should mean more effective heart rate monitoring due to more consistent below-skin readings, as well as a better fit if you're lifting weights and worried about knocking your wrist. You definitely can't use it as a regular wristband though.
Apple Watch bands for swimming
The best Apple Watch bands for swimming have a lot in common with the best straps for working out. They're lightweight and comfortable, while also being waterproof so you don't have to worry about them falling apart during your swim. The options here are all great for casual use too - just bear in mind that they're not suitable for more formal occasions.
Best for swimming
+ Durable and strong
+ Comfy fit
- Not the most stylish
Keeping it simple is the name of the game with the Apple Sport Band. It's made from a custom high-performance fluoroelastomer, like many other sports bands, which means it's durable and strong, yet comfy on your skin. A pin and tuck closure system means it's easy to slip on before you head to the pool, and you won't have to worry about it soaking up any water. The main downside of this Apple Watch strap is simply that it's a fairly plain, arguably even boring, design – you might want to consider a second strap for when you're not at the pool.
Lerobo three-pack of Apple Watch-compatible bands
Great value for money
+ Great value
+ Easy to wear
- Basic looking
Choose a three-pack of Lenobo Apple Watch straps and you get all the benefits of water resistance at a very low price, so it's not the end of the world if you end up damaging your strap in some way in the pool. A pin-and-tuck closure system plus breathable holes mean it feels good on your skin, and with three in a pack, it's likely to be a long time before you need to buy a new Apple Watch band again.
Very breathable
+ Plenty of air holes
+ Waterproof
- Maybe not for the office
This strap is better suited to the pool than a formal office: it's about as sporty looking as an Apple Watch band can get. The Nisto Silicone Strap has plenty of air holes to reduce skin irritation, and you won't have to worry about it soaking up water in the pool or sea. Made from silicone, it's lightweight too, so you'll barely notice you're wearing it. It uses a straightforward clip to hold it tight to your wrist and comes in a wide range of shades. The low price does make us question its durability, but it won't be an expensive loss if it doesn't last long.
Simple and durable
+ Easy design
+ Color options
- Basic looking
The Epova Silicone Strap is essentially a regular Apple Sport band, but without the expensive price tag that comes with Apple branding. It's made from durable and soft silicone, so it feels good around your wrist and should limit skin irritation. A buckle-like design means it's fairly easy to attach as well, although not quite as simple as some others here. It's available in a wide range of colors, and cheap enough that it could be worth picking up several in different shades.
Leather Apple Watch bands
Leather Apple Watch bands - and vegan leather options - have the classiness of a traditional watch, with all the benefits of being designed specifically for your Apple device. Leather is highly durable when you maintain it well, so it's good value for money, but it's not great for exercising - and certainly not suitable for swimming.
1. Casetify Apple Watch Band
Vegan leather
+ Animal friendly
+ Stylish looks
- Only sweat resistant
The Casetify Apple Watch band uses biodegradable vegan leather, so you get a classy look without harming animals. It's water and sweat-resistant, and everything about it is ecologically friendly. Just like a real leather strap, this one's no good for swimming – sweat is its limit. But it costs less than you might expect, and it's available in a wide range of eye-catching colors. The tie dye won't be for everyone, but to those who like it, it's a stylish and distinct choice.
2. California Poppy Leather Link
Elegant French leather
+ Premium leather
+ Magnet attachment
- Not for exercise
Elegant in every way, the California Poppy Leather Link band is made from handcrafted Roux Granada leather made in France, so you know it'll look good. It uses flexible molded magnets that gently flex to wrap around your wrist and form a secure yet comfortable fit. As with most leather straps, this is a terrible choice for exercise – this is strictly a strap for making your Apple Watch look good.
Classy Italian leather
+ High-end look
+ Attractive
- Not for exercise
Made from handcrafted leather from Italy, the Apple Leather Link oozes class. Its leather is soft and quilted so it feels great on your wrist, with secure, concealed magnets so you won't notice them - and neither will anyone else. This is a premium (and expensive) choice that you won't want to exercise in, and it's only available in a few different colors.
The classic strap
+ Magnetic buckle
+ Comfy fit
- Not for exercise
This is a strap that focuses on both form and function – it looks good and is built to last. The Modern Buckle uses the same material that NASA uses to make landing airbags, with an inner layer of Vectran weave for strength and stretch resistance. On the outer layer, there's smooth top-grain, high-quality leather from France. It feels great, with a solid buckle that's actually a two-piece magnetic closure, giving it a classic look but modern sensibilities.
Expensively decadent
+ Incredibly smart looking
+ Clever buckle
- Very pricey
The Hermes 44mm Ebene Barenia Leather Single Tour Deployment Buckle is very expensive, and a mouthful to say, but it's pretty classy. Using high-end leather, it has a hidden deployment buckle, which opens with a click of the two side buttons, ensuring an incredibly secure fit that still feels comfortable. It's ideal if security is everything to you and money is no expense.
Designer Apple Watch bands
Designer Apple Watch bands can be very expensive, but not always. We've curated a range of bespoke options here: some from big-name designers, others from less well-known artists or in-house designers - all with a unique look that will help you stand out from the crowd. There's something here for every budget. If you want to spend more than your watch cost, you can, but there are still some very smart-looking bespoke options for far less, as well as fun designs, and you can even create a bracelet-style look with one of the options here.
1. Kate Spade Floral Silicone Apple Watch Strap
Stylishly cute with a traditional flourish
+ Elegant flowery design
+ Secure buckle
- For older Apple Watches
Designed for older Apple Watches that have 38mm bodies, the Kate Spade Floral Silicone Apple Watch Strap isn't for everyone, but it certainly looks charming. It offers a stylishly cute aesthetic without being too garish. A cute buckle means it looks a lot like a regular high-end watch strap too. The main issue with this strap is simply that it doesn't support newer Apple Watch models, so you can only use it if you're rocking an older model.
2. Hermes Kraft/Rouge de Coeur Jumping Single Tour
Attractively designed and swim proof
+ Swimproof
+ Great use of textiles
- Costs more than others
Often, designer watch straps aren't particularly durable, but the Hermes Kraft/Rouge de Coeur Jumping Single Tour is swimproof. It looks great thanks to its use of a textile that's been woven with a vibrant design, and is exciting yet subtle enough for the workplace too. This Hermes strap is available in a wide variety of other shades, and it's versatile and durable enough. But that's a good thing, because it's exceedingly expensive.
3. Mintapple Limited Edition Genuine Exotic
A distinctive crocodile skin leather option
+ Crocodile skin leather
+ Very durable
- Not animal friendly
If crocodile skin leather seems like the height of luxury, the Mintapple Limited Edition Genuine Exotic Apple Watch strap is for you. This designer watch strap from Mintapple looks distinctive in every way, using expensive leather alongside surgical grade 316L stainless steel that won't rust or tarnish. Many people won't want a crocodile leather strap, but for anyone who does this is an undeniably classy choice.
4. Kate Spade New York Apple Watch bracelet
A bracelet that's also a watch strap
+ Doubles up as jewelry
+ Self-adjustable links
- Pretty heavy
This Kate Spade New York Apple Watch bracelet is a great option for anyone who wants to match their Apple Watch with their evening wear decor. Made from polished stainless steel, it uses signature spade-shaped links that are easily adjustable to get the right fit for your wrist. It's a little heavy for workouts and other practical purposes, but it's shiny, stylish, and chic, and at night it looks great – it works as jewelry in its own right.
5. Apple Pride Edition Braided Solo Loop