Donning an Apple Watch in 2018 is a little more tempting because of new deals, fresh features, the watchOS 4 update and a higher app count.
It's a fantastic smartwatch series, as long as you're expecting an iPhone-tied convenience gadget, not a life changing piece of technology.
Why? It makes our best smartwatch list, but smartwatches aren't a game changer or revolutionary like smartphones from ten years ago. It's just an everyday awesome add-on; truly an accessory.
The Apple Watch is among the best. That's why my Watch is still ticking away on my wrist two years after its initial launch. Even the fitness-focused LG Watch Sport hasn't convinced me to jump ship.
Apple never ended up calling this the "iWatch," but it really is "my watch" and along with the Apple Watch 2 and Apple Watch 3 it's Apple's most personal and customisable gadget yet.
There are more than 71 flavors, with different case materials, colors, sizes and interchangeable Apple Watch bands.
The Apple Watch Series 1 is also now at its cheapest, starting at $249/£249/AU$359, though for a watch that's been superseded twice that's still a lot.
(Update: Our Apple Watch review now addresses four Apple smartwatches: the original Apple Watch, Apple Watch Series 1, Apple Watch 2, and Apple Watch 3, the latter having a faster chipset and optional LTE. We also note the additions brought by watchOS 4.)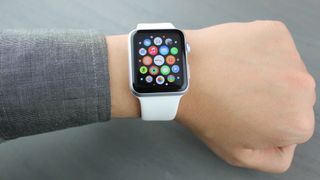 Apple Watch
OS: watchOS 1 (upgrades to watchOS 4)
Compatibility: iPhone
Display: 1.65-inch
CPU: Apple S1
Band Sizes: 38mm, 42mm
Storage: 8GB
Battery life: up to 22 hours
Charger: Magnetic
IP rating: IPX7
Connectivity: Wi-Fi, Bluetooth, NFC
The Apple Watch is slowly becoming a good buy for more than its initial target audience of impatient early adopters and boutique store regulars.
Beaming apps like Messages, Mail and every iPhone notification to an always-on-hand gadget is certainly handy.
I no longer retrieve my always-hiding-in-the-couch iPhone 8 every time someone texts me, and I can locate my phone whenever it's lost. It has the easiest to use Find My iPhone app yet.
Similar conveniences are carried over to the thousands of apps. Checking into a flight thanks to a wrist-mounted QR code beats scrambling for my phone or paper boarding pass while moving my bags up in a security line step-by-step.
Those steps, it turns out, are being counted in the Apple Watch's Activity app. It's not the most comprehensive fitness tracker, but it enables me to keep tabs on metrics like my steps walked, calories burned and heart rate. Surprise: I need to move more when I'm writing reviews.
But a glorified iPhone finder and the ability to not have to fetch my phone for every vibration in my pocket is very much a luxury rather than a necessity. Is it worth that still-tough-to-swallow Apple Watch price?
Apple Watch price comparison
As time goes by, the decision of which Apple Watch to by becomes a bit more difficult. Given they all look pretty much the same, thus far, give or take a few milimetres, the decision comes down to mostly to price, though there are some feature differences worth considering (we dive deeply into those in the below section.)
First, prices for the Series 1 model
The Apple Watch 2 is a faster model, and though it looks the same, it boasts waterproofing, which for some people is all they need to hear to hit the "buy" button. Apple has stopped selling the Apple Watch 2 but you might be able to find it elsewhere. Here are some prices.
Lastly, the Apple Watch 3. The most recently released version is the fastest available and, if you fancy, comes with LTE support so that you can leave your iPhone back at home. Here are the latest prices for that model.
Don't care about cellular connectivity on your wearable? Here's the cost for the non-LTE model.
Apple Watch 0 vs Apple Watch 1 vs Apple Watch 2 vs Apple Watch 3
Original Apple Watch is the cheapest if you find deals
Apple Watch Series 1 is faster, but lacks Watch 2 features
Apple Watch 2 has GPS, a brighter screen and is water-resistant
Apple Watch 3 has a faster chipset and optional LTE
Before the Apple Watch 2 and Apple Watch 3 displaced it, the original Apple Watch cost started at $269 (£269, AU$399), a discount over the launch price of $349 (£299, AU$499). It peaked at an exorbitant $17,000 (£13,500, AU$24,000). Ouch.
You can find the Apple Watch 0 (the debut model) for cheaper on eBay and Amazon. However, you may want to opt for the Apple Watch Series 1, which has a faster System in a Package (SIP), the tiny chip that runs the smartwatch.
The Apple Watch 3 is the most expensive in the series, but it's full-featured, with a built-in GPS chip, swim-proof water-resistance an even faster chipset and optionally LTE.
The Apple Watch 2 meanwhile lacks LTE and the Apple Watch 3's chipset, but is otherwise similar. However, Apple has stopped selling it.
You won't find the 24K gold Apple Watch Edition variants in the Apple Watch Series 1 or the Apple Watch Series 2, but they do come in aluminum and stainless steel.
Apple Watch software updates
Apple's watchOS 4 update gave every model a boost, including the original Apple Watch.
The update has added a watch face with Siri built-in, allowing you to tap it to get details from Siri, such as your reminders.
Activity and workout tracking has also been improved, while the Apple Music app will automatically sync music to your watch. You can also now pay your friends via Apple Pay on your watch and there have been various other small tweaks and improvements made.
Prior to that the original Apple Watch was updated to watchOS 3, which sped things up and made the once-confusing menu interface actually make sense. This was a complete overhaul for the Apple Watch series.
That update also added a Dock to easily access your frequently used apps, new watch faces, and a Control Center menu (just like on iOS) to toggle settings. New to the miniaturized Control Center (as of watch OS 3.2) is a Theater mode so that the watch's raise-to-wake feature can be turned off.
Before that, the Apple watchOS 2 update opened up its Engine, Digital Crown and microphone to developers, meaning we've now got a whole host of apps that have supercharged the watch experience.
That Apple Watch update also featured Wi-Fi connectivity, new watch faces with different customizable options, better Siri capabilities, email replies and even Transit directions courtesy of iOS 9 and beyond.
Why buy an Apple Watch?
Apple Watch is often oversimplified as an iPhone on your wrist, and almost everyone I have demoed it to has accidentally referred to it as "your phone" – even I slipped up once or twice in the last year.
It's not an unreasonable comparison. The square-shaped smartwatch is like a mini iPhone; it enables me to read emails, summon Siri and make and receive phone calls from my wrist.
The size is just right too. While many Android Wear watches look and feel chunky to the average person I talk to, the 42mm Apple Watch fits my wrist much more unobtrusively.
An even smaller 38mm size is also available, although most people should opt for the bigger of the two. It offers better battery life and more useable touchscreen space (but does come at a slightly higher cost).
What feels strange about writing this review is that there's no point in really comparing it to Android Wear at all. Nobody chooses a smartwatch first and then decides on which phone to go with it; no, if you're reading this, you're probably either scanning through my review on the iPhone or with one close to hand, wondering if it adds enough convenience to make it worth the extra cost.
But do I need this Watch? On the one hand it's been great for changing my behavior, as too many times I've instinctively run to my phone, charging in another room, because it's ringing or because the default SMS chime has turned me into one of Pavlov's dogs.
How many times have I missed an important call or text? Just as important, how many times have I rushed to the phone and it was an unimportant telemarketing call or a friend replying with a text that simply says "OK" to something I said three hours ago?
These missed connections and potential disappointments are less insufferable thanks to the Apple Watch, and the ability to either pick up or dismiss these alerts in a tenth of a second.
Custom watch faces, like we've seen from Android Wear watches, are here (although only those that Apple makes, as it's sadly not permitting third parties to do the same thing), as well as new exclusive technology like the pressure-sensitive Force Touch touchscreen.
There are also a large number of Apple Watch apps already, including the easy-to-use Apple Pay in the US and UK, and the frequently used Uber car hailing service, equivalents of which have been slow to launch on Android Wear.
What's missing?
There are plenty iPhone features that aren't carried over to the wrist. Apple Watch is not a fully-fledged iPhone replacement.
It makes calls, but it can't add new contacts. It listens to dictated texts and sends them as an audio message or transcription, but it doesn't have any sort of edit function. Likewise, it can name songs through the Shazam app, but it listens with the iPhone microphone, not its own.
It tracks basic fitness goals, but it's not GPS-enabled and doesn't track sleep. It's also not nearly as good at motivating me to move compared to the Fitbit Charge 2 and Fitbit Blaze.
Having to carry a phone still is a weird disappointment to a lot of people who are missing the point of current smartwatches. "Wait, I still need my phone?" is the response I've heard from baffled people.
Of course you do. The Watch isn't big enough for watching YouTube videos on its tiny display size, and trying to comment on Facebook posts while pecking away on a teeny keyboard would be terrible.
Who would want to don a giant watch capable of such specs or a large enough battery to run that? You still need an iPhone with you at all times (unless you opt for the LTE-enabled Apple Watch 3), but you'll use it less than before.
The bigger questions: can is do enough to be worth its price, and is it fashionable enough to wear everyday, by geek chic and non-geeks alike? Let's examine the design first.