The constant question I had when writing this review is: what's the Apple Watch actually for? It's one thing to get one in for a review, another when you've got no reason to buy one other than it looks a bit fancy.
The Apple Watch both surprised and disappointed in that respect, with some things impressing me with their intuition (being able to add in heart rate monitors was a nice touch, and the overall polish of the interface on the OLED display wasn't something I was expecting from a first-gen product).
Some things didn't work as well as I'd have liked (I was surprised that the interface was so fiddly for an Apple product) but they were relatively few.
We liked
The overall look and feel of the Apple Watch, as with most products from Cupertino, was a major plus for me. The last thing you want is a watch that you have to apologize for visually just so you can find out when Ebay is asking you to bid from your wrist for THAT pair of cowboy boots.
Having used a number of smartwatches over the last two years, there's something about the slickness of the Apple Watch that appeals. Yes, it doesn't do a huge amount, but no smartwatch does, and Apple is primed to get the best of the developers' produce - in just the same way as the iPhone and iPad did - to get the apps that will really supercharge the Watch.
And once you've bought the Watch and got over the still-quite-high price, it is a genuinely useful thing to have around at times. Being able to check when you've got a message or see who's calling and be able to make snap decisions feels like the future, especially when exercising or in another situation where grabbing your phone isn't easy.
The new enhancements from Apple WatchOS 3 and WatchOS 4 really do help this smartwatch leap forward, though. It's faster, more usable and comes with watch faces that make it feel more personal. And as more app developers use the new tools, there will be loads more to come too.
We disliked
The original Apple Watch feels exactly like you'd expect it to: a first attempt. Apple's fused its own design ethos with the limited technology around at the moment to make a compelling smartwatch - but it's still a smartwatch, a device that doesn't really have an easy answer when your pals ask 'So, what's so good about that?'.
The fact the time isn't always showing on the face isn't brilliant either - while the wrist raise is among the most infallible I've encountered, there are still times when I'm lying down, want to know the time and have to tap the watch face to find out.
When the old technology beats the new, that's where a problem needs to be solved.
And while I find it hard to even bang the 'Apple has made a product that costs more than it should' drum again, this is still a very expensive luxury. You don't need it in the same way a smartphone is a necessity, and unlike the iPad, considering its age it's more expensive than the competition by some distance.
The fitness angle has improved since the first Apple Watch launched with watchOS updates bringing new tracking and metrics but it still feels a bit underpowered – there's a lot of potential there, but the Apple Watch is not something I'd recommend to anyone that's serious about getting into shape... unless they're desperate for all the other elements this device offers too.
Final verdict
For iPhone users desperate for a smartwatch, an Apple Watch is perfect for you. Whether it's the Apple Watch Series 1 over the Apple Watch Series 3 will largely come down to budget.
It relays some iOS apps and all notifications to my wrist without requiring me to constantly pull out and unlock my phone, and that's a nicely convenient thing to have.
We've seen the Apple Watch usefulness improve over time with new apps, software improvements and the best smartwatches have started to carve out more of a space in our daily habits than they did at first launch.
The Apple Watch is not a device you play necessarily play with in an idle few minutes as you might an iPhone or an iPad, but ironically by being better connected with the Watch you'll hopefully start to rid yourself of the smartphone addiction. If you're asking why it can't play YouTube or take photos, you're really missing the point of the smartwatch.
It's a time-telling and time-saving convenience, though one that still requires a nearby iPhone and a hefty sum to buy. The Apple Watch price still will still raise plenty of eyebrows, even with this version of the first-gen coming in a bit cheaper. That's why we'd ultimately recommend the cheapest aluminum Apple Watch Sport with another band for the moments when you want to look more 'grown up'.
The recommended Apple Watch Sport has the same dimensions, functionality and battery life as its pricey steel and gold model counterparts, and when you look lustily at the new and improved Apple Watch 3, there's really little difference for non-runners and swimmers. It's still a solid bet, now at a better price, in 2018.
First reviewed: April 2015
You might want to check out the best Apple Watch charging stands.
The competition
Not convinced by the Apple Watch? Here are some devices you may want to look at instead.
Fitbit Ionic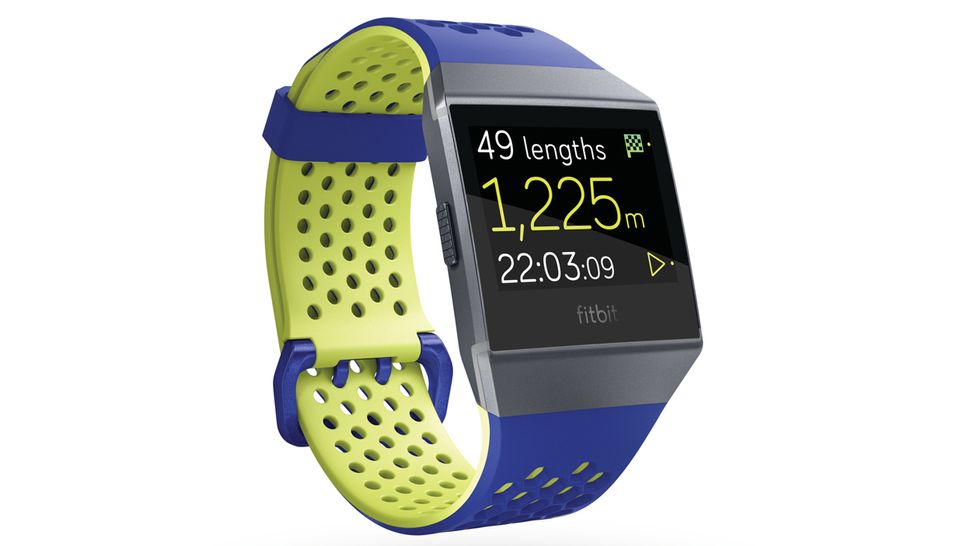 The original Apple Watch is still a fine fitness companion thanks to the ever-evolving Activity app and accurate heart-rate sensing tech. However, there's a pair of significant drawbacks; there's no GPS and no sleep tracking due to the need to charge every 18 hours.
The Fitbit Ionic (£299.95 / $299.95 / AU$449.95) is only slightly more expensive and ticks both of these boxes, as well as offering multi sport tracking and built-in workouts. You won't get that excellent range of watchOS apps or full integration with iOS, but if you're buying a smartwatch primarily for fitness purposes, this is worth a look.
Apple Watch 3
Before you click the buy button on that Apple Watch purchase, it's important to weigh up how much you'd value liberation from your iPhone.
The Series 3 + Cellular model offers the advantage of built-in GPS and standalone LTE connectivity. That means you can track your workouts, stream from Apple Music, make calls, send texts and set reminders all while leaving your iPhone at home. You'll also get a much brighter display (1,000 nits vs 450 bits) and 50m of water resistance, which unlocks swimming.
Put it this way, the Series 1 Apple Watch is $249.00/£249.00/AU$359.00, the Series 3 with Cellular capabilities is $399.00/£399.00/AU$599.00. Will you regret spending the extra dosh?
Fossil Q Venture
The Apple Watch is a modern fashion icon. With a large array of finishes and band options, it offers as much style as substance. So, if it's a stylish smartwatch you're after then look no further than the Fossil Q Venture (starting at £259 / $255 / AU$399).
This Android Wear 2.0 watch is beautifully constructed and has a deliciously vibrant and responsive touchscreen display. It might be missing GPS, NFC and a heart rate tracker, but it sure is pretty.
LG Watch Style
With a slim, sleek and stylish build the LG Watch Style is one of the best-looking alternatives to the Apple Watch and it's also a similar price to Apple's Series 1 wearable.
The round screen could be a deal maker or breaker depending on your tastes, but either way this is a fairly basic Android Wear device, putting form way ahead of function.
There's no NFC for example, ruling out contactless payments, and the battery life is at the lower end of wearables, but if you want something that looks good and won't cost the Earth the LG Watch Style is a strong option.