Quite possibly the best iPhone 14 Plus deal ever is back again this week at Verizon, with the carrier giving the flagship away for free with a new unlimited data plan with the option to bundle in an additional free iPad and Apple Watch on top.
What makes this Verizon deal so potent is that you don't need the usual trade-in rebate to be eligible - only a new line on an unlimited data plan. This, paired with the freebies, makes it a fantastic option for those looking to switch over or open up a new unlimited plan at Verizon. Note, that this promotion was initially featured a few weeks ago for an extremely limited-time-only and that's the case again here as this deal is set to expire next Tuesday.
Today's best Apple iPhone 14 Plus deal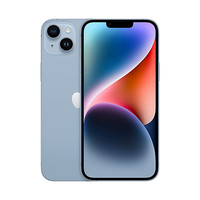 Apple iPhone 14 Plus: free with an unlimited data plan, plus free iPad and Apple Watch at Verizon
Key features: iOS, A15 Bionic chip, 12MP camera, 6.7-inch OLED display (120HZ)
Product launched: September 2022
Price history: This is second time we've seen this device being given away for free on an unlimited line at Verizon - the first time being a few weeks ago, when the deal was available for an extremely limited time. To date, this is easily the best deal on this device at Verizon, which is usually available for $5 per month under the same terms. The free iPad and Apple Watch are both a great bonus too, although you'll still need an unlimited data plan to be eligible to get them.
Reviews consensus: Most sites agree that the iPhone 14 Plus is one of the more niche devices in the range (being upscaled version of the iPhone 14), but it's a great choice nonetheless. For example, you get not just a bigger display for all your favorite content, but the larger body also houses a beefier battery. Considering it's still coming in at less than the iPhone 14 Pro, it's a decent value buy for a big-screen Apple device.
TechRadar: ★★★★ | Toms Guide: ★★★★ | Creative Bloq: ★★★★ | T3: ★★★★
Featured in TechRadar buyer's guide: Best iPhone
Buy it if: You want a tip-top flagship device with great specs but don't want to do the usual trade-in thing at one of the major carriers. The iPhone 14 Plus isn't the most popular device in the new range but it's still packing a powerful chip, great camera, and a gorgeous 6.7-inch display that's great for watching content.
Don't buy it if: You'd think you'd prefer the more palm-friendly (and pocketable) 6.1-inch form factor of the standard iPhone 14. There's also an argument to go for the more premium iPhone 14 Pro or 14 Pro Max if you want the very latest cutting edge chipset and camera features (just know you'll have to trade in to get a discount!).
What about the free iPad and Apple Watch?
Taking a look at the freebies being offered with this promotion, you're going to be able to bundle in any eligible iPad with your plan and get up to $459.99 back as a rebate. Essentially, this means you can bag the 9th generation Apple iPad on the house, get the latest 10th gen iPad for $99, or take a significant chunk off the price of an iPad Pro. The obvious caveat with this freebie is that you'll have to get the tablet with a new cellular line. These can be pretty pricey in their own right ($20+ per month), so think carefully before you jump on board with the free iPad.
This advice also applies to the free Apple Watch SE 2022 - with the rebate provided via a rebate of up to $300 if you pick one up with a plan. If you do go for the free Apple Watch bundle, definitely factor in the extra cost of a cellular line.
If you want to see what other carriers are offering this week, head on over to our main iPhone 14 Plus deals page. Alternatively, see other devices at our iPhone deals hub page.