The best Dolby Atmos soundbars of CES 2023
Because you need a soundbar with that TV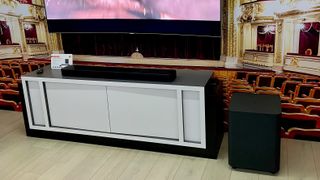 (Image credit: Future)
When it comes to new AV tech, CES is primarily a TV show – although projectors were also a hot item on the show floor this year – with audio having taken a back seat over the past decade. Still, we did see a smattering of hi-fi products at CES 2023, along with some innovative new Dolby Atmos soundbars from a range of manufacturers.
The best Dolby Atmos soundbars do a lot more that provide an upgrade over your TV's built in audio; depending on their speaker count and configuration, they can give systems based around the best AV receivers a run for the money. TV makers like Samsung, LG, and Sony offer a full range of soundbars to accompany their sets, and while these don't get updated with the same annual frequency as TVs, CES nonetheless provides a good opportunity to check out new soundbar offerings.
Our list below isn't exhaustive, but it does hit the high points of the soundbars on display at CES 2023. These range from a relatively basic 3.1.3-channel model meant to work with and augment a TV's built-in speakers, to an 11.4.6 system designed to hit lease-breaking. theater-like sound pressure levels. Audio may no longer be a major focus for CES, but it's definitely alive and kicking.
1. JBL Bar 1300X
JBL's offsite demo area at CES had a dedicated room to display its new soundbars, with the flagship Bar 1300X occupying the top spot.
The Bar 1300X ($1,699) is a Dolby Atmos and DTS:X-compatible 11.1.4-channel system that uses 6 upfiring drivers to convey height effects in soundtracks and also comes with a 12-inch subwoofer – an impressive size for a soundbar sub. The slim soundbar also features the company's new PureVoice feature, a technology that uses a proprietary algorithm to enhance dialogue clarity during passages in soundtracks with loud sound effects, and it supports both AirPlay 2 and Chromecast built-in for audio streaming.
What's most interesting about the Bar 1300X system, however, is its detachable wireless rear-channel speakers with front and upfiring drivers. These dock in the bar's outer left and right edges for recharging, and can be used to expand the soundfield during that process. Once charged, they can be removed and installed at the rear of the listening area, where they can also be connected via USB-C for power. But that's not the end of the story for JBL's flexible, multipurpose rear-channel speakers, which can also be whisked away to a different location where you can use them as a Bluetooth speaker for mono playback, or paired together for stereo.
JBL's new soundbar line also includes the Bar 1000 ($1,119) and 700 ($899) which offer 7.1.4-channel and 5.1.4-channel sound, respectively, both using detachable wireless rear speakers. All new JBL soundbars will be available in late February.
2. Samsung HW-Q990C
Samsung can always be counted on to introduce innovative soundbars at CES, and this one was no exception. The company's new HW-Q990C is an 11.1.4-channel offering that seeks to one-up last year's HW-Q990B, a model that presides over our best soundbars guide as the top choice for high-end Dolby Atmos immersion.
While the HW-Q990C features the same 11.1.4-channel count and Dolby Atmos and DTS:X processing as its predecessor, there are a number of software enhancements that make it worth consideration. One is AI Sound Remastering, which taps AI processing in a connected Samsung TV to balance the delivery of sound objects in a Dolby Atmos or DTS:X mix to ensure an even and clear presentation. Another is SpaceFit, a room EQ tech introduced in earlier Samsung soundbars that's been updated to optimize bass along with surround sound.
In addition to the HW-Q990C, Samsung dropped the new HW-G60C, a compact soundbar designed for gaming that offers LED effects lighting and bi-directional audio support. No word was given on pricing or ship date for either model, but given Samsung's usual timeline for announcements, we should know more in February or March.
3. LG SC9
LG's SC9 was announced prior to CES, where much was made of its compatibility with LG C-Series sets such as the new C3 OLED in the company's 2023 TV lineup.
This 3.1.3-channel (a third top-mounted driver on the soundbar, similar to that found on last year's S80QY, functions as both a Dolby Atmos height speaker and a center channel enhancer) soundbar will come with special mounting hardware to connect it to LG's C-Series TVs. Beyond that, it has a new feature that LG calls Triple Level Spatial Sound for more dramatic presentation of Atmos and DTS:X height effects; Wow Orchestra, which integrates the soundbar with the built-in speakers in an LG TV; and both built-in Spotify and Tidal Connect, the latter with support for high-res tracks encoded with MQA.
Along with the SC9, LG also announced a new compact, all-in-one soundbar called the SE6, a 3-channel model that uses virtual processing for delivery of Dolby Atmos and DTS:X soundtracks.
No prices or shipping dates were given, but we expect to see these new models around the same time that Samsung's new soundbars arrive.
4. Nakamichi Dragon
[Creaky, wheezing wizard voice]: Gather around, children, and listen to an audiophile tell a tale. Way back in the before times, people used to listen to music using a tape-based format called the cassette. Of all the makers of the machines that played these cassette tapes, Nakamichi was the most legendary, and its Dragon cassette player the most revered.
Nakamichi isn't the same company now – its name was licensed to a new manufacturer that specializes in soundbars. But the soundbars that the new Nakamichi makes are seriously ambitious designs, and at CES the company was demonstrating its most advanced design yet, the new Dragon soundbar system.
The Dragon is a massive, 58.1 x 7.6 x 4.4 inch (think Sennheiser Ambeo, but wider) soundbar that uses 31 speakers to deliver 11.4.6-channel sound. Power is specified at an incredible 3,000 watts and it's said to be capable of hitting 125dB SPL peaks (think chainsaw in your face, but louder). Nakamichi's system supports both Dolby Atmos and DTS:X Pro and uses wireless rear channel speakers with upfiring drivers and dual wireless subwoofers, both of which use a push-pull configuration that's said to equal the output of four separate subs.
Other specs are completely up to date for an advanced soundbar system shipping in 2023 and include 3 HDMI 2.1 inputs and HDMI eARC output, all with 4K/120Hz and VRR pass-through. Bluetooth aptX HD is also supported.
The Dragon is scheduled to enter the world in spring 2023 and is priced at $3,499.
Sign up for Black Friday email alerts!
Get the hottest deals available in your inbox plus news, reviews, opinion, analysis and more from the TechRadar team.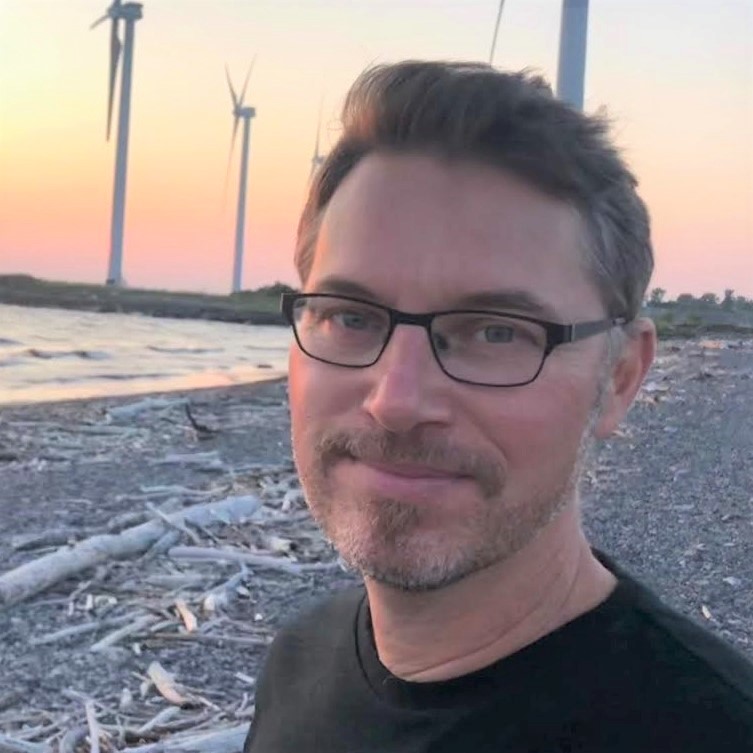 Senior Editor Home Entertainment, US
Al Griffin has been writing about and reviewing A/V tech since the days LaserDiscs roamed the earth, and was previously the editor of Sound & Vision magazine.
When not reviewing the latest and greatest gear or watching movies at home, he can usually be found out and about on a bike.