Sony announces exciting prices for 4K TVs in the UK
£4K for a 4K TV brings Ultra HD into the realms of mere mortals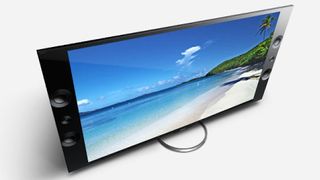 Sony has finally announced UK prices for its Bravia X9 range of 4K TVs and it's good news. The 55-inch X9000A Ultra HD telly is set to cost just £4,000, while the 65-inch model is 50 per cent more expensive at £6,000.
While these prices are clearly not cheap, they are still the first full-blown 4K TVs to hit the UK market in sizes under 84-inches and at prices below £20,000. The prices compare relatively favourably to the US prices which were announced last month - $5,000 and $7,000.
While Sony is calling these TVs 4K, they're actually Ultra HD which has a resolution just under the 4K res of 4096 x 2160. This is to allow for the traditional 16:9 aspect ratio of livingroom screens.
Ultra HD TVs have a resolution of 3840 x 2160, four times higher than full HD 1080p, allowing you to sit closer to the TV and gawp at the super-detailed picture. While there's no 4K content currently available, the TVs upscale HD beautifully, streaming services are literally in the pipeline, 4K broadcasts are on the way and a Blu-ray disc ratification is imminent.
Pre-order today
The X9 TVs will hit UK shops from mid-June, but if you're committed to getting one of these things in your house as soon as possible, you can pre-order from today.
The X9 TVs are exciting for more than just the ultra high definition, too. Firstly, both models come with Sony's fantastic magnetic fluid speakers which means that not only does the picture look stunning, the sound is brilliant too.
The speakers use magnetic fluid instead of traditional dampers, which improves sound quality by eliminating distortion, cuts energy consumption by 35 per cent and also allows the speakers to be squeezed into much tighter spaces. We've tested them out and can confirm they're probably the best flatscreen TV speakers we've ever encountered.
The TVs also come with Sony's Triluminos colour tech which we've already seen in the impressive new W9 range. And the remote control is NFC-enabled too, which makes it easier than ever to pair your TV with a mobile device and use that as your remote.
Right then, get saving and stay tuned for a review on TechRadar because these TVs have us very excited indeed.
Sign up to receive daily breaking news, reviews, opinion, analysis, deals and more from the world of tech.
James was part of the TechRadar editorial team for eight years up until 2015 and now works in a senior position for TR's parent company Future. An experienced Content Director with a demonstrated history of working in the media production industry. Skilled in Search Engine Optimization (SEO), E-commerce Optimization, Journalism, Digital Marketing, and Social Media. James can do it all.