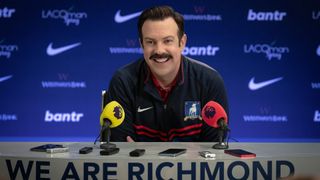 (Image credit: Apple TV Plus)
Ted Lasso season 3: key information
- Premiered on March 15
- New episodes set to arrive every Wednesday
- Official trailer released in late February
- Main cast has returned
- New supporting characters revealed
- Season 3 "written to be the last" entry in the series
- Spin-offs, specials, and a fourth season are possible
After a lengthy wait, Ted Lasso season 3 has finally debuted on Apple TV Plus. The hit soccer comedy series' third and seemingly final season returned today (March 15) with a one-episode premiere. So, if you haven't watched it yet, what are you waiting for?!
Some viewers may be disappointed that Ted Lasso's third season only kicked off with a single episode. But hey, if it means the best Apple TV Plus shows' final outing is drawn out as long as possible – we're really not ready to say goodbye to Ted and company yet – we'll take it.
If you're interested in finding out what's coming in the weeks ahead – the next three weeks, anyway – our Ted Lasso season 3 review contains some information about what to expect. Beware, though, there are light spoilers within.
Looking for less spoiler-ific news on the Apple TV Plus series' return? Stick with this guide. Below, we've compiled everything worth knowing about Ted Lasso's potentially final installment, including its episodic release schedule, cast list, potential storylines, and its future. Full spoilers follow for Ted Lasso seasons 1 and 2.
Ted Lasso season 3 release date
Ted Lasso Season 3 premieres March 15.Happy Valentine's Day. pic.twitter.com/mLzkHrX45IFebruary 14, 2023
Ted Lasso season 3 officially took to the field of play on Wednesday, March 15. As we noted in our introduction, it kicked things off with a one-episode premiere. New entries will be released weekly on Wednesdays, too.
Interested in finding out when each episode will arrive on Apple TV Plus? Check out the third season's episodic release schedule, plus the episode titles we know about, below:
Episode 1 (Smells Like Mean Spirit) – March 15
Episode 2 ((I Don't Want to Go to) Chelsea) – March 22
Episode 3 (4-5-1) – March 29
Episode 4 (Big Week) – April 5
Episode 5 – April 12
Episode 6 – April 19
Episode 7 – April 26
Episode 8 – May 3
Episode 9 – May 10
Episode 10 – May 17
Episode 11 – May 24
Episode 12 – May 31
Ted Lasso season 3 trailer
The official trailer for Ted Lasso season 3 made its debut on February 27 – but, if anything, it only left us with more questions than answers.
How so? Given the secrecy around the show's third (and potentially final) season, it's akin to a teaser trailer, rather than anything substantial.
Still, there are bits and pieces we can glean from the latest footage. It seems AFC Richmond are set for multiple stern tests after their promotion back to the English top flight, while all doesn't seem well between Nate and West Ham owner Rupert Mannion. There's plenty of humor and optimism within the near two-minute teaser, though, that suggests there could be some light at the end of the tunnel for all (well, nearly everyone) concerned.
Missed the first season 3 teaser, which also arrived in February? Check it out below:
Ted Lasso season 3 cast
Here's Ted Lasso season 3's confirmed main cast list:
Jason Sudeikis as Ted Lasso
Hannah Waddingham as Rebecca Welton
Brendan Hunt as Coach Beard
Brett Goldstein as Roy Kent
Juno Temple as Keeley Jones
Nick Mohammed as Nate Shelley
Jeremy Swift as Leslie Higgins
Phil Dunster as Jamie Tartt
Toheeb Jimoh as Sam Obisanya
Cristo Fernandez as Dani Rojas
James Lance as Trent Crimm
Sarah Niles as Sharon Fieldstone
Anthony Head as Rupert Mannion
Prominent supporting cast members have also returned, including Kola Bokinni as Isaac McAdoo, David Elsendoorn as Jan Maas, Billy Harris as Colin Hughes, and Annette Badland as pub landlord Mae. Meanwhile, Apple CEO Tim Cook seems likely to cameo, given he's seen celebrating a Richmond goal on his Twitter account. Match of the Day host Gary Lineker, soccer pundits Thierry Henry and Chris Powell, and commentator Arlo White will return in cameo capacities.
We also know the identity of three actors who have joined Ted Lasso's ranks. Per Deadline, Jodi Balfour (For All Mankind) has signed on as a charming venture capitalist called Jack. Above the Line suggests Becky Ann Baker (Freaks and Geeks) has been cast as Ted's mom, too. Lastly, Maximilian Osinski (Agents of SHIELD) joins the team as Zava, a Zlatan Ibrahimovic-inspired striker with incredible talent and a huge ego to boot.
Ted Lasso season 3 story
Major spoilers for Ted Lasso season 2 follow.
Here's the plot synopsis for Ted Lasso season 3: "Newly-promoted AFC Richmond faces ridicule as media predictions widely peg them as last in the Premier League and Nate (Nick Mohammed), now hailed as the 'wonder kid', has gone to work for Rupert (Anthony Head) at West Ham United.
"In the wake of Nate's contentious departure from Richmond, Roy Kent (Brett Goldstein) steps up as assistant coach, alongside Beard (Brendan Hunt). Meanwhile, while Ted (Jason Sudeikis) deals with pressures at work, he continues to wrestle with his own personal issues back home, Rebecca (Hannah Waddingham) is focused on defeating Rupert, and Keeley (Juno Temple) navigates being the boss of her own PR agency. Things seem to be falling apart both on and off the pitch, but Team Lasso is set to give it their best shot anyway."
AFC Richmond's Premier League return, then, is expected to be as dramatic as we'd thought.
After securing promotion on the final day of last season, Richmond are back in the big time, but it won't be easy for them to try and secure an unprecedented Leicester City-level title triumph. 19 other clubs stand in their way, including Manchester City, who relegated Richmond in their final top-flight match in season 1 and thrashed them 5-0 in season 2's FA Cup semi-final. So we're hoping that Richmond will finally get one over one of their biggest rivals.
City won't be the only rival Richmond has to contend with. In the season 2 finale, Nate, Ted's former prodigy, joined West Ham as their new manager. His appointment comes after Rebecca's former husband – Rupert Mannion – bought the Premier League outfit.
So Ted Lasso season 3 will pit the master versus his apprentice. Taking to Twitter after season 2's last episode, actor Nick Mohammed posted a 12-point document that reveals why Nate departed Richmond for their London rivals:
Me again! CONTAINS SPOILERS so maybe don't read until you've watched the season finale, but here are a few thoughts on Nate and responses to your tweets! X #TedLasso PS Also, huge shoutout to the magnificent @joekellyjk47 who cowrote this episode with Jason ⚽️ pic.twitter.com/Z1Rvuok422October 8, 2021
Hopefully, Ted Lasso season 3 will deliver a titanic clash between Richmond and West Ham, which will put Ted and Nate at odds on the pitch. As much as we can't wait to see if Richmond will beat Manchester City, we're also eager to see Ted and Nate clash, from a tactical standpoint, from the dugout. Co-writer Brendan Hunt has teased that we'll "see a bit of what's going on at West Ham" in the next season, too (per The Hollywood Reporter (THR)).
Speaking to the BBC, Mohammed said: "I'm effectively the villain in it now, which is a funny place to find myself. The thing with Ted Lasso is the audience are possibly expecting a redemption arc for Nate, and I'd like to see one I think because that would be nice. But equally I could well imagine the writers thinking: 'no, we're going to turn it on its head', because that's what they did in season 2, playing against everyone's expectations, so he might be the one character they don't redeem."
Whatever happens, Mohammed thinks a verbal showdown is on the way between Ted and Nate. "There has to be some kind of reckoning, right?" he told US Weekly. "Whether it's a positive or negative outcome [we'll have to see]."
Away from the pitch, Ted Lasso season 3 needs to wrap up smaller storylines, such as Rebecca and Sam's on-off relationship. The pair were no longer dating by the season 2 finale, but we imagine this isn't the end of their romantic dalliance. Hannah Waddingham, who plays Rebecca, seems to hint that there may be more to mine, plot wise, here when speaking to Deadline. Additionally, in a separate Deadline article, Waddingham revealed how Rebecca's personal and professional lives will be at two vastly different points when season 3 begins.
Speaking of relationship issues, Roy and Keeley might have hit a rough patch. Keeley rejected Roy's efforts to take her on a much-needed vacation in season 2's last episode, electing to stay in the UK and work on her newly-formed PR firm.
It's unclear what the future holds for them, but love will be in the air for another Richmond-based individual: Colin Hughes. Chatting to Deadline, Billy Harris teased a love-filled subplot for the center midfielder. Here's hoping someone gets a happy ending, then!
From Ted's perspective, his panic attacks or familial issues haven't fully gone away, either, based on season 3's story synopsis. Sports psychologist Sharon had seemingly helped him to get to grips with them by the end of season 2, but will they return? Regardless of whether they do or not, expect Ted to continue his therapy sessions with Sharon.
We wouldn't be surprised if Ted offers Trent Crimm a role at Richmond, too. In the season 2 finale, Trent was fired by The Independent for revealing who leaked Ted's panic attacks (i.e. Nate). Ted could use Trent's expertise in a media capacity, so why not hire him? It would mean that all of the series' main characters are under one roof (Nate aside), which would be a fitting way to bring the curtain down on the show.
Will we get closure on all of the above? Who knows, but Lawrence promises viewers could've worked out many of the series' surprises from the beginning.
"There will be lots of surprises," he told Deadline. "But anyone who says, oh, where Nate ends up in the finale is a big surprise…we felt like we were setting that up from the very first episode of last year. The clues are there. Jason and I are huge non-spoiler people, but yeah, I think some of the writing is already on the wall, hopefully."
Lawrence's comments have been backed up by Declan Lowney, Ted Lasso director and producer, who told Deadline that we should expect "a bunch of surprises, things you didn't see coming, some curveballs in there". Cristo Fernandez also told People that each character will get "different resolutions, different moments" in season 3.
Plot wise, one thing is for certain: only one ending has been shot. Speaking to Deadline, actor-executive producer Brendan Hunt, who plays Coach Beard, denied that multiple season 3 endings had been filmed to stop spoilers leaking out. However Ted Lasso ends (more on this in the section below), don't believe anyone who says a different (and potentially better) ending could have been used instead.
Elsewhere, The Athletic reported Apple has agreed a £500,000 (around $682,000) deal with English top flight executives to use licensed kits, club badges, and the Premier League trophy. Could we see AFC Richmond lift the title in a fairy tale-style series ending?
Meanwhile, AFC Richmond's first team might take a trip to Europe as part of a team bonding session. Ted Lasso fan Kelly Melissa took to Twitter to post an image of herself with Sudeikis and Waddingham in Amsterdam, so maybe the Richmond boys are going on a European tour. According to Phil Dunster, who plays Jamie, we can expect to see a lot more soccer played in Ted Lasso season 3 (via The Los Angeles Times). For a show based around the hugely popular sport, you can never have enough soccer-based action.
Finally, speaking to TVLine, Brendan Hunt suggested that season 3 will kick off (see what we did there?) at the beginning of a new season. "We don't like to do the same thing twice," Hunt explained. "In season 1, we joined the [Premier League] season in January. In season 2, we joined the season in late September. We've never gone from the start of a season, so perhaps that's something we want to get to."
Ted Lasso season 3: is this the final season?
It depends who you ask. Sudeikis has continually stated Ted Lasso is a trilogy, so we should prepare ourselves for the end, doubling down on season 3 being written as the series' final entry in a chat with ET Online. Co-writer Brett Goldstein added further weight those claims (per Mr. Porter), saying Ted Lasso as always viewed as a three-season show.
However, other cast and crew members aren't so sure. Actor Phil Dunster told THR that "nobody knows about season four", while Nick Mohammed said (via Entertainment Weekly) that "there's no reason why it couldn't continue. So, we'll see. I hope there's more, but who knows."
Co-creator Bill Lawrence has also teased the prospect of returning for more, telling Deadline there are ways of stretching Ted Lasso out for another two seasons.
And is there the potential for new tales to be told in the Ted Lasso universe? Speaking to THR, Lawrence answered: "When we started, we plotted out everybody's beginning, middle and end of a three-season arc. This story is going to be over next year, regardless, even if the show finds another story to tell and goes on." Elaborating on the prospect of spin-offs, Hunt also told THR: "It's just a matter of whether or not we pick this up in some other way".
Additionally, Waddingham jokingly told Entertainment Tonight that she wants Apple to force Sudeikis to continue making more seasons: "If I were Apple and Warner Bros, I'd be leaning on him [Sudeikis] like a lunatic and putting him in a corner in a little cage and giving him a notebook and a pen. It's too beautiful."
"will season 3 of ted lasso be the last?" emmy's version pic.twitter.com/t0gOGrcSzQSeptember 13, 2022
Warner Bros. are open to continuing the series in some guise, with Head of Television Channing Dungey saying (via THR): "The way they pitched out the season, it would work very well should [season three] be the end. Audiences will be satisfied with how they resolve the end of the season. But there is still an opportunity and path for us to do more. We will see how everything comes together; there are a lot of moving pieces here and there's a continued enthusiasm to keep telling these stories."
If Ted Lasso sticks around for longer, we could certainly use more of the show's wonderful positivity. In the vein of the show's iconic single-word phrase – "Believe" – we're holding out hope that Ted Lasso will continue after season 3. Still, if this is the end of the line, at least we can see (and play as) Ted and Richmond in FIFA 23.
For more Apple TV Plus-based content, watch these other six big-hearted comedies if you're a fan of Ted Lasso. Alternatively, check out the best Apple TV Plus movies or everything we know about Severance season 2.
Sign up to receive daily breaking news, reviews, opinion, analysis, deals and more from the world of tech.
Senior Entertainment Reporter
As TechRadar's senior entertainment reporter, Tom covers all of the latest movies, TV shows, and streaming service news that you need to know about. You'll regularly find him writing about the Marvel Cinematic Universe, Star Wars, Netflix, Prime Video, Disney Plus, and many other topics of interest.
An NCTJ-accredited journalist, Tom also writes reviews, analytical articles, opinion pieces, and interview-led features on the biggest franchises, actors, directors and other industry leaders. You may see his quotes pop up in the odd official Marvel Studios video, too, such as this Moon Knight TV spot.
Away from work, Tom can be found checking out the latest video games, immersing himself in his favorite sporting pastime of football, reading the many unread books on his shelf, staying fit at the gym, and petting every dog he comes across.

Got a scoop, interesting story, or an intriguing angle on the latest news in entertainment? Feel free to drop him a line.