The action cam with eyes in the back of its head
The Ricoh Theta S has back-to-back fisheye lenses that capture a 360-degree image of the world around you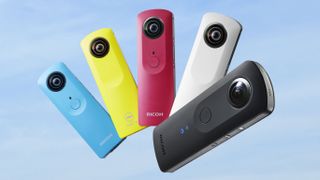 The Theta S has a very clever design that only becomes apparent when you turn it around in your hands. How (you wonder) can that fisheye lens capture a 360-degree view of the world without panning? It doesn't, because on the back of the camera is another one exactly the same, and the views captured by these twin 180-degree lenses are merged into a single spherical panorama automatically. You can see some examples in the Gallery section on Ricoh's theta360.com website.
This is actually the third incarnation of Ricoh's Theta concept – the original Theta was first launched in 2013 and a newer m15 version a year later. The Theta S, however, boasts a larger, higher resolution sensor that captures images of almost 14 megapixels, updated design and user interface and internal memory increased to 8GB and capable of storing up to 1,600 images, according to Ricoh.
The Theta S can also shoot 1920 x 1080 full HD video for up to 25 minutes, and comes with a new Ricoh Theta S app for smartphones and tablets. You use the app to choose camera settings and view spherical photos – Ricoh says an improved Wi-Fi module offers data transfer speeds four times faster than the original Theta m15.
We're used to action cams with super-wide fisheye lenses, but the Theta S takes it to the next level. It captures the whole world around you in a fully circular image which lets you pan round and round until your head's spinning – and its 360-degree view means every shot's a selfie!
The Theta S goes on sale in the UK at the end of October priced at £299.99. Availability in other territories is yet to be confirmed.
Sign up to receive daily breaking news, reviews, opinion, analysis, deals and more from the world of tech.