Netflix's first live sports stream could have Apple TV Plus and Paramount Plus worried
Could Netflix be teeing off on other streamers' turf?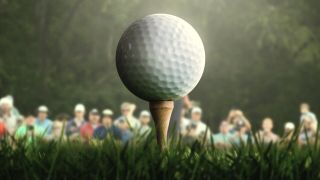 (Image credit: Netflix)
There's a new battleground in the best streaming services war: live streamed sports. And Netflix is getting in on the action with the fast-paced, action-packed sport of... celebrity golf.
According to The Wall Street Journal, Netflix is in talks to create "a new, celebrity-driven golf tournament in Las Vegas that would include some of the stars of other sports content on the service like Drive To Survive and Full Swing." The talks are still in early stages but the intention is to start streaming the show this fall.
Netflix's first foray in live streaming sports puts it in competition with the likes of Apple TV Plus and Paramount Plus, both of which stream major live sports events. Apple had started live streaming Major League Baseball last year and could soon get live Premier League football matches in the UK. Meanwhile, you can watch Champions League football in the US on Paramount Plus in the US.
Celebrity golf might not sound like the most exciting sport to kick off Netflix's first live sports streaming event. But starting with golf is a smart move by the streaming service for two key reasons.
What's so great about celebrity golf?
First of all, Apple's decision to leverage the popularity of celebrities could help to attract viewers – people tend to tune in to watch familiar faces in an unfamiliar setting. But the main reason celebrity golf is a wise starting point – and clearly it's a starting point for a wider live streaming offering rather than an end in itself – is because streaming your own golfing event is much less demanding than high-stakes football or baseball, so it gives Netflix a chance to start slowly before ramping up the audience size and technical complexity.
As The Verge points out: "there's a reason that ESPN's first-ever broadcast was a slow-pitch football game, and that Yahoo broadcast a London NFL game in the wee hours of the American morning before trying anything more complicated."
And Netflix's live streaming efforts so far haven't exactly been stellar. Its livestream of the Love Is Blind reunion this spring was a disaster, with unexpected delays leading to a lot of smug social media posts by Netflix's rivals and even pizza firms. Chicago's Lou Malnati's Pizza tweeted: "Prepping, baking, and serving a deep dish pizza doesn't even take this long".
Prepping, baking, and serving a deep dish pizza doesn't even take this longApril 17, 2023
What's interesting about celebrity golf isn't so much the sport itself as what it might signal for Netflix's live streaming strategy going forward. It can't livestream Formula 1, because ESPN has that, and it can't do Friday Night Baseball because Apple TV Plus has that. And other streamers have already been successfully bid for streaming rights deals with the big names in every sport.
So maybe Netflix's plan isn't to compete in the same events, but to possibly create its own events. While it's possible that the streamer may use its deep pockets to try and outbid rivals – something that in the long-term might put streaming prices up for everybody – it's also possible that Netflix plans to attack from the flank rather than directly with live streamed shows that feature sports stars but in very different circumstances.
If this news has you looking to watch some golf, then you can still stream Full Swing on Netflix – we've also compiled a list of six more sports docs to stream now if you're after more variety.
Get daily insight, inspiration and deals in your inbox
Get the hottest deals available in your inbox plus news, reviews, opinion, analysis and more from the TechRadar team.
Contributor
Writer, broadcaster, musician and kitchen gadget obsessive Carrie Marshall (Twitter) has been writing about tech since 1998, contributing sage advice and odd opinions to all kinds of magazines and websites as well as writing more than a dozen books. Her memoir, Carrie Kills A Man, is on sale now. She is the singer in Glaswegian rock band HAVR.