Los gráficos Intel Xe-HP GPU destrozan a Nvidia con más del doble de potencia: 42 teraflops
Pero por ahora no habrá versión para consumidores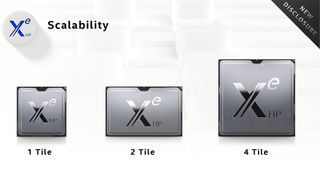 (Image credit: Intel)
Intel ha comenzado a compartir detalles sobre su nueva arquitectura gráfica Xe, que se supone aparecerá en todo tipo de máquinas, desde laptops hasta supercomputadoras. Y uno de sus procesadores — el Xe-HP de cuatro unidades — aplasta completamente a la Nvidia A100 con más del doble de potencia de proceso.
Según las pruebas de Intel en el laboratorio, las primeras unidades de Xe-HP — con 2048 unidades de computación a 1.3GHz y drivers preliminares sin optimizar —alcanza la friolera de 42 FP3 teraflops. Nvidia dice que su GPU más potente — la A100 — corre a 19.5 FP32 TFLOPS.
Intel espera lanzar el procesador Xe-HP GPUs en 2021 — así que habrá que esperar a ver qué tiene Nvidia preparado para ese año.
Una GPU de peso
Las operaciones de coma flotante de un dígito de precisión son usadas — aparte de otras cosas, en gráficos. Aunque los juegos no dependen enteramente de la potencia de proceso FP32, sí que es la parte que lleva la mayor parte del peso. Por eso el hecho de que la nueva unidad gráfica Xe-HP de Intel — la primera en décadas — destroce a la de Nvidia más poderosa es muy significativa.
Desafortunadamente, la Intel Xe-HP no estará disponible en un principio para consumidores sino para centros de datos. Su función será tanto la computación masiva de operaciones matemáticas como la renderización de juegos en la nube. Es decir, que quizás sí utilices un Intel Xe-HP en el futuro — pero éste no estará en tu PC sino en un servidor de internet. Y a no ser que Intel lance la Xe-HP en un paquete que permita integrarlo con tarjetas gráficas, no lo verás. Por lo menos de momento.
Lo que ahora habrá que ver es cómo funciona la versión para consumidores de la Xe-HP — la línea Xe-HPG GPU, que está diseñada específicamente para juegos de alto rendimiento y competir con las líneas Nvidia RTX 3000 y AMD RDNA2. Y, según supimos hace un par de días, ahí también podría ganar gracias a una tecnología de fabricación más eficiente de 6 nanómetros que permite mayor potencia y menor consume energético.
Source: AnandTech
Are you a pro? Subscribe to our newsletter
Sign up to the TechRadar Pro newsletter to get all the top news, opinion, features and guidance your business needs to succeed!
Anton Shilov is the News Editor at AnandTech, Inc. For more than four years, he has been writing for magazines and websites such as AnandTech, TechRadar, Tom's Guide, Kit Guru, EE Times, Tech & Learning, EE Times Asia, Design & Reuse.