La PS5 no es mejor que la Xbox Series X, dice Epic Games
Unreal Engine 5 será igual en la Xbox Series X que en la PS5 y en PCs de gama alta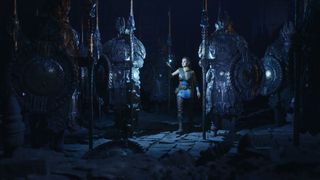 (Image credit: Epic)
Si eres fan de la Xbox, probablemente viste la demostración del nuevo Unreal Engine 5 y te quedaste boquiabierto debajo de tu máscara antivirus, como el resto de la humanidad. Tu pregunta — sobre todo después de ver las demostraciones reguleras de los primeros juegos de la Xbox Series X — sería algo así como ¿es posible que la PS5 vaya a ganar de nuevo a la Xbox? La respuesta la tiene el jefe de Epic Games, el desarrollador del Unreal Engine 5.
Y la respuesta — directamente de un tuit de Tim Sweeney — es no. Como informa T3, Sweeney dice que aunque "la demostración del Unreal Engine 5 en la PlayStation 5 fue la culminación de años de conversaciones entre Sony y Epic sobre el futuro de los gráficos y la tecnología de almacenamiento", el motor gráfico correrá exactamente igual en todas las plataformas de alto nivel. "Las tecnologías Nanite y Lumen demostradas [en el vídeo que podéis ver debajo] funcionarán igual tanto en la PS5 como en la Xbox Series X y serán alucinantes en ambas plataformas".
No sólo eso, sino que además Sweeney dijo que iba a estar disponible en PCs de gama alta que cuenten con los requerimientos necesarios, probablemente refiriéndose a las tarjetas Nvidia y AMD de última generación, así como unidades de almacenamiento sólido lo suficientemente rápidas.
Según Sweeney, no hay un acuerdo secreto entre Sony y Epic para que Unreal Engine 5 sea algo exclusivo para títulos de esa consola o que cuente con características especiales. También añadió que Unreal Reality 5 también podrá ser utilizado en plataformas no tan avanzadas — como tu celular o tablet — pero que lógicamente sus capacidades gráficas estarán limitadas por el hardware. Pero en lo que a la Xbox Series X y la PS5 se refiere, serán idénticas.
El increíble motor gráfico Unreal Engine 5
Los dos grandes logros del nuevo Unreal Engine 5 son la iluminación global de su revolucionaria arquitectura Lumen — que permite simular cómo funciona la luz en el mundo virtual, rebotando fotones en superficies para iluminar otras superficies — y el número prácticamente ilimitado de polígonos que consigue su nueva tecnología de virtualización geométrica Nanite — que permite un nivel de detalle hasta ahora inimaginable en ninguna máquina. Esto aparte de dos tecnologías mejoradas del anterior Unreal Engine: los efectos de partículas Niagara — que ahora pueden hablar entre ellas y responder a fuentes de luz Lumen — y el motor de cálculo de dinámicas físicas de objetos sólidos Chaos.
Hay más detalles técnicos que son igualmente difíciles de creer, como el uso de texturas de resolución 8K y la eliminación de la necesidad de tener normales en los modelos para la texturización (una normal indica a un programa 3D cuál es la orientación de un polígono y son necesarias para aplicar texturas y renderizar e forma correcta). Son conceptos que, en el mundo de los gráficos en 3D en tiempo real, eran de ciencia ficción — hasta ahora.
Microsoft recalca que siguen en el partido
Según Microsoft, los desarrolladores de Xbox Series X utilizarán Unreal Engine 5: "la fidelidad vista en la demostración tecnológica del Unreal Engine 5 es algo que la gente podrá esperar en todas las plataformas de la siguiente generación". La compañía de Redmond die que tanto sus 15 equipos de desarrollo dentro de Xbox Game Studios como otros desarrolladores usarán Unreal Engine 5 cuando éste salga en 2021.
Es lógico. Para los desarrolladores de videojuegos, Unreal Engine 5 es una capa de abstracción que les evita trabajar dos veces. Desarrollando para un único motor gráfico que corre en múltiples plataformas, los programadores pueden sacar sus juegos para todas esas plataformas con mayor facilidad que utilizando el hardware directamente. Eso no quita con que haya otras compañías — con sus propios motores gráficos — que no usen Unreal Engine 5 para distinguirse de la competencia a pesar del coste añadido.
Al final, sea gato blanco o gato negro, lo importante es que cace ratones. Al final los títulos — como demuestran juegos como Zelda o Mario en la Nintendo Switch — no son buenos porque usen mejor o peor motor gráfico o tengan iluminación global o lo que sea. Esto está muy buen, pero lo importante es la jugabilidad. Y habrá que ver qué juegos tiene cada plataforma para ver quién gana la partida.
Get daily insight, inspiration and deals in your inbox
Get the hottest deals available in your inbox plus news, reviews, opinion, analysis and more from the TechRadar team.