For those of you in the market for a new and affordable broadband-only deal, we have something that might fit the bill.
Right now you can get Onestream's Fibre 80 broadband, which offers average download speeds of 75Mbps for just £21.95 a month (opens in new tab) on an 18-month contract. This deal also comes with unlimited data and there are one-off setup fees of £9.95. After your contract is up, the price of this tariff then goes up to £37.95 a month.
This is one of Onestream's most popular broadband packages, and with it you get the company's 'Superstream Router'. Thanks to its 75Mbps download speeds, Fibre 80 is a top choice for any small to medium-sized households as it can comfortably handle multiple devices streaming in 4K, data-intensive browsing and online gaming all at once.
If you're switching to this deal, Onestream also claims it will handle the process for you and will make it 'completely hassle-free'. However, you should note that eligibility for its Fibre 80 broadband option is subject to the network coverage in your area - but this is something you can check directly through Onestream.
If it turns out that you can't access this deal, or you want to choose a faster broadband package, then you should head over to our best broadband deals page to see what else is available right now.
OUR ONESTREAM BROADBAND DEAL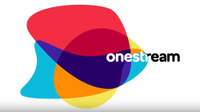 (opens in new tab)
Onestream Fibre 80 | 75Mbps download speeds | £21.95 per month | 18-month contract | £9.95 setup fee (opens in new tab)
This broadband-only deal features average download speeds of 75Mbps and is perfect for handling the demands of even the busiest small to medium-sized households. It costs just £21.95 a month and is an 18-month contract. You do have to pay setup fees of £9.95, but the package includes Onestream's smart 'Superstream Router'. After 18 months, the price of this deal goes up to £37.95 per month and eligibility for it is subject to your property's network access.
What other reasons are there to choose Onestream?
While Onestream might not be a household name just yet, it's certainly making waves in the broadband market for its budget-friendly packages and the variety of fast speeds it has in its offering.
To give you an example, it has some of the cheapest mid-range and ultrafast broadband options available, including our deal above and its 'Hyperstream Full Fibre 1000', which gives you an impressive 800Mbps. Unlike some other providers, you also have a selection of contract lengths on offer, rather the one fixed choice.
It's a reliable provider too, as it uses the same dependable network as the likes of BT, Sky and TalkTalk. As such, you won't have to worry about having a poor connection. In addition, all its tariffs come with unlimited data and - as we've mentioned earlier - if you're looking to switch to a Onestream package, its service team will do this all for you.
Onestream proudly claims to be rated 'Great on TrustPilot' and promises 'outstanding customer service'. It had previously faced some criticism for the quality of its customer services, so this does suggest it is making an effort to improve the support it provides both over the phone and online.
However, despite all this Onestream is a no-frills broadband provider and it won't be the right choice if you want to include lots of extras and add-ons like TV bundles. If this is the case, why not check out the latest deals in your area by entering your postcode into our widget below?
Loading...