Looking for a new broadband deal? Well, right now you can get NOW Broadband's Super Fibre broadband, which offers average download speeds of 63Mbps, for just for £24 a month. This is a 12-month contract with unlimited data and you'll need to pay a £5 upfront fee for the delivery of your new router.
This deal is available to any new customers or existing ones who only currently have a NOW TV package. What's more, whether you can access the package will also depend on if you're in a NOW Fibre area - but this is something you can check with NOW before you sign up.
With its unlimited data and fast speeds, this particular broadband deal should be more than enough to handle the usage needs of small and medium-sized properties. This is because it will be able to manage streaming, online gaming and casual browsing from multiple devices, all at once.
Another benefit to this deal is you can choose to add a NOW 'Entertainment Membership' for an additional £9.99 a month. This will give you access to an array of free-to-air TV channels, plus a number of Sky channels including Sky Max, Sky Showcase, Sky Comedy, Sky Kids, as well as many more. You can even cancel this at any time if you wish.
If you find you can't access this deal right now, or you maybe want something a bit faster, then head over to our best broadband deals page. Here, we've collated the latest offers that are sure to suit every need, if this particular offer from NOW is not for you.
OUR NOW BROADBAND DEAL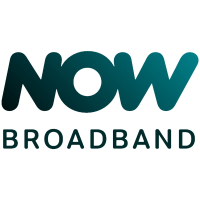 Now Broadband Super Fibre | 63Mbps average download speeds | £24 a month | 12-month contract | unlimited data | £5 router delivery fee
With this deal from NOW Broadband you get average download speeds of 63Mbps, plus unlimited data on a 12-month contract for £24 a month. This will be ideal for any small to medium households that contains family members who all want to stream, browse or online game at the same time. You will have to pay £5 upfront for the delivery of your router, but you can also opt to add a NOW 'Entertainment Membership' too for an extra £9.99 a month. The deal is for new and existing NOW customers who just have a NOW TV package. The only other thing to check is whether or not your property can access the NOW Fibre network.
Other reasons to choose NOW Broadband
If you're still undecided about whether you should choose NOW Broadband, you can rest assured there are plenty of great reasons to pick this particular provider.
As our featured deal shows, NOW Broadband is known for its affordability, especially when compared to other similar companies offering broadband-only packages. What's more, all of NOW Broadband's options come with completely unlimited data, so you don't need to worry about interruptions to your downloads.
NOW also prides itself on its 'easy switching' and promises to handle the process of moving across for you if you're an existing BT, TalkTalk, EE or Plusnet customer. It's even won awards for its value and service, including recent recognition as Uswitch's 'Best Value' and Choose's 'Best Budget' and 'Best Overall' broadband provider.
As our deal also shows you can look to upgrade to a NOW TV combo. There are three 'Memberships' on offer that range in price and include access to Sky's Cinema and Sports channels. NOW has even recently brought in a new and flexible 'No Contract' option that can allow you to cancel your broadband with them at any time and without penalties.
However, where NOW Broadband can fall down is with its limited range of speeds. It doesn't have the same super and ultrafast speeds as the likes of BT and Virgin Media, so if you know you want a tariff like this, head over to our best broadband deals page to see what's on offer right now. Or put your postcode into our widget below and we'll show you what's available in your area.
Loading...