El primer disco del mundo de 1 PETABYTE estará hecho de cristal
Seagate confirma que está trabajando en la tecnología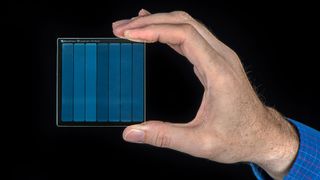 (Image credit: Jonathan Banks / Microsoft)
La necesidad de almacenamiento de la humanidad crece de forma exponencial y nos estamos quedando sin materiales para poder almacenar los exabytes de información que producimos diariamente. Pero no hay que preocuparse porque porque hay una solución en el horizonte: el cristal.
El dato es escalofriante: la consultora IDC predice que, a este ritmo, el mundo producirá 175 zettabytes en 2025 — seis veces más que en 2018. Un ZB es equivalente a 1000 petabytes o un billón de terabytes. Al final de la década, gracias a la extensión de las cámaras de resolución 8K, la humanidad producirá un trillón de terabytes. Me da vueltas la cabeza de pensarlo y todavía no he llegado al whiskey del mediodía.
---
---
El Proyecto Silica de Microsoft fue el primero que propuso el cristal como medio alternativo de almacenamiento. Los investigadores de la compañía de software más grande del mundo — y la segunda más grande en servicios de cloud después de Amazon — fue capaz de poner 75.6 terabytes de datos en una pieza de silicato del tamaño de un disco de 2,5 pulgadas. El disco más grande del mundo en estos momentos llega a los 20TB en un formato de 3,5 pulgadas.
Ahora, en declaraciones a IEEE Explore, el jefe tecnológico de Seagate John Morris ha confirmado que el departamento de investigación y desarrollo de la compañía está utilizando cristal como medio para almacenar datos de forma óptica. Según él, "el reto está en desarrollar un sistema que tenga una velocidad de lectura y escritura razonable".
No hace falta decir que rivales como Western Digital, Toshiba e incluso Samsung están siguiendo la misma ruta.
Sin embargo, hay dificultades significativas que necesitan resolverse antes. Ahora mismo este medio sólo vale para ser leído — lo que técnicamente se llama WORM o Write-Once, Read-Many (escribir una vez, leer muchas veces).
Además tampoco habrá conexiones a internet de un terabit por segundo en las próximas décadas así que hacer un backup de uno de esos monstruos en la nube será imposible por el momento.
Are you a pro? Subscribe to our newsletter
Sign up to the TechRadar Pro newsletter to get all the top news, opinion, features and guidance your business needs to succeed!