Cooler Master presents the 'gaming chair reimagined' at Computex 2023 - and all this other stuff too
News
Contributions from
published
This chair will rock your world... literally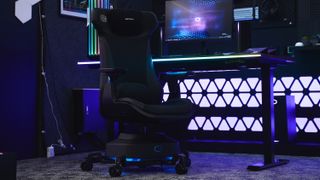 (Image credit: Cooler Master )
Computex 2023 is in full swing, and Cooler Master has unveiled a whole bunch of new goodies for us to enjoy. Most intriguing among these is the new Motion 1 gaming chair, which promises to revolutionize the way we view our gaming thrones.
Designed in collaboration with D-Box, the Motion 1 is a chair that uses haptic technology to swing you around while you game, a lot like the seats in those 4D cinemas you may have stumbled across. The chair has a base that controls the chair's movement and vibrations, which also features a wraparound strip of RGB lighting.
The chair feels like an answer to a question no one has ever asked: what if my chair could fling me around like a ragdoll while I play Assassin's Creed? That'll definitely improve my gaming performance! How am I supposed to get those sweet sweet Victory Royals in Fortnite if my chair is quaking? We don't know how much the Motion 1 is going to cost, but given how expensive the average gaming chair without haptics costs, it'll probably be very expensive.
Fighters ready
Two other interesting new arrivals are a keyboard and mouse: the MK770 Hybrid and MM712 Pro, respectively. The MK770 Hybrid keyboard is a compact model with hot-swappable key switches for maximum customization. To emphasize this, Cooler Master displayed it at Computex with a little astronaut replacing the Esc key, which I thought was adorable.
At first glance, the MM712 Pro mouse looks pretty basic. It matches the overall vibe of the keyboard but doesn't hold up to its cute retro-futuristic aesthetic. While the mouse doesn't look very exciting, it offers both wireless and wired connectivity and ultra-responsive optical switches. I do wish they had dressed the mouse up a little more, but less RGB is better than too much RGB.
Not entirely new but receiving a new coat of paint is the TD500 Mesh V2 case, CK570 keyboard, MM310 gaming mouse, and CH331 gaming headset - all of which are getting a major glow up thanks to Cooler Master's new collaboration with Capcom. The collab coincides with Capcom's release of Street Fighter 6, which means you can get a PC case with Chun-Li on the side (or your fighting beefcake of choice).
Building the future
On the PC-building side, we meet the Qube 500 flatpack case - an adorable case that comes in several funky pastel shades. Because the case comes flat-packed like a piece of Ikea furniture, it decreases the amount of packaging needed to ship it to you and thus leads to a smaller carbon footprint. Since the side panels are also heavily perforated, you're guaranteed to get excellent airflow.
The other case, the NCore100 Max, includes built-in power and cooling solutions in a tall, ceramic-looking bronze or blue tower. The cases definitely look a little weird; it puts me in mind of a vase my mother would buy to display in her house. But while you may not be able to swap out the fans and power supply, you have a surprising amount of room to work with and can actually cram a whole RTX 4090 graphics card inside.
The new MasterLiquid 360 Ion AIO cooler is decked out with stylish LEDs and sports a sleek 2.1-inch customizable LCD screen. The cooler looks clean and holds a really premium build look, and comes packed with cool new features. The dual-chamber pump has had a bit of a redesign, which is supposed to help maximize cooling 'synergy'.

That dual-chamber pump is also present in the new MasterLiquid 360 Atmos, but this AIO cooler instead focuses on sustainability (not unlike the Qube 500). The pump cover is now completely made out of eco-friendly recycled plastic and can be swapped out to allow you to fit custom 3D-printing designs.
If you'd prefer to build a whole liquid cooling system from scratch rather than using an AIO cooler, you should check out the MasterLoop collection, which includes everything you need to assemble a kick-ass liquid loop in your gaming PC. Cooler Master also announced a new power supply, the X Silent, which has an RGB fan - a bit pointless, considering that most PC cases these days hide the PSU away under a shroud.
Sign up to receive daily breaking news, reviews, opinion, analysis, deals and more from the world of tech.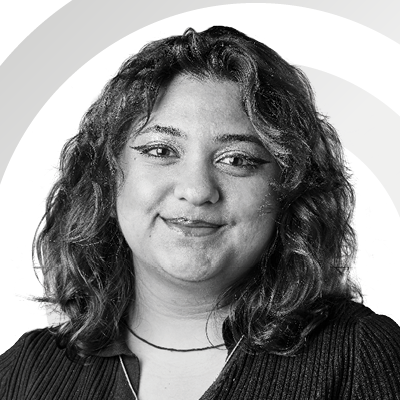 Muskaan is TechRadar's UK-based Computing writer. She has always been a passionate writer and has had her creative work published in several literary journals and magazines. Her debut into the writing world was a poem published in The Times of Zambia, on the subject of sunflowers and the insignificance of human existence in comparison.

Growing up in Zambia, Muskaan was fascinated with technology, especially computers, and she's joined TechRadar to write about the latest GPUs, laptops and recently anything AI related. If you've got questions, moral concerns or just an interest in anything ChatGPT or general AI, you're in the right place.

Muskaan also somehow managed to install a game on her work MacBook's Touch Bar, without the IT department finding out (yet).