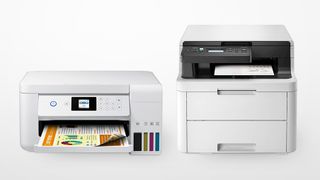 (Image credit: LD Products)
Most people assume that with everything going digital, the importance of printers has diminished. Contrary to popular belief, they are still indispensable in nearly every home office. If anything's changed, it's shoppers that are now savvier — they know to shop for printers that will give them the lowest total operating costs.
Traditionally, inkjet printers have been one of the most popular model types. However, they've gained a not-undeserved notoriety for being both temperamental and expensive, with high-priced ink cartridges that require frequent replacement. For this reason, they've largely been supplanted by other printer types, namely ink tank printers and laser printers.
We'll focus on comparing these two economical printer types so you can determine which works best for your needs.
Ink tank printers
Ink tank printers, as the name suggests, use ink bottles and a refillable ink tank system. When a tank starts to run low, you can simply fill it with ink and keep printing.
It's important to note that ink tank printers are distinct from inkjet printers, even though the two are often incorrectly conflated.
The primary difference is the volume of ink stored in the printer. Most inkjet printers use ink cartridges while ink tank printers have a built-in ink reservoir that feeds ink to the printhead through an airtight tube.
Otherwise, the two printer types are functionally identical to one another.
Interestingly enough, ink tank printers are a relatively new addition to the printer market. First released by Epson in 2015 with the EcoTank series, other popular brands like HP, Canon and Brother followed soon after. Today, there are dozens of different ink tank printers to choose from.
Advantages of ink tank printers
High page yield. The most frequently promoted advantage of ink tank printers is that their ink usage is highly efficient. The Epson EcoTank ET-2850, for instance, has a yield of up to 7,000 pages per ink bottle.
Low cost per page. Ink bottle refills purchased through Epson cost $20 for black, $13 each for color. Provided the advertised page yield is accurate, this calculates to a cost per page of $0.01. For those looking to lower printing costs even more, cheaper options from alternative ink providers are also available.
Excellent print quality. Since ink tank printers are essentially more efficient inkjet printers, they are capable of producing considerably better color depth and detail compared to laser printers.
Disadvantages of ink tank printers
Speed. An ink tank printer on average is much slower and less efficient than a laser printer, often requiring upwards of 15 seconds per page.
Blockages. If you go too long without using an ink tank printer, the ink may dry up or clog the printer's internals.
Variable yields. The average page yield of an ink tank printer is not always accurate, and ink may run out faster than expected. So take that projected cost per page with a big grain of salt.
Longevity. Based on reviews, many ink tank printers only have a shelf life of 2 years before they start to experience issues.
Who should use an ink tank printer?
Generally, an ink tank printer is a good option if:
You intend to print on a regular basis, or at least more than once a week.
Your print jobs are not high-volume; you're only printing a few pages at a time.
You require high-resolution prints.
You previously had an inkjet or laser printer, and found yourself having to replace cartridges constantly.
Laser printers
Instead of using ink, laser printers have toner cartridges filled with a special type of powder. They create prints by melting that powder down and applying it to the printer paper.
Cost-wise, they tend to be more expensive upfront than both ink tank and inkjet printers. Note, however, that this does not mean they are more expensive overall.
Advantages of laser printers
Low operating costs. Toner cartridges can print thousands of pages. The high yield version of the Brother HL-L3290CDW black toner cartridge, for instance, can print up to 3,000 pages. The cost per page of this printer model is $0.14.
Fast prints. The HL-L3290CDW can print up to 25 pages per minute single sided, or one page every 2-3 seconds.
Longevity. Toner cartridges do not dry out over time, nor are they prone to blockages/air bubbles like ink tanks.
High duty cycle. Laser printers are very durable and can output a considerable number of pages each month without issue.
Disadvantages of laser printers
Toner replacement costs. Toner cartridges for laser printers tend to be quite costly; a single color cartridge for the HL-L3290CDW costs nearly $100. You can easily remedy this by using alternatives to proprietary branded cartridges, which can sell for as much as 80% less.
Print quality. Laser printers are better-suited to documents, as they cannot print photos with the same level of detail as an ink tank printer.
Bulk. Compared to ink tank printers, laser printers tend to take up a bit more space.
Who should use a laser printer?
A laser printer is a good choice if:
You need frequent high-volume print jobs.
You don't need to print high resolution photos.
You occasionally go long periods without printing.
A Matter of Preference
Overall, laser printers tend to be the more dependable and economical option in the long run, likely better-suited to most people's needs. Although their upfront cost tends to be higher, they're both more durable and better-suited to high-volume jobs. With that said, it really comes down to what you're using the printer for.
Either way, if you want to avoid paying out the nose for replacement ink bottles or toner cartridges, LD Products can help. As a leading online retailer of aftermarket printing supplies, LD is your one-stop shop for all your printing needs. They stock thousands of high-quality cartridges for every major printer manufacturer, all at an unbeatable cost, so you can enjoy the benefits of whatever printer type you prefer to the fullest.
To drive home the point, have a look at the table below, which shows an ink bottle price comparison and toner cartridge price comparison for the two printers mentioned earlier.
Swipe to scroll horizontally
Epson EcoTank ET-2850

| Header Cell - Column 0 | Epson | LD Products |
| --- | --- | --- |
| Black | $20 | $9 |
| Color | $13 | $8 |
Swipe to scroll horizontally
Brother HL-L3290CDW

| Header Cell - Column 0 | Brother | LD Products |
| --- | --- | --- |
| Black | $75 | $36 |
| Color | $96 | $36 |
| Row 2 - Cell 0 | Row 2 - Cell 1 | Row 2 - Cell 2 |
Sign up for Black Friday email alerts!
Get the hottest deals available in your inbox plus news, reviews, opinion, analysis and more from the TechRadar team.