Two-minute review
Samsung Galaxy Z Fold 3 review — In only about two years, Samsung changed the fate of foldables from an 'if' to a 'when'. The new Galaxy Z Fold 3 is a big step in proving that the future of smartphones could actually be foldable and is the first device of its kind that we can recommend to those sitting on the fence without hesitation.
Foldables are the biggest thing to happen to smartphones ever, and Samsung is at the forefront of that revolution. Now in its third generation, the Samsung Galaxy Z Fold 3 aims to win over power users — while hoping to fill the Note 21's shoes in its absence at the same time.
Over the last few weeks, we've put it through its paces, evaluating its durability, new screen tech, the advantages of a 2-in-1 design and all the software features developed by Samsung.
Our findings were generally positive, with the biggest and most important changes coming on the design front. The Samsung Galaxy Z Fold 3 feels stronger than its two predecessors, right from the hinge to the frame and everything in between. There's also S Pen support this time, which is another indication of how durable the new screen composite is. Stylus input makes a lot of sense on a screen this big. However, unlike its cancelled Note sibling, the S Pen does not come included with the phone neither can it be tucked away in the body.
The other big design change comes with the inclusion of IPX8 rating, making this the first water-resistant foldable. This means you won't have to run for cover as soon as it starts raining or rush to a service centre upon accidental spillage. Dust ingress protection can still pose a threat to the Z Fold 3, so you might want to be away from beaches — though a pool will be absolutely fine.
For my last review on TechRadar, I took the Samsung Galaxy Z Fold 3 out for a spin — one of the most important phones for the coming years, as it validates that foldable phones are the future and we can start getting excited https://t.co/VSxWBZEyrQ pic.twitter.com/x5O7QLVox9September 3, 2021
Performance with the Snapdragon 888 is as you'd expect, with the phone chomping through everything thrown at it. This is an important feature as simultaneous multi-tasking is one of the big features of the foldable. Surprisingly, the battery life was not too bad, even with its average size and above-average screens. Charging remains relatively slow though, taking way over an hour for a full refuel.
Not much changes on the camera front either, with the Samsung Galaxy Z Fold 3 using the same hardware as its predecessor. However, with the new ISP on the chipset, it manages to produce great results most of the time. It is still a few steps behind the best flagship cameras, but that is expected due to the space constraints in this form factor. There is one standout perk though: an under-display selfie camera on the bigger screen, which disappears when not being used.
These fixes and improvements make the Samsung Galaxy Z Fold 3 the first foldable that doesn't have to be babied all the time. It can do everything a normal phone can do, better than a normal phone can do — and then some! It no longer feels like a science experiment and can actually be considered as an everyday device for those who are looking to do more with their devices but felt disappointed in the sea of slab-shaped smartphones.
Samsung Galaxy Z Fold 3 price in India
Launched on August 16, the Samsung Galaxy Z Fold 3 is priced at Rs 1,49,999 for the 256GB variant and Rs 1,57,999 for 512GB storage. HDFC Bank credit or debit card users will be eligible for an instant cashback of Rs 7,000. Colour options include Phantom Black and Phantom Green. Pre-orders are now open, with deliveries commencing on September 10.
For reference, that is the same price at which the Z Fold 2 launched in India. If you are looking for something cheaper, the Samsung Galaxy Z Flip 3 starts at Rs Rs 84,999.
Pricing for the S Pen and S Pen Pro is yet to be announced, but Samsung tells us that the information will be available by the time the phone goes on sale. We will update this section post the announcement. Styli from other Galaxy devices will not be supported.
Design
Image 1 of 3
Image 2 of 3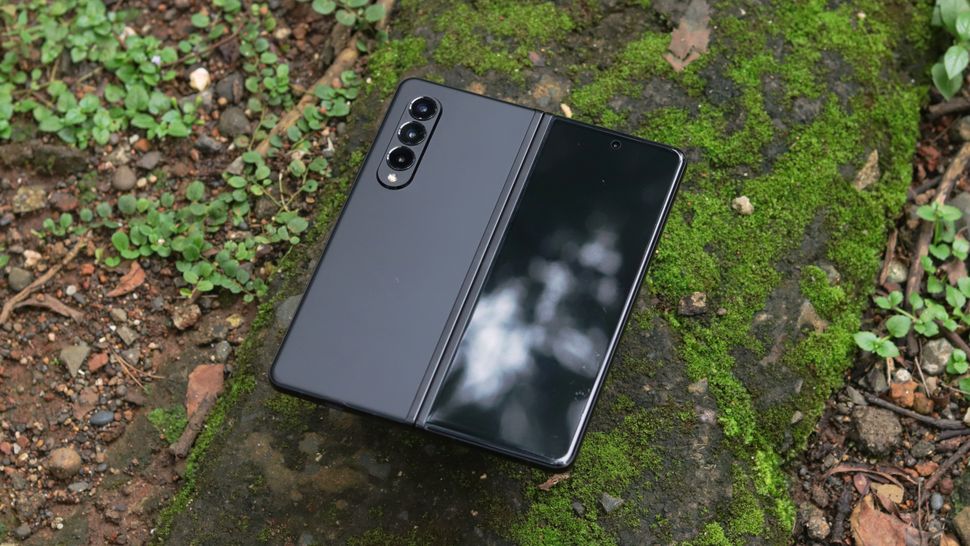 Image 3 of 3
The Samsung Galaxy Z Fold 3 has the same book-like design and functionality as its forerunners, with an expansive screen on the inside and a smaller secondary screen on the outside.
The two displays, and a hinge that allow you to fold and unfold this phone, combine for the most head-turning mobile gadget design in 2021. And that's what you're paying for: the wow factor of being able to pull a phone out of your pocket and unfold it to not only reveal a 7.6-inch tablet-like display, but also show that you're symbolically ahead of the technology curve.
The hinge mechanism has been improved along with more durable materials. Most importantly, the inner flexible screen is now some 80% stronger; and sure enough, the difference in the malleability is quite noticeable. The Ultra Thin Glass implementation feels far sturdier and has remained pristine in our weeks of heavy use. The hinge has also been reworked to stay open at more intermediate angles for interesting use cases.
Image 1 of 3
Image 2 of 3
Image 3 of 3
Enthusiasts will continue to marvel over the Galaxy Z Fold 3 each time it is unfolded. Samsung's years of lead in this space has finally paved the way for a foldable that isn't worrisome to use, and it's remarkable! It can bear elements such as water and physical abuse just like a normal candybar phone. It continues to blow our mind how Samsung managed to add proper IPX8 water resistance to such a tricky design. Also, while there is no official protection against dust, our review unit escaped unhurt from a beach sandstorm.
Having said that, you'll still have to put up with one of the thickest and heaviest smartphones around, with a 271g weight and almost 16mm of thickness — both of which are better than the Fold 2's, but nearly not enough.
There's a passive side-mounted fingerprint scanner on the right side which was always quick and accurate. The speakers are split between the top and the bottom and combine for an enjoyable stereo sound output that is very loud and clear.
Part of the weight can also be attributed to the aluminium and glass design, which not only adds a touch of premium-ness but also makes the device more durable and safe from scratches. Our Phantom Black back is as pristine as when we unboxed it.
Display
Image 1 of 3
Image 2 of 3
Image 3 of 3
The reason why you should consider the Samsung Galaxy Z Fold 3 is its screen. In a time when phones want to offer bigger displays without getting unwieldy, foldables are the best middle ground.
On the inside, the Fold 3 has a 7.6-inch tablet-esque display with a wide 5:4 aspect ratio — making it ideal for reading books or webpages, scrolling through social media or using apps that have a lot of elements. For context, it is as big as two 6.3-inch screens stuck together.
The crease in the middle is still very present, but we found it easy to ignore whenever there was content being displayed. It's an experience similar to what notches were a few years ago: obtrusive in pictures but easy to ignore once you start using it. Creases will take some time to disappear from foldables.
What won't take time to go away is the notch for the selfie camera. The Z Fold 3 is amongst the first devices to offer an under-display selfie camera, where the sensor disappears under the screen when it is on and magically appears while shooting. It is covered by a low-resolution glittery matrix that is noticeable but doesn't particularly stand out. Though, the lower pixel density means that the content in that tiny area will often be distorted.
Image 1 of 3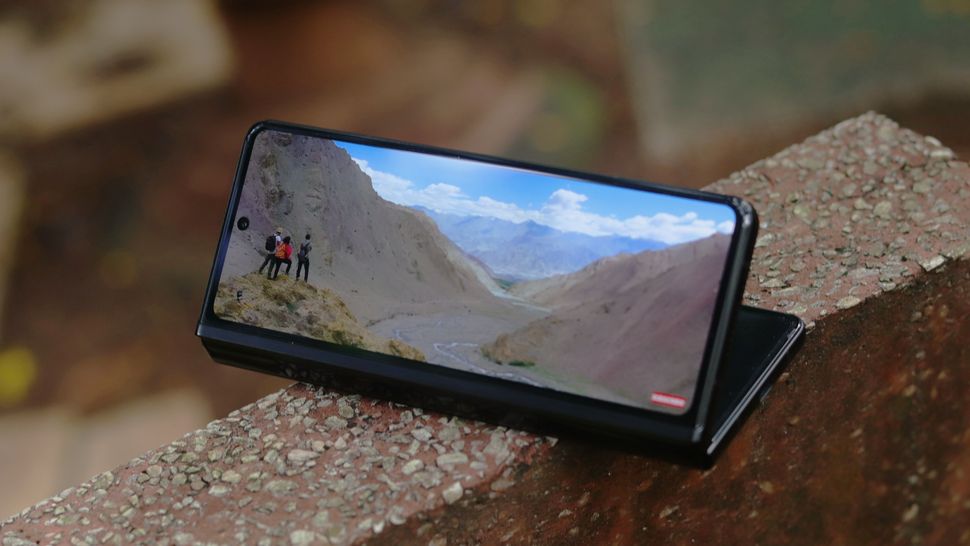 Image 2 of 3
Image 3 of 3
Regardless, it makes for an immersive viewing experience that no other smartphone today can match. It is big enough to take notes on, work on spreadsheets, share text and photos with others without having to huddle in, or run two apps side by side without feeling compromised. Gaming gets taken to the next level by showing twice as much content without having the controls eat some parts away.
It's not just the display size where it excels, as the Samsung Galaxy Z Fold 3 uses all the latest screen tech. The AMOLED construction gives it perfect blacks and vivid colours, while Eco2 helps it get brighter without increasing the power consumption. Gorilla Glass Victus makes it less prone to cracking while the new UTG on top avoids scratches. Pretty much everything has been upgraded.
The good stuff continues on the outside with a 6.2-inch AMOLED panel, which also runs at 120Hz now. Its 25:9 aspect ratio might seem a little cramped, but it is the perfect width to be used one-handed easily. Being able to reach all parts of the bottom of the screen is a lost joy. Tap typing might seem difficult due to the smaller keys, but swiping was very easy and accurate. With most content today being scrolled vertically, a taller display makes a lot of sense.
Image 1 of 3
Image 2 of 3
Image 3 of 3
Another big talking point this season is the inclusion of stylus input. Samsung has unveiled two new versions of its S Pen for the Fold 3, where the nib is a little softer and retracts into the body when pressed hard. We're yet to try them out, but a bigger pen on a bigger canvas should be a great experience.
Wallpapers: Elora Pautrat
Performance
Image 1 of 3
Image 2 of 3
Image 3 of 3
Performance has never really been a concern with flagship smartphones, but Samsung's decision to opt for Exynos chips in India has been a bone of contention. Thankfully, the Z Fold 3 isn't subject to the same treatment as it is powered by the top-of-the-line Snapdragon 888 SoC.
The Snapdragon 888 is a known quantity at this point, but this is the first time we're seeing it on a Samsung smartphone in India. Notably, this has also been one of the most stable experiences we've had with a device running off Qualcomm's top chip, with no untimely overheating or battery drain issues. Full marks for the optimization efforts here.
With the Fold 3 targeted at power users, we think it is more important than ever to have a capable chipset that can keep up with running and switching between multiple apps at once. The UFS 3.1 storage and LPDDR5 RAM ensure that things run smoothly when needed. There's also 5G for when the networks are ready.
Features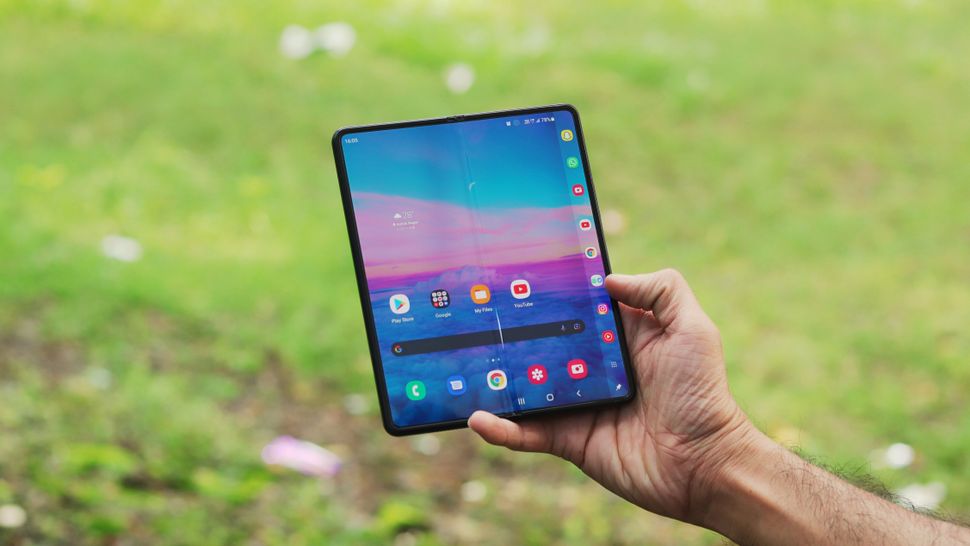 All the impressive hardware on the Samsung Galaxy Z Fold 3 is of no use if there are no features and apps to take advantage of the dual-screen approach.
We're glad to report that once again Samsung has outdone itself by offering a barrage of software inclusions that improve multi-tasking and productivity in very logical ways. It continues to achieve so without much help from Google or third-party developers, which is a feat in itself.
New exclusive features include the ability to pin an app bar on the side à la the taskbar on a computer for quick launching and switching of apps. You can also have app pairs created, where a single click will open two or three apps side by side. This multi-window functionality is an integral part of the Fold experience, and Samsung has made it very user friendly now.
Being able to switch between apps without having to retreat to a home screen or slide out a dock every time feels like a game-changer for an Android phone when Android tablets have always lagged behind the iPad and iPadOS.
Image 1 of 4
Image 2 of 4
Image 3 of 4
Image 4 of 4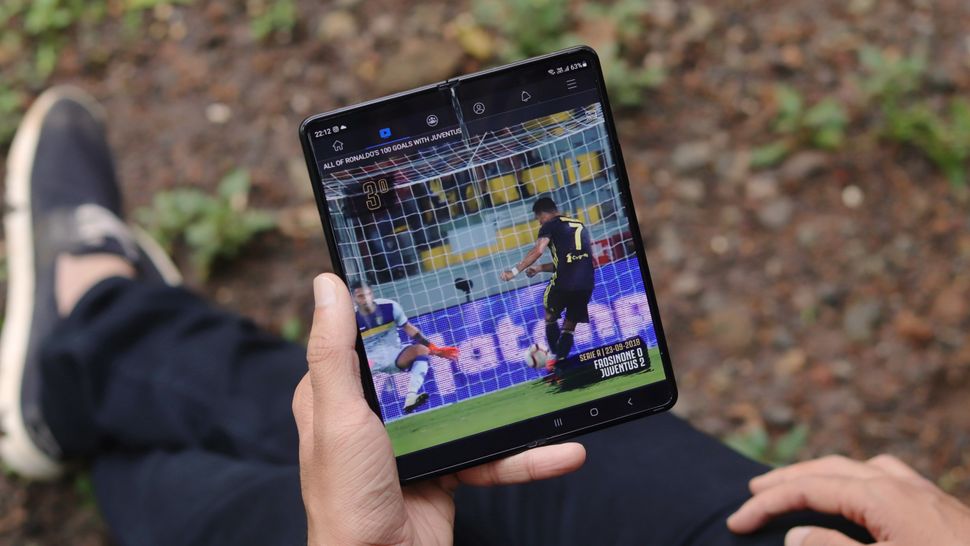 App continuity continues to get better, where an application open on the smaller screen will directly resume on the bigger display, showing a lot more content. This was our favourite feature by far because it makes consuming content incredibly enjoyable and stress-free.
Most apps today scale the content based on the width of the screen, such as Facebook, Instagram, YouTube, etc. So when the Z Fold 3 is twice as wide, the media becomes 4x larger. Looking for stickers on WhatsApp, checking out restaurant menus on Zomato, finding images in the gallery all become way easier.
Under Labs settings, Samsung also allows modifying how each app behaves in each orientation and what aspect ratio they should run at. This means notorious apps such as Instagram can finally work without awkwardly being cut off or blown up from the sides. Flex mode, where the halves of the screen function differently, has additional features for the camera, gallery and some other Google apps. Microsoft Office apps get special features too, such as dragging and dropping contents from one side to the other.
Even with so many complexities, the Samsung Galaxy Z Fold 3 is a very well optimized phone where One UI 3.1.1 keeps everything running at full steam.
Battery
The Samsung Galaxy Z Fold 3 battery is 4,400mAh — 100mAh smaller than the Fold 2, which was perhaps necessary to incorporate all the tech while maintaining a sleek body.
We didn't have high hopes for its battery life as the chipset, high refresh rate screens and multi-tasking would all work against it. Much to our surprise, the phone almost always lasted till the end of the day, with 4-5 hours of screen-on time. Though, your mileage may vary based on which of the screens is used for the most part.
Unfortunately, the Fold 3 does not come with a charger in the box and supports a maximum of only 25W. It takes an hour and a half for a full charge, which is quite slow compared to the competition. A 30-minute charge fills up about 40% of the battery. Considering that the battery life is just average and charging speeds are nothing to write home about, we had to be careful with planning our outings in the second half of the day.
Camera
Image 1 of 4
Image 2 of 4
Image 3 of 4
Image 4 of 4
Samsung had to be conservative with the cameras on the Z Fold 3 and make the most of the limited space available. This meant letting go of larger sensors and periscopic telephoto lenses that require more Z-axis height and going with simpler hardware.
Just like its predecessor, the rear camera setup comprises a 12MP f/1.8 main sensor, a 12MP ultra-wide lens and a 12MP telephoto shooter with 2x magnification. The only upgrade is the inclusion of OIS on the zoom camera, and whatever new capabilities the ISP on the Snapdragon 888 would unlock.
Image 1 of 13
Primary camera samples
Image 2 of 13
Image 3 of 13
Image 4 of 13
Image 5 of 13
Image 6 of 13
Image 7 of 13
Image 8 of 13
Image 9 of 13
Image 10 of 13
Image 11 of 13
Image 12 of 13
Image 13 of 13
The images are good but not groundbreaking. Recent flagship phones have better cameras, but you might not notice that unless you're comparing the photos side by side.
As with other phones from the company, the Samsung Galaxy Z Fold 3 cameras sharp and bright images with vibrant colours that are borderline oversaturated. More often than not, these images are very pleasing to look at, but if accuracy is what you're after, you might have to look for solutions via the manual mode.
Image 1 of 6
Ultra-wide camera samples
Image 2 of 6
Image 3 of 6
Image 4 of 6
Image 5 of 6
Image 6 of 6
Samsung has raved about its Space Zoom tech for the last 18 months, but we only get a 2x lens here, which admittedly feels a little limiting. On the plus side, the results were in clear focus and didn't break apart in low-light conditions. But the lack of longer zoom somewhat hinders its ability to become the one camera for everything. Photos begin to pixelate beyond 4x.
The camera setup does include one space-age-like trick, though. There's an under-display camera within the 7.6-inch main display of the Z Fold 3, and the punch-hole is hidden by a patch of pixels when it's not in use. It's not completely invisible, but the crosshatch pattern does a fine job at making the screen a bit more immersive — which is the point of a part-time tablet in the first place.
Image 1 of 6
Telephoto camera samples
Image 2 of 6
Image 3 of 6
Image 4 of 6
Image 5 of 6
Image 6 of 6
However, photos from the 4MP under-screen camera were usually softer and fuzzier. It will suffice for video calls, but for capturing memories, try avoiding it. Thankfully, it will also be the camera that you're likely to use the least, as there's a very capable 10MP selfie camera on the Cover screen. Not enough? You can also use the three main cameras for selfies to take them to the next level while using the outer display as a big viewfinder.
Image 1 of 3
Selfie samples
Image 2 of 3
Selfie samples
Image 3 of 3
Selfie samples
Should I buy the Samsung Galaxy Z Fold 3?
Image 1 of 2
Image 2 of 2
Buy it if...
You want the fanciest phone available
This is it. This is the foldable phone that people who consider themselves early adopters and ahead of the curve have been waiting for, if they were hesitant about buying the first two Fold phones (we don't blame you).
Your current phone seems limiting or boring
Want your phone to turn heads each time to use it? Feel like you can't get much done with your existing phone? The Samsung Galaxy Z Fold 3, with all of its smart features, might just be what you'd been waiting for.
You use your phone for work and play
With our working styles having changed drastically over the last year, there are few other phones that can be so productive for the office and so enjoyable for gaming or watching shows at the same time.
Image 1 of 4
Image 2 of 4
Image 3 of 4
Image 4 of 4
Don't buy it if...
You want Samsung's best camera phone
Samsung has made few camera advancements year-over-year with this phone, and that's going to feel like a loss for S21 Ultra users, who could capture more detail and enjoy 100x Space Zoom photography with that phone.
You're not yet sold on foldables
For average consumers with tighter budgets and more adventurous lifestyles, foldables are still not good enough. It's impractical for the majority of phone buyers, even if it is the neatest phone of 2021.
You don't want to worry about battery and charging
With inner space coming at a premium on the Z Fold 3, Samsung had to make compromises with the battery size as well as the charging speed. It's not a phone that you can just take around with low battery.
---